Israeli Occupation Forces ravage agricultural land in Furush Beit Dajan village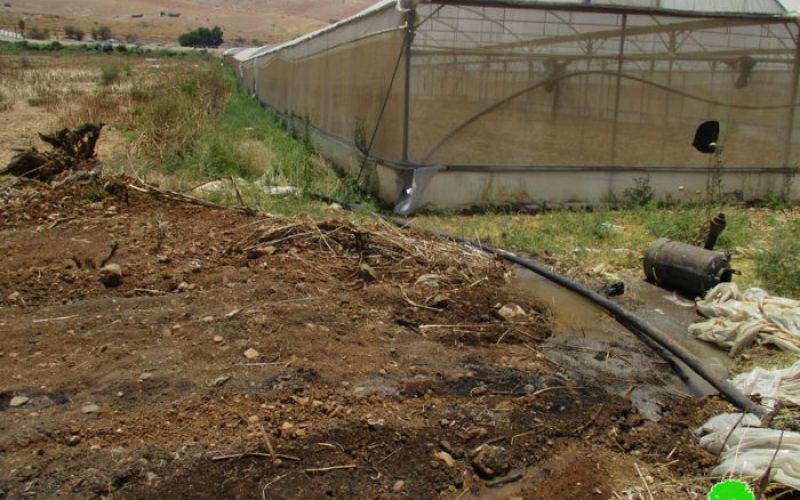 Violation: ravaging lands
Location: Middle Palestinian Jordan Valley
Date: June 12, 2017
Perpetrators: Israeli Occupation Forces
Victims: farmers of the area
Details:
A massive force from Israel Civil Administration accompanied by Israeli Occupation Forces raided on June 12, 2017 the area of Furush Beit Dajan and ravaged 12 agricultural dunums for the sake of searching for underground water. During the process, water networks and pipes serving 23 dunums were ravaged as a result. The affected lands, cultivated with protected crops, belong to farmer Khaled Hanani.
It should be noted that such Israeli attack is considered part of a systematic plan that aims at depriving farmers from basic needs to push them out of the area. Compared to Palestinian lands, Israeli colonies get ten times water more than Palestinian farmers.
Photos 1-3: the occupation forces at time of demolishing a water well and surrounding water network
About Furush Beit Dajan:
It is located in the middle of Palestinian Jordan Valley and is considered an extension of Beit Dajan village, east of Nablus. It has a total population of 1500 people, 50% of which descend from Bedouin origins; sheep grazing and agriculture are the main sources of income for such people
The village has a total land area of 14000 dunums; the occupation confiscated 12000 dunums of it for the sake of establishing the colony of al-Hamra in the western side of the village, the colony of Mekhora in the southern part and a military camp in the eastern side of it.
The village lacks a master plan; a thing that caused dozens of residences to get notified by the occupation in addition to other dozens that were demolished as a result.
The village has about 450 dunums of protected vegetables and 1600 dunums of citrus plantation.
Prepared by
The Land Research Center
LRC