Price Tag colonists torch a dozer and write hatred inciting slogans in Nablus city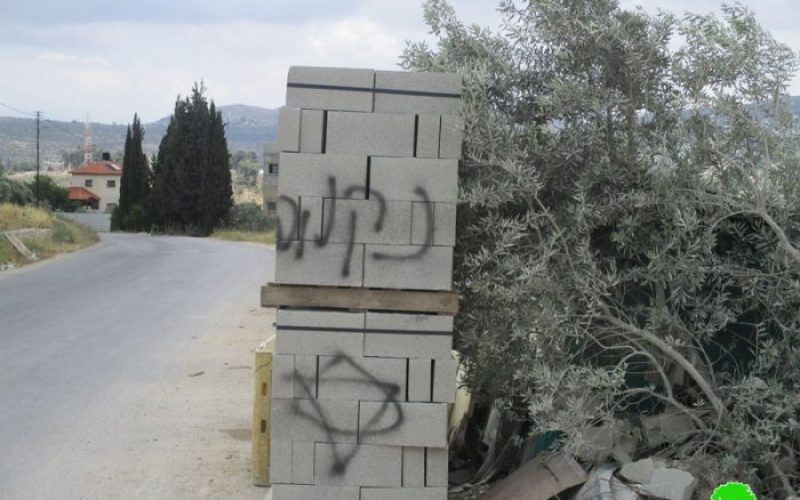 Violation: torching a dozer
Location: Burin village- Nablus
Date: May 20, 2017
Perpetrators: Price Tag colonists
Victims: Abdelatheem Abu Shehadah
Details:
At the early hours of Thursday, May 20, 2017, a group of fanatic colonists sneaked into the commercial store for construction materials and wrote hatred inciting slogans on the walls and sit fir to a 1999 JCB dozer before they fled the area.
Noteworthy, the attacked dozer and store belong to citizen Abdelatheem Abu Shehadah, who is a head of four family member including two children.
Photos 1-3: side of the attack on the citizen's properties
Colonists' break-ins and arson attacks on Palestinians in the suburb areas are meant to terror and harass Palestinian citizens to push them out of their areas. The most vicious attack was the torching of Dawabsheh family while sleeping on August 2015.
Gangsters of such type are reported taught the ideology of leftism in Israeli religious groups. "Hatred for Arabs" and "kill them all" are some of their slogans.
About Burin:
It is located 8km to the south of Nablus city and is of 10,416 dunums in area, of which 335 dunums are the village's built-up area. Burin has a total population of 3500 people. Two Israeli colonies are founded on the lands of Burin which are:
Bracha: it confiscated 205 dunums from Burin's lands
Yizhar: it confiscated 150 dunums from Burin's lands
Prepared by
The Land Research Center
LRC