Revava colonists take over water well in Salfit governorate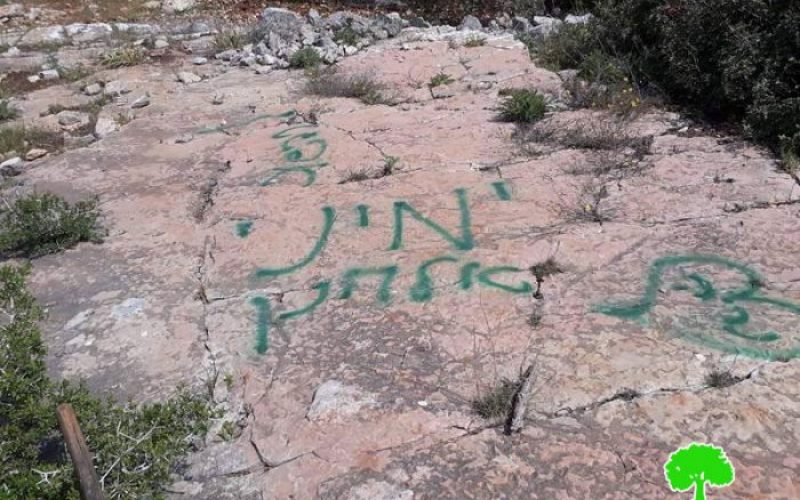 Violation: taking over a well
Location: Deir Istiya town- Salfit
Date: April 10, 2017
Perpetrators: Revava colonists
Victims: heirs of Naser Abu Naser
Details:
A group of Revava fanatic colonists on April 10, 2017 put hands on agricultural water well in the area of Sayda, which is adjacent to the colony from the eastern side. It is reported that the colonists rehabilitated the well, hanged a board and spray-printed hatred-inciting slogans in the nearby. It should be noted that the attacked well belongs to the heirs of Naser Abu Naser. One of the heirs told Land Research Center that the well used to serve 22 dunums of agricultural lands and livestock owners.
Abu Naser also said: " Due to colonists' constant attacks and lack of protection, we had to limit down our visits to the targeted area in fear of our life. Thus, colonists took advantage of this and took over the well, which has a volume of 45m3. We try to protect our land by planting it and running rehabilitation projects on it but we still face difficulties in doing so".
It should be noted that the Israeli Occupation Forces allow colonists and protect them to carry out attacks on agricultural lands of Palestinians.
Photos 1-6: views of the targeted well
Deir Istiya:
It is located 6 km to the north west of Salfit. Its total area is 34, 765 dunums including 1527 dunums of built-up area. 40 % of the total area of Deir Istiya has been subjected to colonial activities. The town is inhabited by around 4000 people who depend largely on herding and agriculture in their living knowing that fertile soil and plenty of water are available.
It is considered one of the most concerned towns with education, compared to other surrounding towns and villages.
It is subject to colonial activities and colonies that are sporadic all over it, trying to seize every dunums and invades every place like cancer.
About Revava colony:
The colony of Revava started in 1991 on confiscated lands from Deir Istiya village. It totals 1540 dunums in area, of which 160 are the colony's built up area. Revava has a total population of 827 by 2005. (Middle East-Washington Peace)
The colony of Revava, since its establishment, formed an obstacle in the face of the Palestinian building movement in the area of Deir Istiya in addition to the confiscation of vast area of agricultural lands and the ban on sheep grazing in the periphery of Israeli colonies.
Prepared by
The Land Research Center
LRC