Israeli colonists torch 40 olive trees in Bethlehem governorate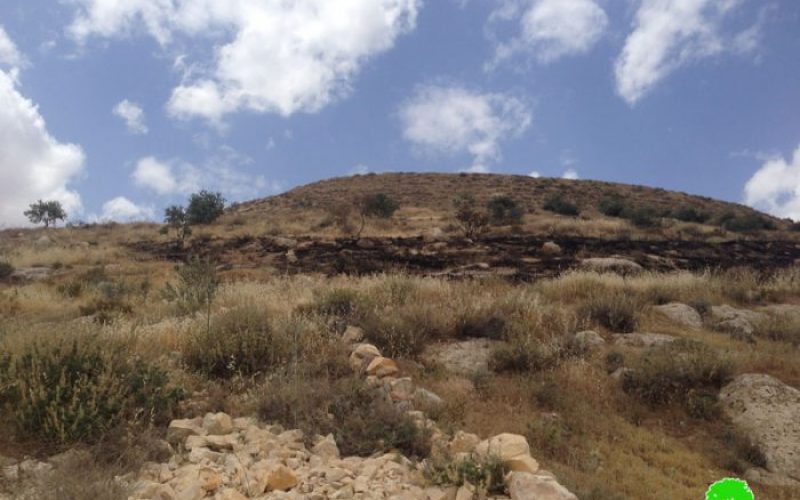 Violation: setting fire to trees
Location: Beit Ta'mar village- Bethlehem
Date: April 25, 2017
Perpetrators: Nokdim colonists
Victims: citizens Mubarak and Mohammad Zawahreh
Details:
Colonists from Izdibar outpost, which is an extension of Nokdim colony torched on April 25, 2017 about 40 olive trees in the area of Beit Ta'mar. The targeted land is 3 dunums in area and is owned by citizens Mubarak and Mohammad Zawahreh.
Colonists of the attacking outposts were reported to escalate violations and attacks on the lands of Beit Ta'mar for the sake of expanding their colony that is founded on lands from the eastern part of Bethlehem governorate. Noteworthy, Izdibar colonists set up caravans in the area in 2016 in an attempt to take over some lands.
Despite that the lands of Beit Ta'mar are moderately suitable for cultivation, farmers invest efforts to take care of their crops and trees to benefit from them. Unfortunately, colonists are there to destroy farmers' hope and economy.
It should be noted that colonists' interests to confiscate Palestinian lands are growing faster with time. This is all for the favor of expanding colonies and outposts and link them to each other within the borders of Bethlehem governorate.
Photos 1-3: the burnt down olive trees
Beit Ta'mar:
5km to the southeast of Bethlehem, Beit Ta'mar is edged by Breid'a and Hindaza from the north, Janata area from the west and Za'tra town from the east.
With a total land area of 40077 dunums, of which 116 dunums are the town's built-up area, Beit Ta'mar is home for 1568 people (2014 census).
The Israeli occupation confiscated 260 dunums from the town to construct the following:
Al David colony that was established in 1999 on 65 confiscated dunums.
The bypass road that is opened on 185 confiscated dunums
A military camp that is set up on a 10 dunum area
According to the lands classifications of Oslo Accords, the lands of Beit Ta'mar are categorized as follows:
742 dunums are classified as area A
1601 dunums are classified as area B
1734 dunums are classified as area C
Prepared by
The Land Research Center
LRC