Israel to open colonial road east Nabi Elyas village in Qalqiliya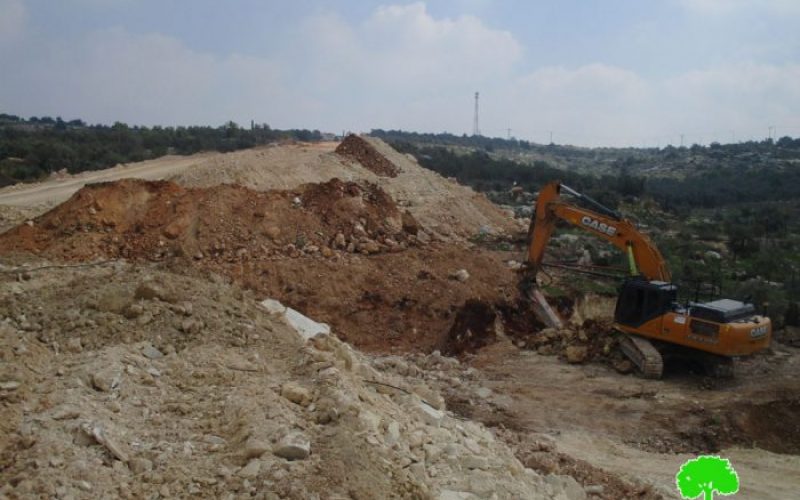 Violation: ravaging lands to open colonial roads
Location: northeast Nabi Elyas village
Date: January -March 2017
Perpetrators: Israeli Occupation Forces
Victims: 30 agricultural families
Details:
Israeli Occupation Forces keep on ravaging and leveling agricultural lands from the villages of Azzun, Izbit At-Tayyeb and Nabi Elyas, east Qalqiliya city for the sake of opening a new colonial road (2.7km* 35m).
This segment of the bypass road 55 aims at separating Nabi Elyas village through creating a substitute road that goes around the village rather than the original one that travels through it. Consequently, commerce and trade of the area will be badly affected. Also, the demographic expansion of the area will be strictly limited as a result.
According to the data of Azzun Municipality and Nabi Elyas village, more than 260 agricultural dunums were ravaged and leveled to complete the road project, leaving 1135 trees fully uprooted.
Until the date of this report, a total of 30 Palestinian families were affected by the road project. They had their lands confiscated and ravaged for the favor of the new bypass road. The following table shows information about the affected lands owners:
Affected owner

Town\village

Family

Affected trees

Olive

Almond

Citrus

Fig

Ali Khalim Al-Sanam

Qalqiliya

9

9

1

11

0

Zahran Khleif

Qalqiliya

6

33

0

0

0

Wael Said Swaylem

Qalqiliya

4

17

3

11

3

Amen Hamed

Qalqiliya

6

43

0

0

2

Jameel Khleif

Qalqiliya

9

13

0

0

2

Elyyan Khleif

Qalqiliya

6

24

0

0

0

Naji Khleif

Qalqiliya

7

27

2

0

0

Sudqi Khleif

Qalqiliya

7

35

1

0

1

Azzam Owais

Qalqiliya

6

15

2

18

1

Kheir Abdelrahman Majd

Nabi Elyas

12

41

0

17

0

Hafedth Abdelrahman Majd

Nabi Elyas

7

43

3

7

2

Adel Majd

Nabi Elyas

11

55

6

8

3

Yousef Majd

Nabi Elyas

8

25

4

13

0

Hamid Majd

Nabi Elyas

8

28

0

12

0

Mohammad Radwan

Nabi Elyas

6

47

1

14

1

Khaled Ahmad Khleif

Nabi Elyas

5

11

0

10

0

Hamid Yahya Khleif

Nabi Elyas

8

7

2

16

1

Salah Majd

Nabi Elyas

8

31

0

18

0

Zahran Majd

Azzun

9

19

0

6

1

Abdelhafeeth Majd

Azzun

8

38

0

19

0

Ahmad Radwan

Azzun

4

47

0

0

3

Adelrahman Mohammad Majd

Azzun

6

16

4

2

0

Nawwaf Ahamd Khleif

Azzun

9

23

3

0

2

Nidal Mohammad Khleif

Azzun

3

26

0

0

0

Ahed Ahmad Khleif

Azzun

10

19

0

3

2

Ali Abu Hanyyeh

Azzun

8

49

0

7

0

Abdellatif Majd

Azzun

7

29

0

0

1

Hussni Abu Hanyyeh

Azzun

9

18

1

7

0

Nadthmi Abu Hanyyeh

Azzun

6

33

0

0

1

Hamadallah Swaylem

Azzun

9

39

0

16

1

Total

221

860

33

215

27

Grand total

1135
Source : Field observation- Department of Monitoring Israeli Violations- Land Research Center-2017
Photos of killed and uprooted trees in the new road project- villages of Azzun and Nabi Elyas
It is reported that Israeli Occupation Forces issued a military order on December 27, 2015 to confiscate 460 dunums for the purpose of opening a new bypass road at the expense of Qalqiliya lands.
The military order of confiscation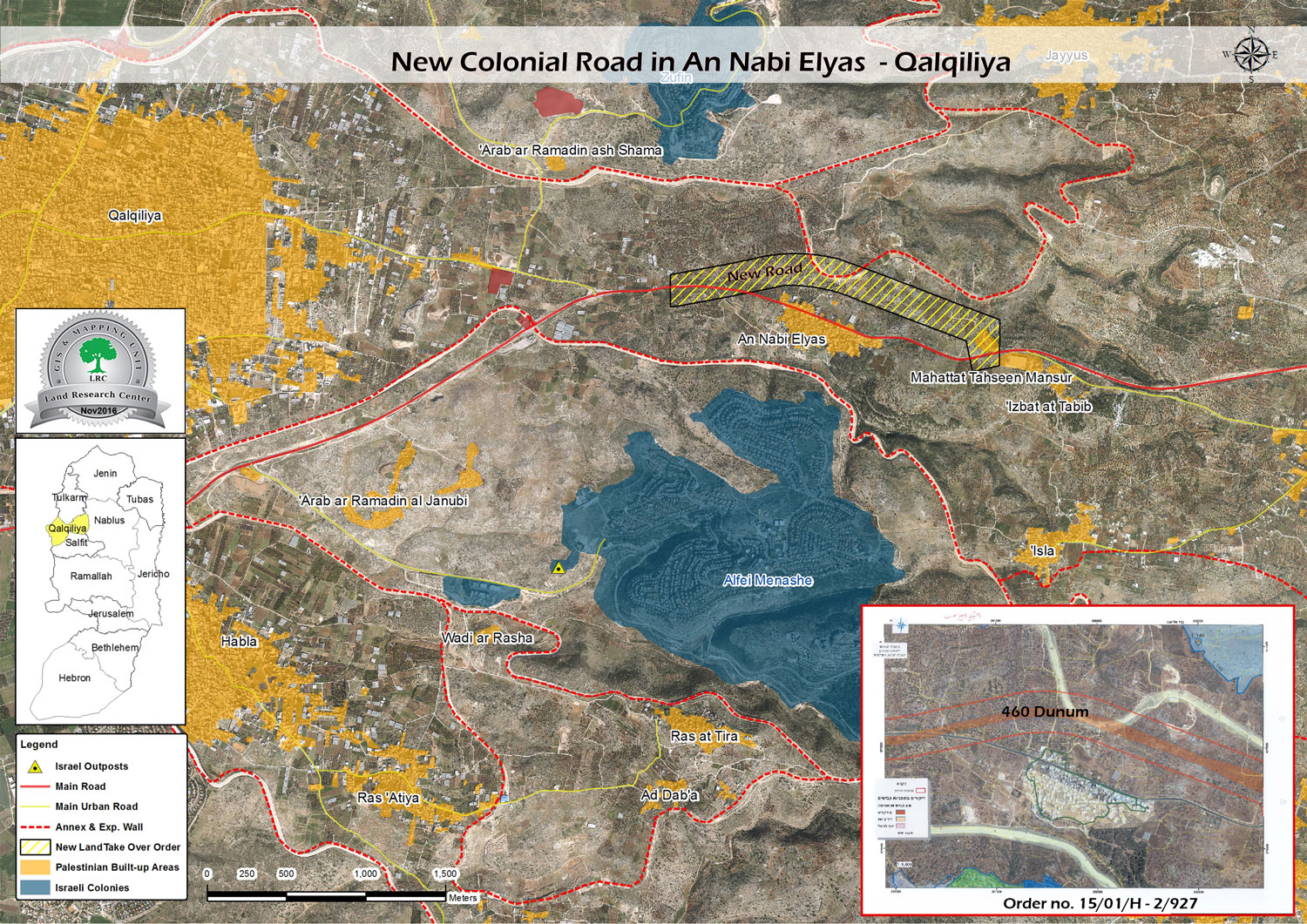 An aerial photo of the proposed bypass road
Since the beginning of 2017, Israeli Occupation Forces started implementing the bypass project. Vast areas of lands were ravaged where thousands of trees got uprooted as a result.
Another dilemma emerging from this road project is that an area of 15 meters — road sides– will be declared as "buffer zone" where construction is banned for Palestinians. This will double the suffering of lands owners, who got their lands confiscated for apartheid.
About Nabi Elyas:
It is located 6km to the east of Qalqiliya governorate and is edged by Izbbet Al-Tabib and Aslah villages from the east, Arab Abu Fardeh area from the west, Jayyous town from the north and Ras Tayreh from the south.
The village populates 11300 inhabitants (2007 census) that are relative to three main families namely ( Hannun, Khleif and Majd)
Nabi Elyas has a total area of 4435 dunums, of which 123 dunums are considered the village's built-up area . noteworthy, more than 2200 dunums of the area were isolated behind the apartheid wall and became subject to colonial activities of takeover and expansion.
About Azzun Atma:
Located 8km to Qalqiliya city with a total area of 9,472 dunums, of which 1,054 dunums are the village's built-up area, Azzun is inhabited by 7,821 people (2007).
The occupation confiscated vast area from the village for the favor of colonization and the apartheid wall; the areas are detailed as follows:
276 dunums were confiscated for Maale Shamron colony that was established in 1980.
417 dunums were confiscated for the bypass road number 55
It should be marked that the vast majority of Azzun lands (6,927 dunums) is classified as area "C" according to Oslo accords; areas that are controlled by the Israeli occupation. The village has zero percentage of area "A" that is under the control of Palestinian Authority. As for other classifications, the village has 2,546 dunums classified as area "B". (Geographical Information System- Land Research Center)
3 colonies are built on 'Azzun lands and they are:
Maale Shomron: Built in 1980, the colony has a total area of 1903 and a built-up area of 216 dunums. 549 colonists live in it (according to a 2004 census).
Genot Shomron: Built in 1985, the colony's built-up area is 484 dunums.
Karni Shomron: Built in 1978, the colony's built-up area is 1351 dunums. 6270 colonists live in it (according to a 2005 census).
International laws and covenants on violating lands and natural resources:
International Covenant on Civil and Political Rights, Article 2 stated the following:
All peoples may, for their own ends, freely dispose of their natural wealth and resources without prejudice to any obligations arising out of international economic co-operation, based upon the principle of mutual benefit, and international law. In no case may a people be deprived of its own means of subsistence.
2.Universal Declaration of Human Rights, Article 17 stated the following:

(2) No one shall be arbitrarily deprived of his property.
Prepared by
The Land Research Center
LRC