Israeli Occupation Forces issue final demolition order on Hebron residence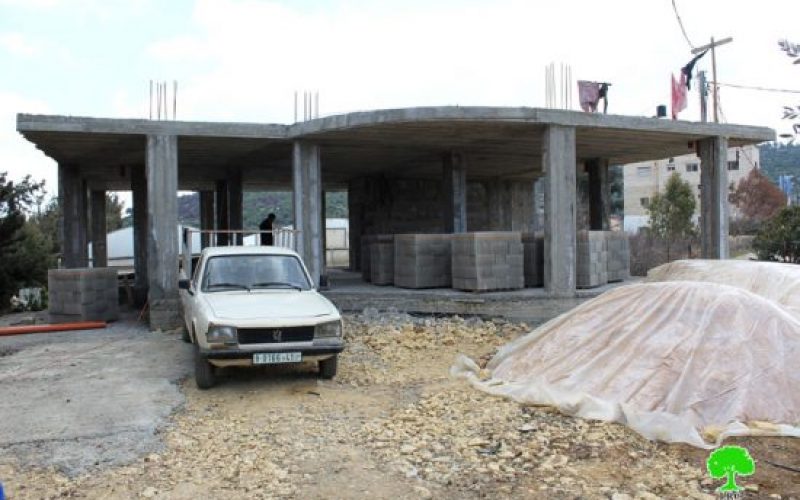 Violation: issuing final demolition order
Location: Beit Za'ta- Beit Ummar town
Date: March 23, 2017
Perpetrators: Israel Civil Administration
Victims: citizen Abdelnaser Jum'a
Details:
Israeli Occupation Forces served on March 23, 2017 a final demolition order on the residence of citizen Abdelnaser Jum'a founded in the area of Beit Za'ta- Beit Ummar town in Hebron governorate.
The affected citizen said that a vehicle relative to Israel Civil Administration accompanied by an army patrol arrived at the area and hanged the order on the residence.Noteworthy, the order gave the affected a seven day deadline to demolish the structure that was claim "unlicensed" in area classified "C" according to Oslo Accords.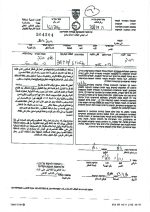 Photo 1: the final demolition order
It should be noted that Israeli Occupation Forces served on January 17, 2017 a stop-work order on Juma's residences. At time, the order assigned February 09, 2017 as the hearing session of Inspection Sub-Committee in the Israeli court of Beit El colony to consider whether to demolish the structure of restore its previous status.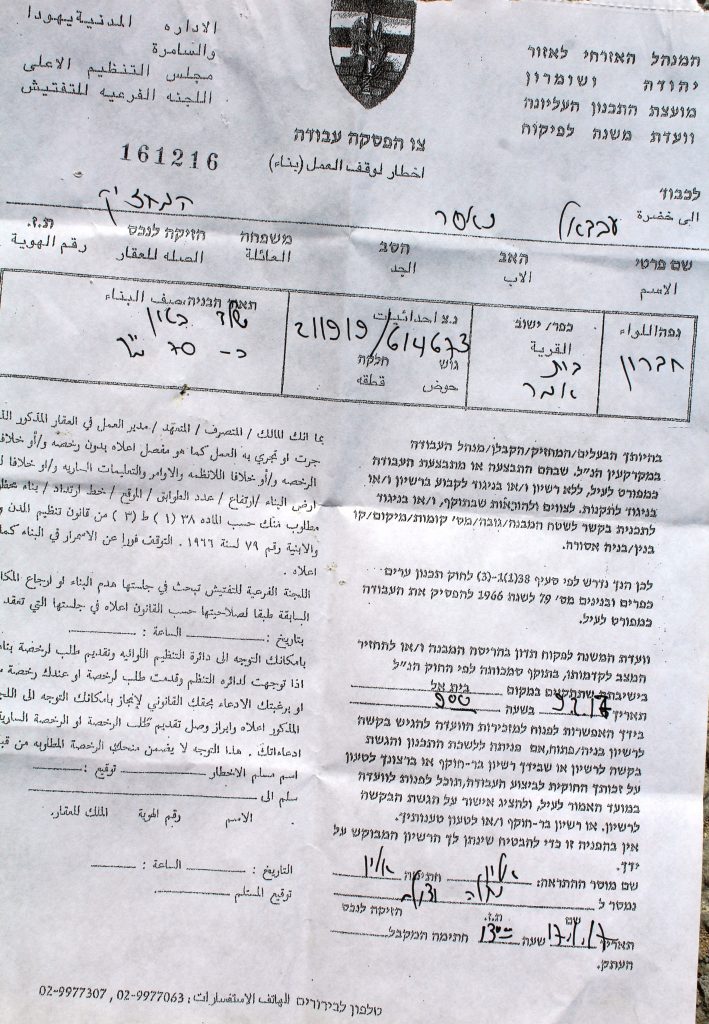 Photo 2: the stop-work order
Despite the fact the citizen prepared a legal file to apply for a license from Israel Civil Administration but the occupation escalated and served him the final demolition order.
The affected house (180m2) is supposed to be home for eight member family including two children. Noteworthy, it is still under construction.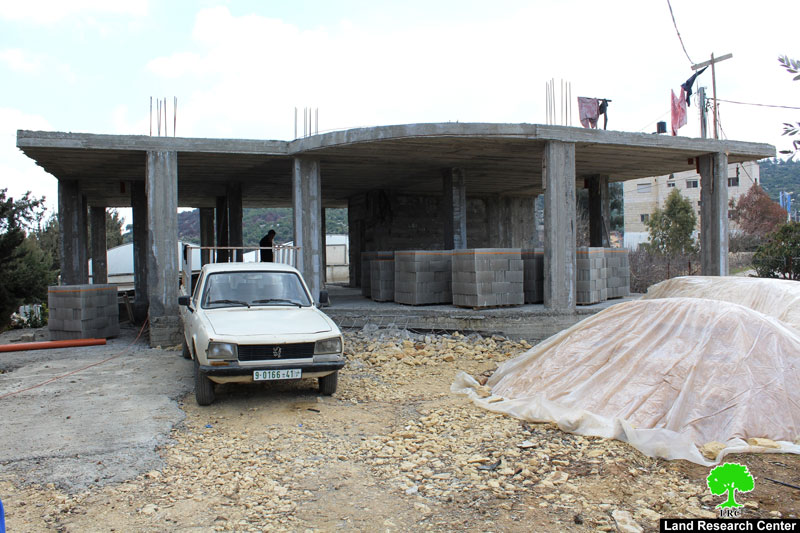 Photo 3: view of the targeted house
The owner started the construction of the house hoping to move in to it after living over ten years in Al-Arrub refugee camp.
About Beit Ummar:
It is located 12 km to Hebron city. The village's total area is 21,285 dunums, of which 1,375 dunums are considered the built-up area; around 13, 548 people inhabit Beit Ummar.
The Israeli occupation authorities confiscated 560 dunums from Beit Ummar for the favor of the bypass road no.60. The occupation also confiscated 1,216 dunums for the favor of the following colonies:
Colony

Year of establishment

Dunums confiscated from Beit Ummar

Built-up area\dunums

No. of colonists

Karmei Zur

1984

179

289

623

Migdal Oz

1977

682

1,076.4

298

Kfar Etzion

1976

18.6

923.5

404

Efrat

1979

98.6

2,063.6

7,037

Alon Shevut

1971

237.8

934

3,146

Total

1216

5,286.5

11,508
Source: Geographic Information System- Monitoring Israeli Violations Team- Land Research Center
Prepared by
The Land Research Center
LRC