Two new Israeli plans target around 500 dunums of Palestinian land in Jalud and Turmusayya villages in the northern West Bank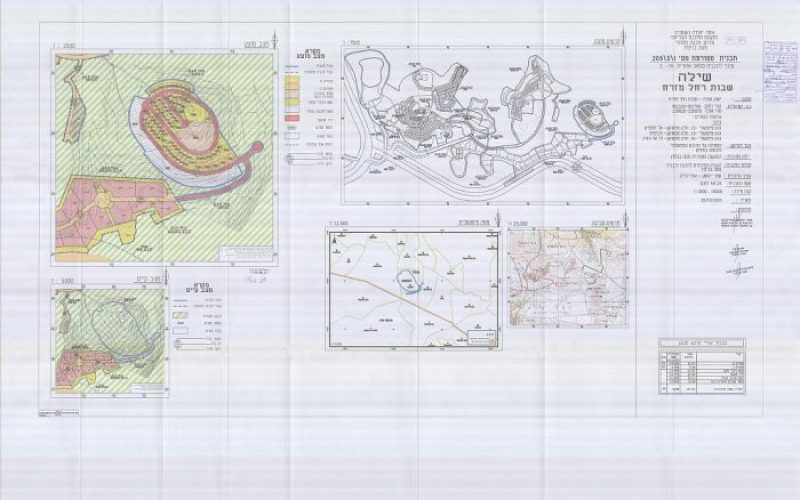 On the 17th of February 2017, the higher planning council of the Israeli Civil Administration in the occupied West Bank has deposited a new building plan in the settlement of Shevut Rahel in Nablus Governorates in the northern occupied West Bank. The land to the east of Shevut Rahel settlement is set to receive a new construction that will cause the confiscation of 141.12 dunums of lands of Jalud Village southeast of Nablus city. The plan holds number No. יוש/ 1/ 3/ 205 and stipulates the building of new residential neighborhood of 98 units – "Shevut Rahel Mezrah" in addition to roads and other public buildings and educational institutions to house the Amona outpost evacuees, further expanding the borders of the settlement to include this new construction. Construction is to take place in Blocks No. 13 and 16, in Al Khafafeesh, Khneifes and Wad Al Hawa areas in Jalud village. Details of the plan are shown below:-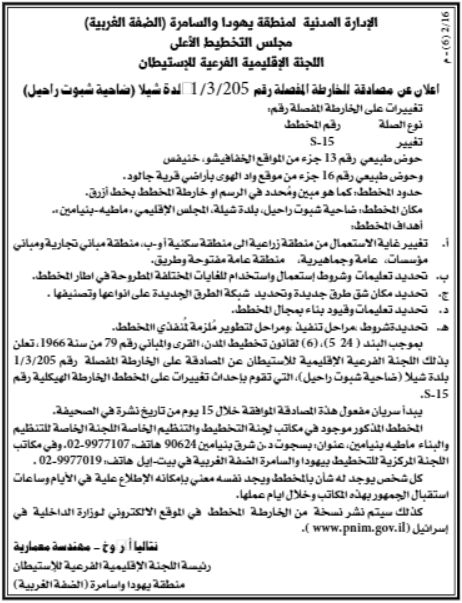 Table 1: Details of Plan No. יוש/ 1/ 3/ 205

Type of Building

Area

Percent

No. of units

Residential Area A

33.97

24.05

74

Residential Area B

5.88

4.16

24

Commercial and public buildings and institutions

14.99

10.61

—

Open Public Area

20.87

14.78

—

Area for Future Planning

30.63

21.69

—

Planned Road

34.90

24.71

—

Total

141.24

100

98

Source: Israeli Ministry of Interior , February 2017
Photos 1-3: Details of Plan No. יוש/ 1/ 3/ 205
Earlier on the 12 of January 2017, the Israeli higher planning council of the Israeli Civil Administration issued another plan for the construction of a Wastewater Treatment Plant and water reservoir on lands of Jalud and Turmusayya Villages in the northern West Bank. The plan holds number יוש/ 2/ 3/ 205 and states the confiscation of 326.19 dunums of lands of the aforementioned communities for that purpose. See Table 2: Details of plan No. יוש/ 2/ 3/ 205
Table 1: Details of Plan No. 205/3/2

Type of Building

Area (Dunums)

Percent

Engineering Facilities

108.86

33.37

Open Area

136.28

41.78

Approved Road

27.15

8.32

Planned Road

53.90

16.52

Total

326.19

100.00

Source: Israeli Ministry of Interior , February 2017
Photos 4-6: Details of Plan No. יוש/ 2/ 3/ 205
It seems that TPS No. יוש/ 2/ 3/ 205 is complementary to TPS No יוש/ 1/ 3/ 205 since the building of the new neighborhood will be accompanied by the construction of a wastewater treatment plan and a water reservoir that will serve in the first place the proposed neighborhood "Shevut Rahel Mezrah" and the settlement of Shevut Rahel in general. Additionally, both plans will cause the confiscation of 467 dunums of Palestinian land in the area.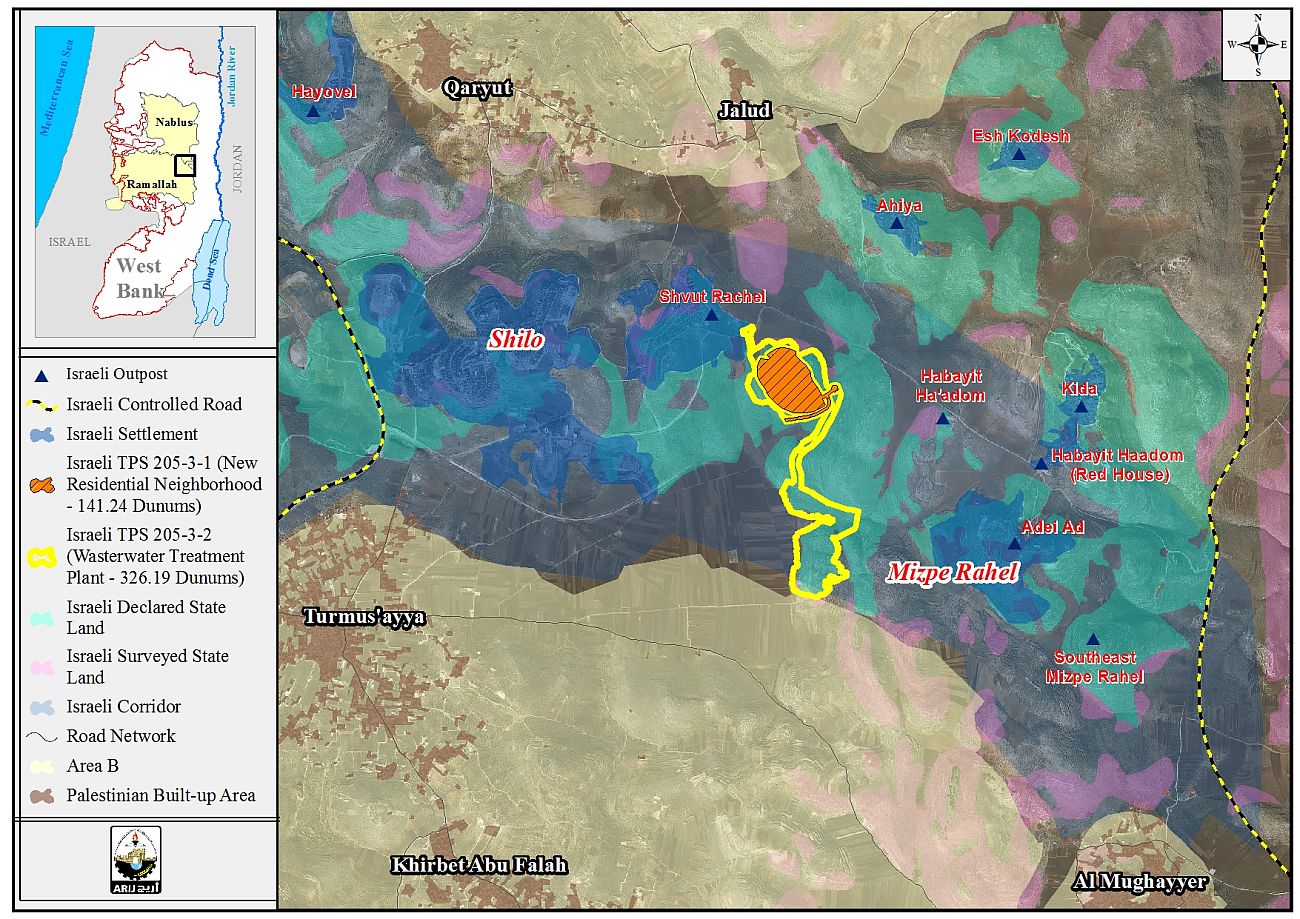 Map 1: The Isareli plans on lands of Jalud and Turmusaaya villages
Related Cases
Despite International condemnation to the accelerating settlement activities in the occupied West Bank, Israel is moving ahead with its Plan to move the Amona outpost evacuees to a Land near Shevut Rahel settlement; however, on the expense of the neighboring Palestinian communities, namely Jalud and Turmsayya.
The Israeli seizing of the Palestinian lands under any pretext is a methodic circumvent over the international law rules and international legitimacy resolutions, where all the Israeli plans and orders issued by Israel are illegitimate and contradicts with the United Nation Security council Resolutions 242 and 338 that stipulate the illegality of the Israeli military occupation of the Palestinian lands and that includes all the confiscations, building illegal settlements and outposts and bypass roads, constructing the Segregation Wall, destroying Palestinian properties and restricting their movement and all of the colonial practices conducted by Israel since June 4, 1967-present are illegal, null and void.
The existence of the Israeli settlements and outposts in the West Bank and their expansions are Illegal and contradicts with the international law rules, United Nations Security Council Resolutions such as 237 (1967), 271 (1969), 446 (1979), 452 (1979) ,465 (1980).
Resolution 446 March 22, 1979 calls on Israel to rescind its previous measures and to desist from taking any action which would result in changing the legal status and geographical nature and materially affecting the demographic composition of the Arab territories occupied since 1967, including Jerusalem and, in particular, not to transfer parts of its own civilian population into the occupied Arab territories"
Also the resolution 452 of the 1979 "calls upon the Government and people of Israel to cease, on an urgent basis, the establishment, construction and planning of settlements in the Arab territories occupied since 1967, including Jerusalem."
According to the Road Map of Peace – June 2003 , proposed by the Quartet (the four international entities, the United States of America, the European Union, Russia, and the United Nations), Israel called on to dismantle all outposts that were erected since year 2001 in addition to freezing all settlement activities in the Occupied Palestinian Territory.
Article XXXI of the 1995 Oslo agreement Israelis forbidden from building or planning to any project or settlements or any colonial expansion or any plan that lead to change the status of the West Bank and Gaza Strip. The article provides "Neither side shall initiate or take any step that will change the status of the West Bank and the Gaza Strip pending the outcome of the permanent status negotiations".
More than that ,the Israeli expropriation of the Palestinian lands constitutes a flagrant and grave breach for the International law rules and conventions (Art. 51 of the 1949 Geneva Convention II –Art. 147 of the 1949 Geneva Convention IV- Art. 53 of the 1949 Geneva Convention IV-Art. 23(g) of the 1899 Hague Regulations – the Universal Declaration of Human Rights Adopted and proclaimed by General Assembly resolution 217 A (III) of, December 10, 1948, Articles 13 and 17 and Article 12 of the International Covenant on Civil and Political Rights, adopted by the General Assembly of the United Nations on 19 December 1966
Prepared By
The Applied Research Institute – Jerusalem
ARIJ