Israeli Occupation Forces demolish water well in Hebron town of Yatta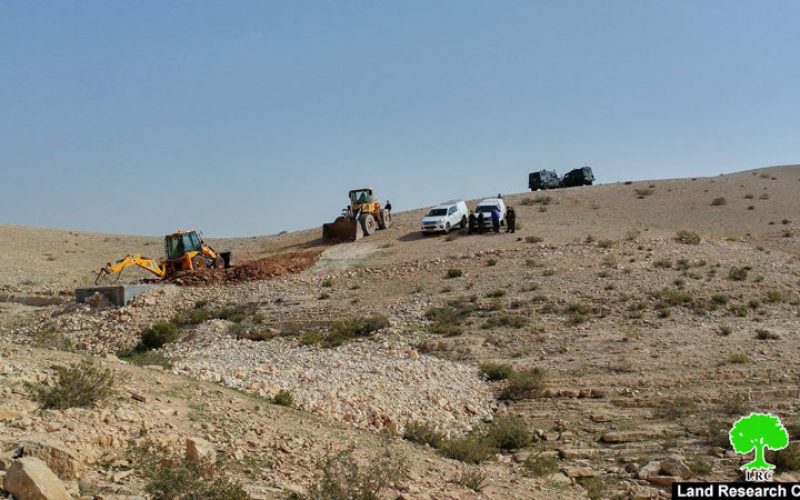 Violation: demolition of water well
Location: Khashem ed-Daraj- Yatta town
Date: February 23, 2017
Perpetrators: Israel Civil Administration
Victims: citizen Suliman Saray'a
Details:
Israeli Occupation Forces demolished on February 23, 2017 water well in the area of Khashem ed-Daraj, east Yatta town in Hebron on the claim of "unlicensed construction".
The affected owner, Suliman Saray'a told Land Research Center that a force from Israeli Occupation Forces, a staff from Israel Civil Administration and a dozer raided the area in the morning and demolished the well.
Saray'a pointed out that the dozer fell in the well at time of carrying out the demolition attack. The attacking force then summoned another military machinery to complete the demolition.
It should be noted that the 150m3 well was built in 2009 to collect rainwater for irrigation ends and as drinking water for the 200 sheep herd of the owner.
Citizen Saray'a also pointed out that he received a demolition order on the well in 2016. Due to lack of knowledge on legal issues, the citizen did not object to the order. Thus causing the demolition of the well lately.
The citizen now faces a dilemma in providing drinking water for his herd. He is now obliged to buy water with the cost of $30 for 3.5m3. It is reported that Israeli Occupation Forces demolished the same water well of citizen Saray'a on December 15, 2010.
About Khashem ed-Daraj:
It is situated to the southeast of Yatta town and is 20km away from it. The village has a total population of 800 people and is inhabited by several families namely( al-Tabanih, al-Hathalin, al-Faqir, and Hamadin). A roads network is there to link the village to other neighboring towns and cities. In addition to that, the town has many facilities namely (water and electricity networks, primary mixed-gender school, a clinic, a kindergarten, and three mosques).
Khashem ed-Daraj is surrounded by the natural reserve relative to Israel Nature Authority and the Dead (from the east), Um el-Khair and Arrab al-Najada (from the west), a military training camp for the occupation (from the north), and the villages of Khashem el-Karm and al-Dqiqa (from the south).
Prepared by
The Land Research Center
LRC