Stop-work orders on agricultural barracks in the Salfit town of Deir Istiya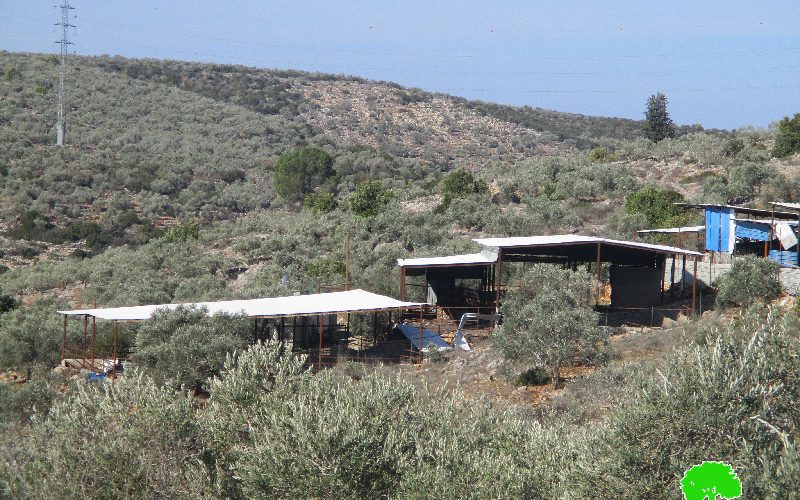 Violation

: issuing stop-work orders

Location

: Deir Istiya town- Salfit governorate

Date

: January 03, 2017

Perpetrators

: Israeli Occupation Forces

Victims

: three Palestinian families
Details:
Agriculture is the nerve of economics in developing countries. People rise depending on their natural resources. Unfortunately, the agricultural sector in Palestine is being taken as hostage by the Israeli occupation, which works so hard to destroy it.
The so-called Planning and Construction Committee- Israel Civil Administration served on January 03, 2017 stop-work orders on three agricultural barracks, two rooms and a storage in the area known as Al-Wajih Al-Shami, north Deir Istiya town in Salfit governorate.
According to the orders, the affected people were given a deadline until February 02, 2017 to complete all licensing procedures. This comes in time with the hearing session of Planning and Construction Committee- Israel Civil Administration in the court of Beit EL colony to consider the status of the notified structures.
The following table shows information about the
Affected citizen

Family

Minors

Military order

Notified structure

Husam Abu Faris

9

1

90m2 barrack for cows

60m2 barrack for cows

12m2 agricultural room

9m2 agricultural room

Akram Shawahnah

6

2

60m2 sheep barrack

12m2 agricultural room

Mohammad Suhban

7

2

60m2 storage

Total

22

5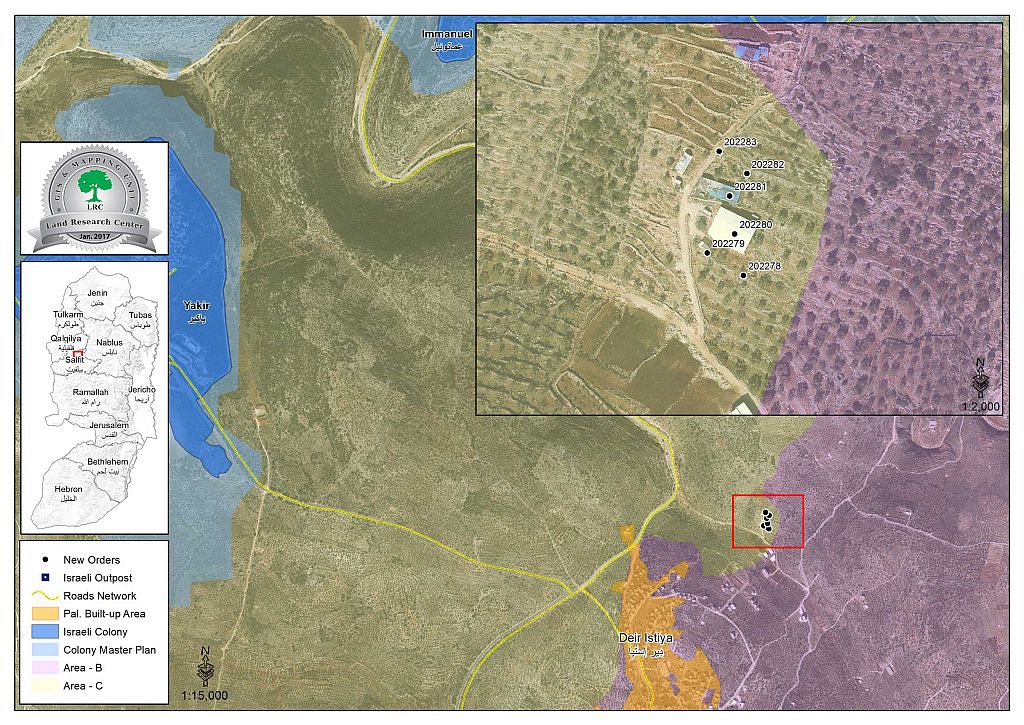 Deir Istiya:
It is located 6 km to the north west of Salfit. Its total area is 34, 765 dunums including 1527 dunums of built-up area. 40 % of the total area of Deir Istiya has been subjected to colonial activities. The town is inhabited by around 4000 people who depend largely on herding and agriculture in their living knowing that fertile soil and plenty of water are available. It is considered one of the most concerned towns with education, compared to other surrounding towns and villages. It is subject to colonial activities and colonies that are sporadic all over it, trying to seize every dunums and invades every place like cancer.
Prepared by
The Land Research Center
LRC