Israeli Occupation Forces notify residences of stop-work in the Salfit town of Kfar Ad-Dik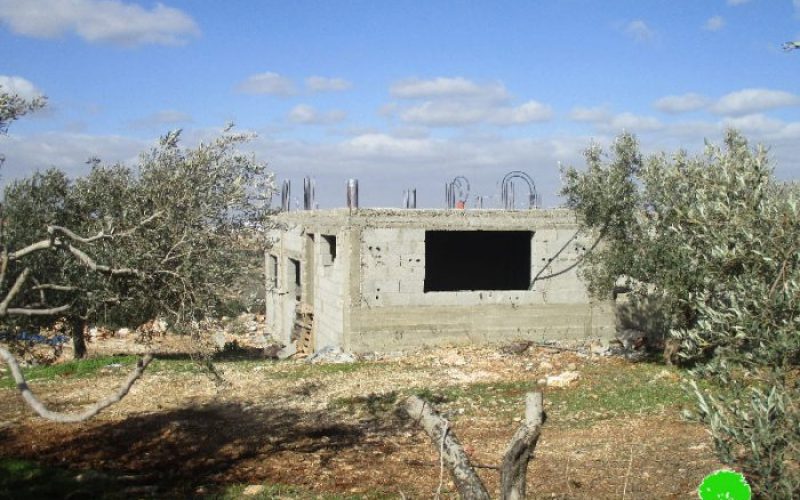 Violation: issuing stop-work orders on residences
Location: Kfar Ad-Dik- Salfit governorate
Date: January 02, 2017
Perpetrators: Planning and Construction Committee- Israel Civil Administration
Victims: seven Palestinian families
Details:
The so-called Planning and Construction Committee- Israel Civil Administration delivered on January 02, 2017 stop-work orders for seven families from Kfar Ad-Dik town, west Salfit governorate. The orders targeted seven residences on the claim of them being built in area classified "C" according to Oslo Accords.
Noteworthy, the targeted residences are founded in the area known as Al-Sh'ab, southwest of the town and nearby Peduel colony, which is founded on confiscated lands from Kfar Ad-Dik.
According to the orders, the affected owners were given a deadline until January 23, 2017 to complete all licensing procedures. This comes in time with the hearing session of the Planning and Construction Committee- Israel Civil Administration in the court of Beit El colony to consider the legal status of the notified structures. The following table shows information about the affected people and their properties:
Affected citizen

Family

Minors

No. of order

Nature of notified structure

Photo

Mu'taz Talab Mizyed

2

0

One floor 160m2

Under construction basement 60m2

Tareq Talab Mizyed

3

1

One floor 120m2–

under construction

Kheireddin Taha

6

4

One floor 160m2-under construction

Basheer Taha

5

3

One floor 90m2-under construction

Hamada Ad-Dik

2

0

One floor 120m2-under construction

Adam Mir'i

6

4

One floor 100m2-under construction

Ahmad Mustafa Ahmad

8

3

202274

two floors 290m2-under construction

Total

32

15
Source : Field observation- Department of Monitoring Israeli Violations- Land Research Center-2017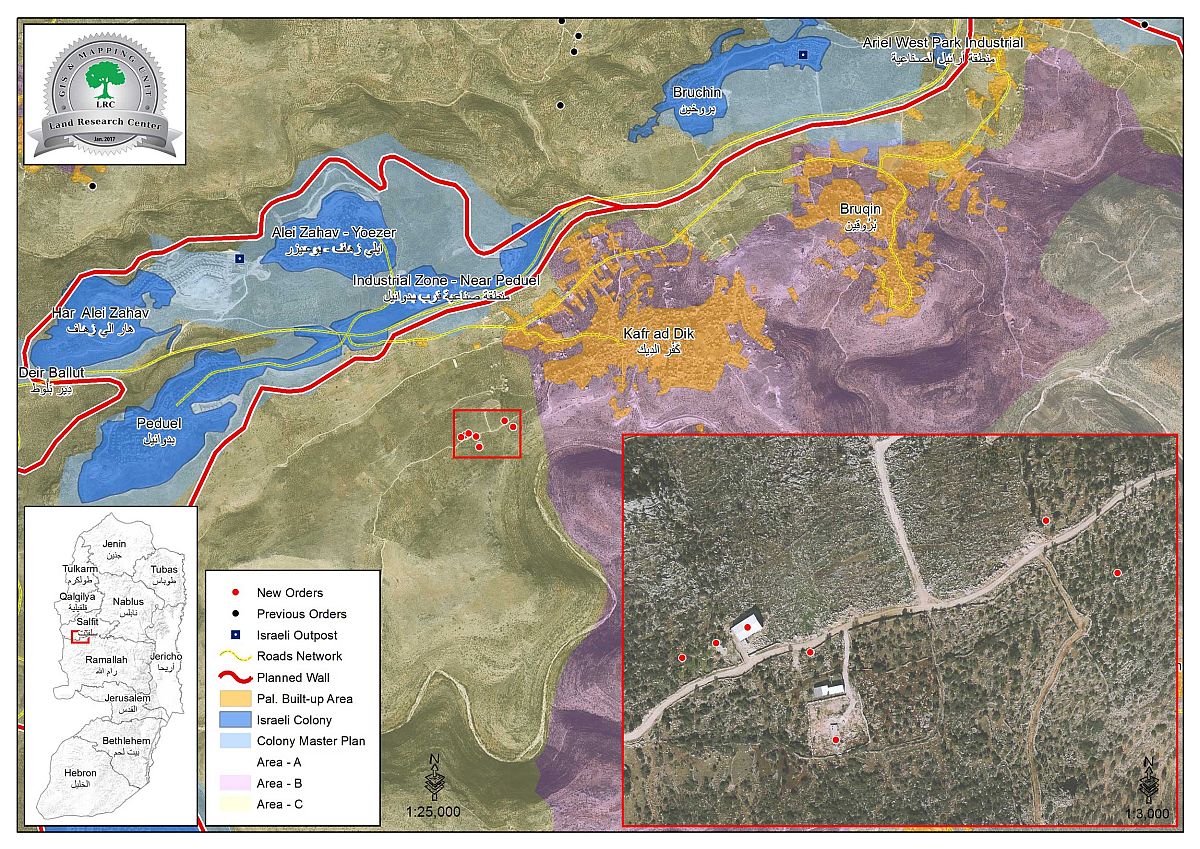 It should be noted that Kfar Ad-Dik town as other Palestinian villages, cities and camps suffers from the Israeli escalation of attacks and violations against basic rights including the right to housing . By 2000, more than 20 residences were served stop-work orders on the claim of them being location in area classified "C" according to Oslo Accords. Despite that owners of structures apply for building permits, Israeli Occupation Authorities never grant them such licenses for Palestinians.
Kfar ad Dik [i]
Kfar ad Dik is located 15 km to the west of Salfit. It is surrounded by Bidya (north), Rafat and Deir Ballut (west), Bruqin and Sarta (east), and Bani Zaid villages (south). Kfar ad Dik has a population of 4553 people, according to a 2007 census. Its total area is 15529 dunums; however, it has been suffocated by bypasses and 3 Israeli colonies that lay over its lands. This has further limited its expansion knowing that it had already had a 791-dunum organizational plan (built-up area); it also isolated the village from its surroundings. The Israeli occupation confiscated 2477 dunums of Kfar ad Dik lands for the benefit of:
Colonies devoured 1225 dunums, and they are:
Name of colony

Year of construction

Area of confiscated land/ dunum

Number of colonists

Har Eli Zahav

Eli Zahav- Yoezer

Bedoel
*Source: Field Research- Monitoring Israeli Violations Team- Land Research Centre (LRC).
Bypasses stole 362 dunums
The Apartheid Wall seized 890 dunums and isolated 8824 dunums and is expected to be 8905 long in Kfar ad Dik lands.
Lands of Kfar ad-Dik are categorized according to Oslo Accords into lands under Area B (15% of the lands) and lands under Area C (85% of the lands).
i] Source: Geographic Information System- Monitoring Israeli Violations Team- Land Research Center
Prepared by
The Land Research Center
LRC