Israeli Occupation Forces demolish tents and residences for the tenth time in the Jericho hamlet of Karzliya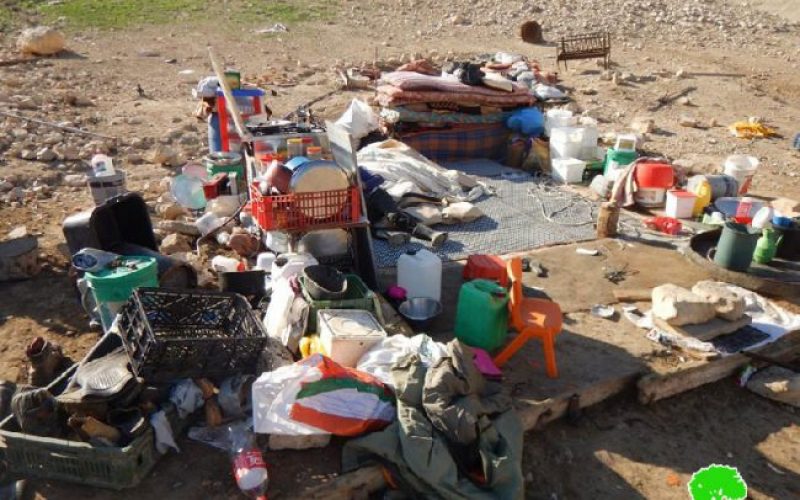 Violation: demolishing tents and residences
Location: Khirbet Karzliya- Jericho governorate
Date: January 23, 2017
Perpetrators: Israeli Occupation Forces
Victims: two Bedouin communities
Details:
A massive force from the occupation army accompanied by a military dozer raided on January Khirbet Karzliya, southeast Jericho governorate and demolished a number of structures on the claim of them being located in "closed military zone". According to the data of field visits, the demolition operation reached out three residential tents, four sheep tents and two barns. The following table shows information about the affected people and their properties:
Affected citizen

Family

Minors

Targeted structures

Remarks

Residential tent\m2

Sheep tent\ m2

Barn\ m2

Zahi Bani Menyeh

6

4

One tent (45)

Tent (60)

Tent (12)

One barn (90)

Donated from ACTED

Zuhair Bani Menyeh

7

3

Tent (45)

Tent (60)

Tent (60)

Tent (45)

One barn (90)

Donated from ACTED

Total

13

7

3

4

2
It should be marked that Khirbet al-Karzliya is located 3km away from Jiftlik village, where an Israeli military camp is founded in the nearby. This community lacks the lowest life standers for it has no roads, services and even infrastructure; resident of the area live a primitive life and take sheep husbandry as their main source of income.
According to the data of Jiftlik village council, the Bedouin community of al-Karzliya was targeted six times since 2014 under the pretext of it being located within an area claimed "closed military zone" by the Israeli occupation.
The people of this community come originally from the town of Aqraba. As nomads, they moved from that area to settle down in al-Karzliya area . Despite the simple life the residents of this community live, they are still targeted and oppressed by the Israeli occupation via demolition and displacement.
Demolition of road segment:
It should be noted that occupation forces demolished a segment of the road leading to the hamlet. Noteworthy, the road is the only access point to the hamlet, which know became isolated from surrounding villages and cities.
Land Research Center LRC sees that demolitions contradict with all the International conventions and Humanitarian laws including:
Article 17 of the (1948) Universal Declaration of Human Rights stating: "Everyone has the right to own property alone as well as in association with others. No one shall be arbitrarily deprived of his property."
Section ‹G› of article 23 of the (1907) The Hague Conventions asserting: "In addition to the prohibitions provided by special Conventions, it is especially forbidden to destroy or seize the enemy's property, unless such destruction or seizure be imperatively demanded by the necessities of war."
Article 53 of the Geneva Fourth Convention (1948) declaring: "Any destruction by the Occupying Power of real or personal property belonging individually or collectively to private persons, or to the State, or to other public authorities, or to social or cooperative organizations, is prohibited, except where such destruction is rendered absolutely necessary by military operations."
Section 1, Article 11 of the International Covenant on Economic, Social and Cultural Rights (1966): "The States Parties to the present Covenant recognize the right of everyone to an adequate standard of living for himself and his family, including adequate food, clothing and housing, and to the continuous improvement of living conditions.
Prepared by
The Land Research Center
LRC