Israeli Occupation Forces demolish structures in Al-Eizariya town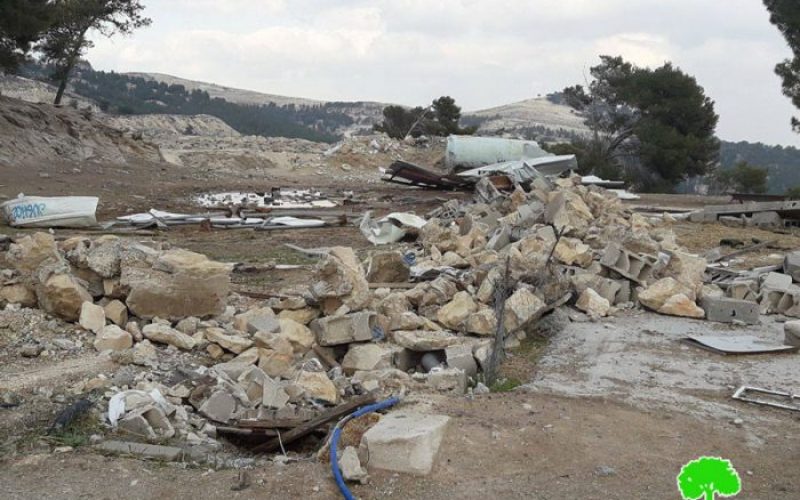 Violation: demolishing structures
Location: Al-Eizariya town- Jerusalem governorate
Date: January 26, 2017
Perpetrators: Israeli Occupation Forces
Victims: Jahalin family
Details:
Dozers of Israeli Occupation Forces demolished on January 26, 2017 residential and agricultural structures in Al-Iskan area from Al-Eizariya town. The demolition reached out five residences and two agricultural facilities.
Owners of the structures, Jahalin family, used to live in the Bedouin community of Bir Al-Maskoub before moving to Al-Iskan area to settle down in metal slaps houses. The following table shows information about the affected people and their residence:
#

Affected citizen

Area\m2

Family

Minors

1

Mohammad Khalil Jahalin

100

10

8

2

Hussein Khalil Jahalin

100

7

4

3

Ghassan Mousa Jahalin

80

9

7

4

Mufeed Mousa Jahalin

100

10

8

5

Mohammad Wrad Jahalin

100

11

8

Total

480

47

35
Source : Field observation- Department of Monitoring Israeli Violations- Land Research Center-2017
It should be noted that Israeli Occupation Forces also demolished two barracks for livestock. The first barrack (80m2 ) belongs to Mohmmad and Hussein Jahalin and shelters 40 sheep where the second one (100m2 ) belongs to Ghassan Jahalin and shelters 100 sheep.
Citizen Mohammad Khalil Jahalin told Land Research Center the following: " We have been living here since years ago; it is after we moved from the area of Bir Al-Masoub. When we first came here, we established residences from cement blocks and metal slaps but we didn't receive any demolition orders from Israel Civil Administration. Today, we were surprised to see the dozers of the occupation demolishing the residences without even letting us save any of the interior".
Land Research Center LRC sees that demolitions contradict with all the International conventions and Humanitarian laws including:
Article 17 of the (1948) Universal Declaration of Human Rights stating: "Everyone has the right to own property alone as well as in association with others. No one shall be arbitrarily deprived of his property."
Section ‹G› of article 23 of the (1907) The Hague Conventions asserting: "In addition to the prohibitions provided by special Conventions, it is especially forbidden to destroy or seize the enemy's property, unless such destruction or seizure be imperatively demanded by the necessities of war."
Article 53 of the Geneva Fourth Convention (1948) declaring: "Any destruction by the Occupying Power of real or personal property belonging individually or collectively to private persons, or to the State, or to other public authorities, or to social or cooperative organizations, is prohibited, except where such destruction is rendered absolutely necessary by military operations."
Section 1, Article 11 of the International Covenant on Economic, Social and Cultural Rights (1966): "The States Parties to the present Covenant recognize the right of everyone to an adequate standard of living for himself and his family, including adequate food, clothing and housing, and to the continuous improvement of living conditions.
Prepared by
The Land Research Center
LRC