Israeli Occupation Forces close agricultural road in Bethlehem village of Husan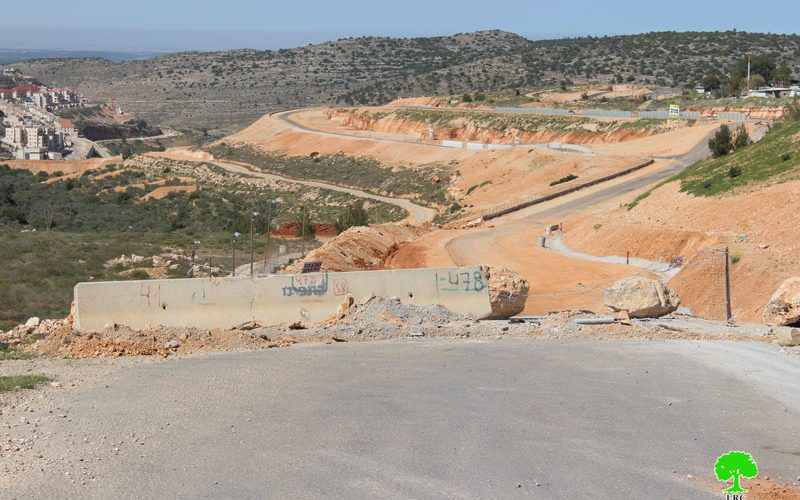 Violation: sealing off agricultural road
Location: Husan village- Bethlehem governorate
Date: January 02, 2017
Perpetrators: Israeli Occupation Forces
Victims: three Palestinian families
Details:
Israeli Occupation Forces closed on January 02, 2017 an agricultural road that serves more than 400 dunums of olive groves in Husan village via road blocks.
It is believed that Israeli Occupation Forces intend to ban farmers from accessing their lands and restrict their movement. This eventually impact farmers' agricultural revenue.
It should be noted that a number of families in Husan village depend on agriculture and plantation as a main source of income. Closing the road will negatively affect farmers' economic status.
Noteworthy, Israeli Occupation Forces recently ravaged vast areas of lands next to Betar colony that is founded in the nearby to accommodate new residential units.
The chairman of Husan village council, Rami Hamamreh, told Land Research Center the following:
" If colonists keep on building new units in the area, the road leading to farmers' lands will be closed. There will be no route to the lands but through Wad Fukin village. This will burden farmers and increase costs of movement and moving things around. Israeli Occupation Forces intend to push farmers away from their lands so that they later take over them".
Photos 1+2: the closure imposed on the agricultural road
About Husan:
Husan is 10 km west of Bethlehem and is edged with Wadi Fukin (west) Nahhalin (south), Wadi Rahall (east), and Battir (north).
It has a total area of 7360 dunums, 801 of which are built-up area. The Israeli occupation confiscated 2759 dunums to build Betar Illit and Hadar Betar colonies. Besides, bypass number '375 devoured 180 dunums.
The Apartheid Wall destroyed 124 dunums of Husan lands and isolated 150 dunums.
According to the 2007 statistics, the village population is 5551 people.
According to Oslo Accords, 14% of Husan is under Area B (PA is in charge of civil matters with Israel responsible for security). However, most of the village lands (86%) is under Area C (Israel maintains full security and administrative control). Here are the area in dunums:
Area B (1036) dunums
Area C (6324) dunums
Prepared by
The Land Research Center
LRC