Israeli Occupation Forces ban farmers from planting lands in the Hebron village of Tarqumiya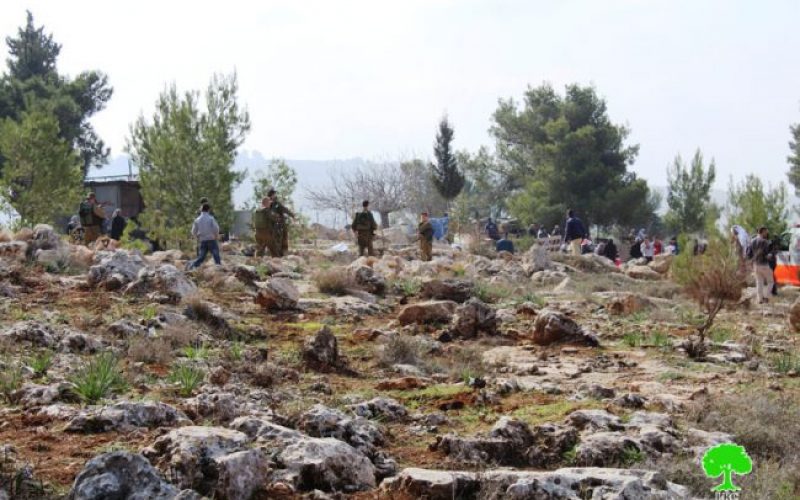 Violation: banning cultivation
Date: January 18, 2017
Location: Tarqumiya town- Hebron
Perpetrators: Israeli Occupation Forces
Victims: farmers of the town
Details:
Israeli Occupation Forces banned on January 18, 2017 farmers of Tarqumiya town from cultivating their threatened lands that are founded nearby Adora colony.
It is reported that farmers headed to their lands within a campaign organized by Anti Wall Commission, Hebron Governor Office, Ministry of Agriculture and Tarqumiya municipality to plant seedlings in their lands threatened of confiscation due to its proximity to Israeli colony.
At time, a force from the occupation army raided the area and banned farmers from planting the seedlings in there. Not only, soldiers stole the saplings intended for cultivation.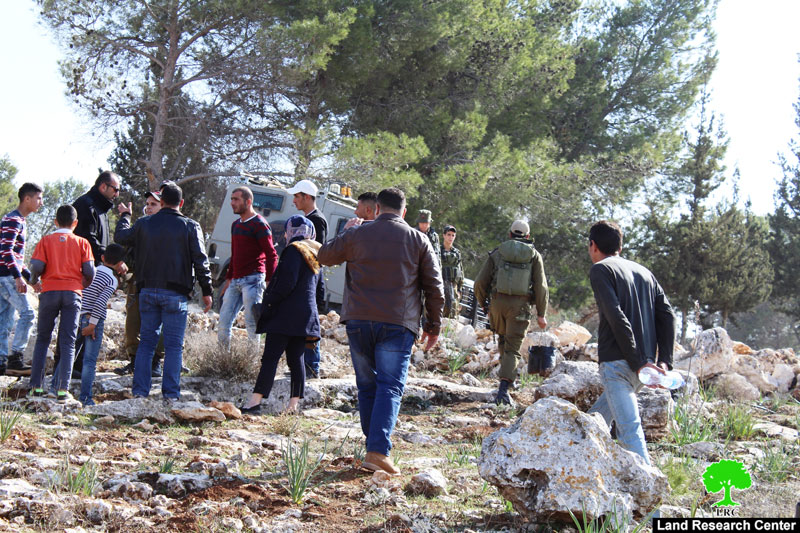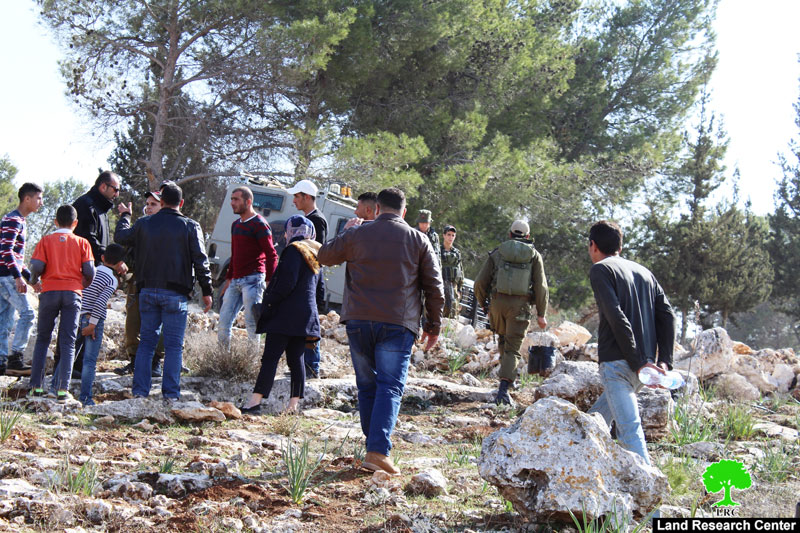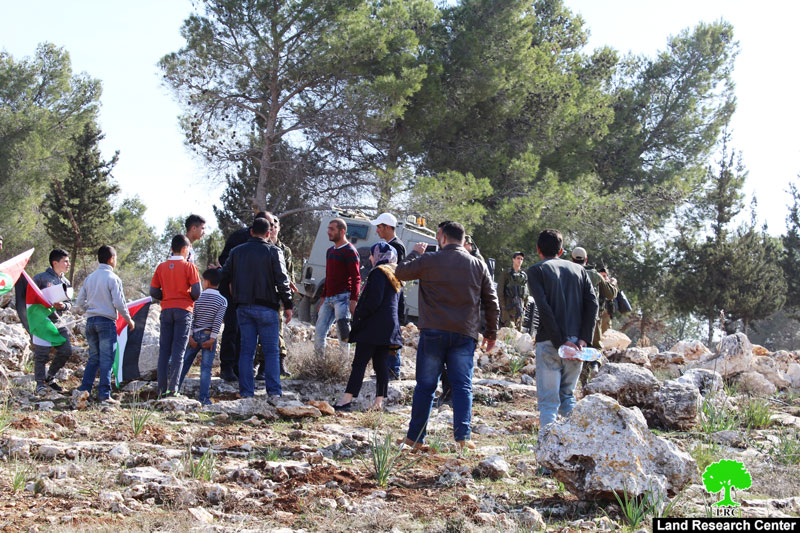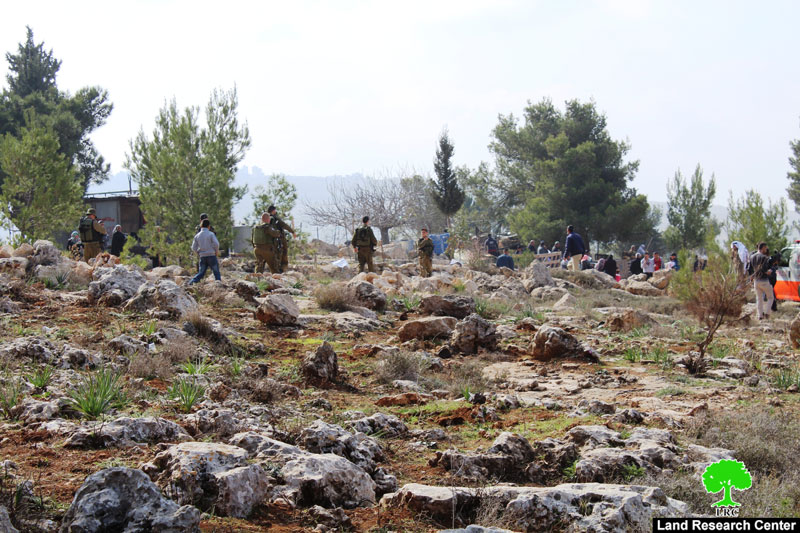 Photos 1-3: at time of banning the cultivation activity
Noteworthy, farmers managed to plant some seedlings in the threatened land. Um Ahmad, an affected land owner, told LRC that the attack was the fifth of its kind. It should be noted that Adora colony is undergoing constant expansion on the lands o Al-Taybeh area in Tarqumiya town. Soldiers of the occupation and colonists harass farmers in their lands to push them leave the area.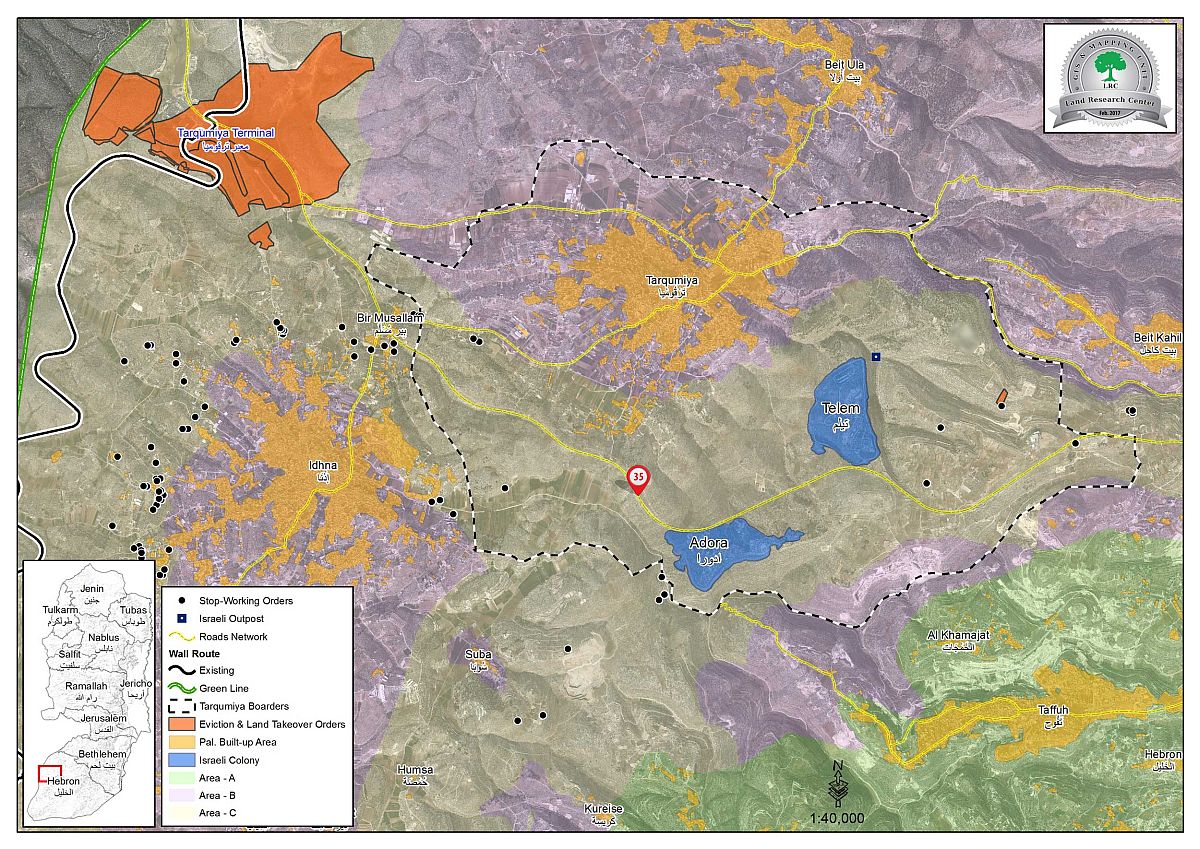 About Tarqumiya:
10 km to the west of Hebron city , Tarqumiya is edged by Beit Ula and Beit Kahil villages from the north, Idhna village from the west, Taffuh village from the east and Dura village from the south.
Its population mounts up to 18,514 people (2014 census). Tarqumiya's total land area is 22,106 dunums, of which 2,117 dunums are considered the village's built-up area.
Israeli colonies confiscated 948 dunums from Marda lands. Adora colony that was established in 1982 confiscated 442 dunums from the village. It is now home for 191 colonists.
As for Telem colony, it confiscated 506 dunums from Tarqumiya and is now home for 127 colonists.
The lands of Tarqumiya are classified according to Oslo Accords as the following:
8,186 dunums (37%) are classified as area B
13,920 dunums (63%) are classified as area C
Prepared by
The Land Research Center
LRC