Israeli Occupation Forces demolish residences in the Jericho area of Fasayil AL-Wusta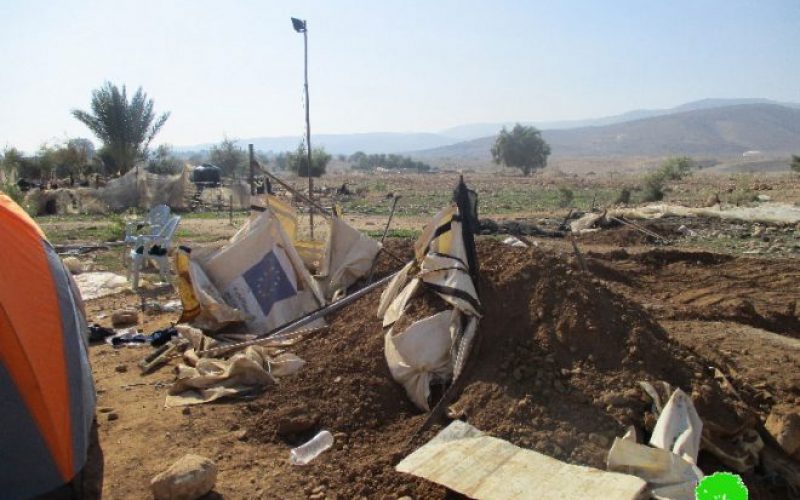 Violation: demolition of residences
Location: Fasayil Al-Wusta area
Date: December 06, 2016
Perpetrators: Israeli Occupation Forces
Victims: three Bedouin families
Details:
The village of Fasayil, north Jericho governorate has been witnessing a new occupational plan aiming at displacing and deporting indigenous residents in a step to empty the Palestinian Jordan valley (al-Ghoor) for the favor of the colonial expansion. It should be marked that people of Fasayil hail from Negev and have been residing the area for over 30 years. Noteworthy, all of the village's structures have been served either a stop-work or demolition orders at some point.
It is reported that a force from the Israeli occupation army accompanied by a military dozer raided the area of Fasayil and demolished a barrack and two tents gifted by ACF organization with funds from EU to shelter the homeless families, whose residences and structures were demolished in May 2015.
In addition, the attacking force demolished two tents used for fodder storing. Reportedly, three Bedouin families (16 members including 10 children) got affected by the attack.
It should be marked that the previous demolition, which targeted the residences of the three affected families occurred without any previous warning or notice, taking into consideration that the occupation demolished those structure too many times before.
Photos 1-5: views of the demolition operation
The following table shows information about the affected people and their properties:
Victim

Family

Minors

Damaged structure

Remarks

Residence\m2

Storing unit\ m2

Abdelhadi Ibayyat

8

6

Residential tent *24)

Tent (9)

Had structures demolished before

Zaid Khreibish

3

1

Residential tent *24)

Tent (9)

Had structures demolished before

Adnan Khreibish

5

3

Residential barrack (60)

Had structures demolished before

Total

16

10

Two tents and one barrack

2 tents
Source : Field observation- Department of Monitoring Israeli Violations- Land Research Center-2016
About Fasayil AL-Wusta:
The area of Fasayil Al-Wusta is reported to repeatedly witness raids by Israel occupation army. Noteworthy, this Bedouin community is located nearby many Bedouin communities that are not recognized by the occupation.
Over the past five years, more than nine demolitions were carried out in the community, not mentioning that the whole community is notified of demolition.
The residents of Fasayil hail from Beersheba where they were displaced in 1948. The clans of Arab Al-Zayid , Aal-Kheirbish and Aal I'bayyat headed to south Hebron then to the Palestinian Jordan Valley to face the terror and brutality of the occupation everywhere they went.
Life of Bedouin people is characterized by simplicity where people reside in tents and live off of livestock.
Prepared by
The Land Research Center
LRC