Israeli Occupation Forces confiscate construction equipment's from Tana hamlet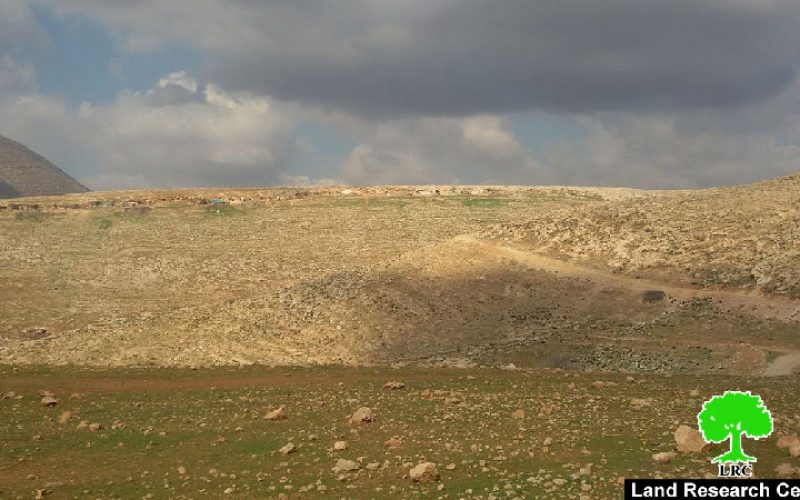 Violation: confiscation of construction equipments
Location: Khirbet Tana- Beit Furik town
Date: November 14, 2016
Perpetrators: Israeli Occupation Forces
Victims: residents of the hamlet
Details:
The area of Khirbet Tana, east Beit Furik town has been a constant target for Israeli attacks and violations that rendered the residents of the area homeless many times. The occupation worked so hard to take advantage of the natural resources of the area to serve colonial ends and expansionist plans; especially for the favor of Mehola colony and the illegal outpost of Givat Olem that are constantly expanding in violation of international law and conventions.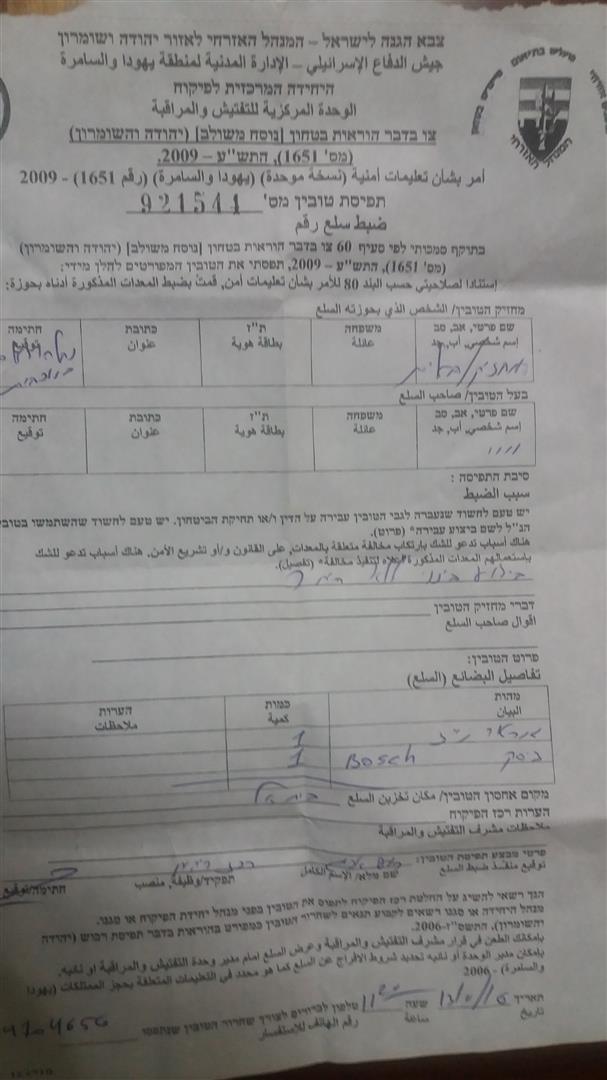 Since the beginning of 2016 Tana underwent four demolition operation that rendered 13 families homeless.
It should be marked that Land Research Center in partnership with Beit Furik Municipality prepared, through funds from OXFAM, for the cultivation of 200 dunums in the area of Tana with seedlings and pastoral plants for the sake of supporting the resilience and steadfastness of Palestinian farmers on the lands.
The Israeli Occupation Forces tried hard to hinder the project and detained the contractor responsible of the implementation and his vehicle, which was moved to a nearby military camp. Workers at the site were sent out and threatened of arrest if they come back.
On November 14, 2016, Israeli Occupation Forces confiscated electricity generator and some other equipments used in the rehabilitation of Al-Ain Al-Gharbia water well. The contractor was forced to leave the area and never come back to it.
It should be marked that Al-Ain Al-Gharbia is a source of drinking water for animals in Tana hamlet. Not only, the source is used to irrigate the plants and crops in there.
Photos 1-3: views of Khirbet Tana
It should be noted that the Israeli occupation considers Tana as a closed military zone despite the fact the its residents have been living there since over 60 years ago. Old houses and caves are the proof of people's authenticity in the area.
It is reported that Israel Supreme Court rejected on November 2015 the plea submitted by the hamlet's residents to halt the displacement order issued by the court on February 2014.
Khirbet Tana has a total land area of 6000 dunums that are all classified as area "C" according to Oslo Accords. One third of Tana's lands was confiscated for the favor of Mekhora and Jetit colonies.
Despite the fact that the hamlet is founded before the occupation itself, the Civil Administration still refuses to allow citizens to expand and construct on their lands. Most of the hamlet's residents live in houses built by bricks and metal slaps, tents and caves. Tana hamlet accommodates a mosque and a single school.
It should be marked that Tana underwent thirteen demolition operations since 2005.
Israel Civil Administration is reported to reject developmental master plans for the hamlet where the neighboring colonies of Mekhora and Jetit enjoy all such privileges denied for Palestinians. As a result, the hamlet of Tana is still "Unrecognized" despite the ownership documents residents have on their lands and properties.
Tana : Target for the occupation:
The field research team at Land Research Center documented the demolition of 58 residences and 107 other structures in Khirbet Tana until 2016. Below are some of the documented reports:
Israeli Occupation Forces demolish Khirbet Tana for the third time in row (LINK)
The Israeli Occupation Forces demolished Khirbet Tana and render 16 families homeless (LINK)
Khirbet Tana underwent two demolition attacks detailed as follows:
First demolition (report)
Second demolition (report)
Demolition of 17 residential and agricultural structures in the Nablus hamlet "Khirbet" of Tana (LINK)
Prepared by
The Land Research Center
LRC