Israeli Occupation Forces demolish residential and agricultural structures in Tubas governorate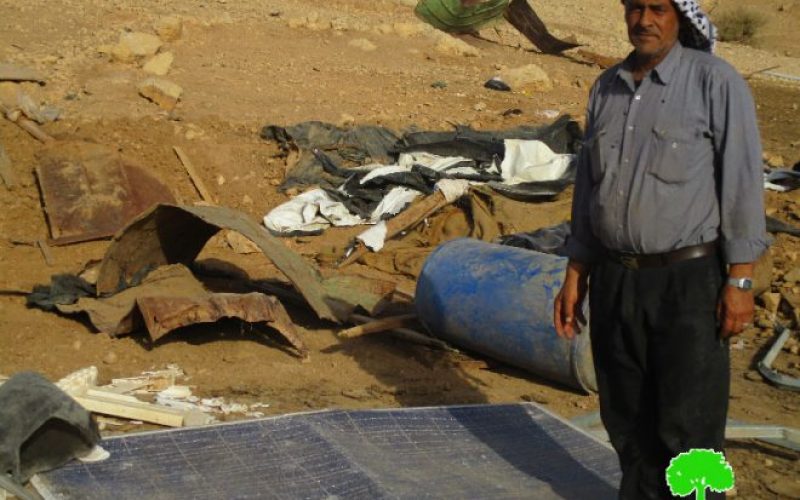 Violation: demolition attack
Location: Khirbet Al-Ras Al-Ahmar- Tubas
Date: October 09, 2016
Perpetrators: Planning and Construction Committee- Israel Civil Administration
Victims: 6 Bedouin families
Details:
A massive force from the Israeli occupation army accompanied by a staff from Israel Civil Administration raided the area of Khirbet Al-Ras Al-Ahmar, east Tammun village in Tubas and carried out a large-scale demolition operation.
It should be marked that the occupation force imposed a shut down on the whole area before the machineries reached out six residential tents, nine sheep tents, one agricultural barrack, five barns, solar panels and a water pipeline.
The targeted structure and properties belong to six families ( 32 members including 13 children) from the community. The following table shows information about the affected people and their property:
Affected citizen

Family

Minors

Demolished structures

Tents

Area\m2

Sheep tent

Area\m2

Barns

Area\m2

Others

Fayyad Bani Oudeh

7

2

1

24

2

18

1

60

Solar panel+ T.V and fridge+ mobile toilet gifted by PHG+ water tank (1m3)+ kitchen

Mohammad Bani Oudeh

8

6

1

80

2

36

1

60

Kitchen

Aref Toubasi

2

0

1

80

1

80

1

110

Ali Bani Oudeh

7

5

1

60

2

120

1

120

Sheep tents gifted by ACTED

Thaer Bsharat

1

0

0

0

1

100

0

0

Sheep barrack

Mohammad Bani Oudeh

7

0

2

120

2

450

1

500

Residential barrack and tent+ solar panel+ water tank (2m3)+ storage unit (12m2)+ power cable+ pipeline (6m)

Total

32

13

6

364

10

804

5

850
Source : Field observation- Department of Monitoring Israeli Violations- Land Research Center-2016
It should be marked that the occupation government considers the area of Al-Ras Al-Ahmar as "closed military zones". Thus, demolition operation get implemented without any previous warning and notices. Note that Al-Ras Al-Ahmar is one of many communities in the Palestinian Jordan Valley that are targeted by the occupation.
About Al-Ras Al-Ahmar:
The hamlet is inhabited by 18 families (Bsharat and Bani Oudeh) all hailing from the nearby Tammun village. Residents of the area live primitive and basic life. During the past ten years, the hamlet was demolished 18 times. Despite all attacks and violations, residents of AL-Ras Al-Ahmar insist on staying in their lands.
Land Research Center LRC sees that demolitions contradict with all the International conventions and Humanitarian laws including:
Article 17 of the (1948) Universal Declaration of Human Rights stating: "Everyone has the right to own property alone as well as in association with others. No one shall be arbitrarily deprived of his property."
Section ‹G› of article 23 of the (1907) The Hague Conventions asserting: "In addition to the prohibitions provided by special Conventions, it is especially forbidden to destroy or seize the enemy's property, unless such destruction or seizure be imperatively demanded by the necessities of war."
Article 53 of the Geneva Fourth Convention (1948) declaring: "Any destruction by the Occupying Power of real or personal property belonging individually or collectively to private persons, or to the State, or to other public authorities, or to social or cooperative organizations, is prohibited, except where such destruction is rendered absolutely necessary by military operations."
Section 1, Article 11 of the International Covenant on Economic, Social and Cultural Rights (1966): "The States Parties to the present Covenant recognize the right of everyone to an adequate standard of living for himself and his family, including adequate food, clothing and housing, and to the continuous improvement of living conditions. The States Parties will take
Prepared by
The Land Research Center
LRC