During the olive harvesting season: Israeli Occupation Forces drowned olive trees with excess amounts of water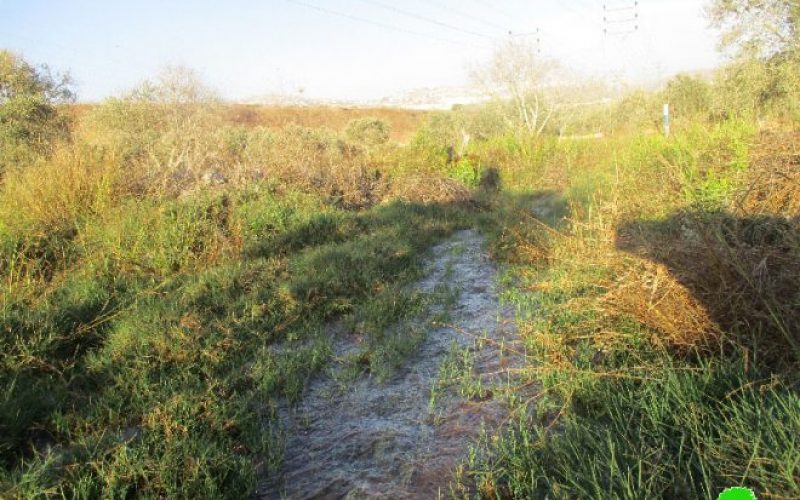 Violation: drowning trees with excess water
Location: Marda village
Date: October 10, 2016
Perpetrators: Israeli Mekorot Company
Victims: farmer Nasfat Al-Khefsh
Details:
Farmer Nasfat Al-Khefsh (54) was surprised to see that his olive trees were drowned after Israeli Mekorot company pumped huge amounts of water from an Israeli artisan well into his groves. Noteworthy, the well is only 10 meters away from the target land.
According to the field follow-up on the location, excess amounts of water caused damage to 18 olive trees, affecting the biological status of trees. As a result, the trees became unproductive.
It should be marked that the Israeli District of Coordination Office DCO promised to solve the problem but nothing really happened on the ground. Water now gathered amidst olive groves, causing imminent threat to around 12 dunums.
The affected farmer asserted that his grove produces 200 kg of olive oil each harvesting season. Now, he lost his source of income and is facing a financial crisis.
It is reported that Mekorot company established, in 2013, an artisanal water well to the north of Ariel colony that is founded on confiscated lands from Haris and Marda villages. The reason behind establishing the well is to steal Palestinian water and move it to the colony. Also, the company pumps water into groves to kill trees and damage as much area as possible.
About Marda:
Marda is located 4 km to the northeast of Salfit city and is edged by Jamma'in village from the north, Kifl Haris village from the west, Yasuf village from the east and Ariel colony from the south.
Its population mounts up to 2568 people (2014 census). Marda 's total land area is 8816 dunums, of which350 dunums are considered the village's built-up area.
Israeli colonies confiscated 2537 dunums from Marda lands. Ariel colony that was established in 1978 got the biggest share from confiscated lands. It is now home for 16053 colonists.
Bypass road no. 505 confiscated around 261 dunums from the village.
The lands of Marda are classified according to Oslo Accords as the following:
1458 dunums (13%) are classified as area B
7358 dunums (83%) are classified as area C
Prepared by
The Land Research Center
LRC