The Israeli occupation municipality demolishes a tent and ravages agricultural land in Sur Baher village in Jerusalem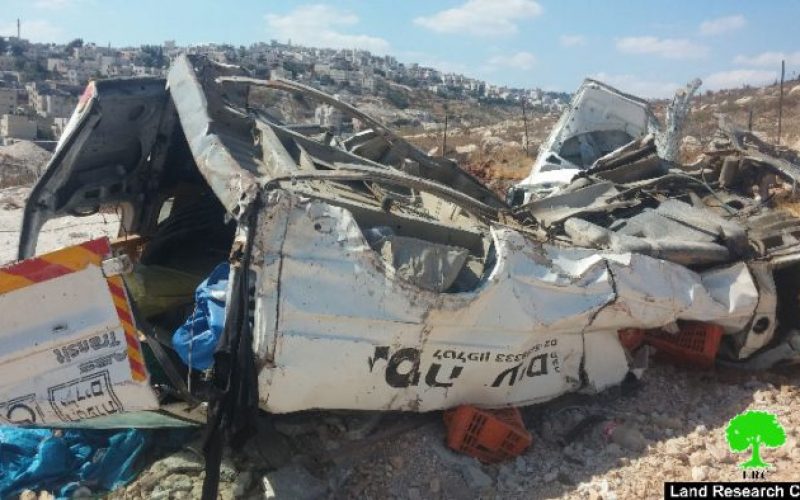 The dozers of the Israeli occupation municipality demolished on September 20, 2016 a tent that was used as a gathering place for Dabsh family and ravaged a plot, uprooting a number of trees planted in there.
Citizen Sumaia Dabsh told Land Research Center the following:
"The tent was of 70m2 in area. It was built in April 2016 by metal corners and roofed with shade cloth to be a place for Ramadan feasts. The tent is founded on a three dunum plot we own; the land is planted with olive, almond, lemon, figs and pomegranate trees. Not only, the plot is provided with an irrigation system and has a truck cabin that is used as a storage unit.
A month ago, employees from the occupation municipality verbally notified us that the tent was unlicensed and must be demolished. We tried to tell the employees that the tent is not a residence and that it is only used for recreation but they insisted that it must be removed"
She also added:
" On September 20, 2016, a massive force from the occupation police and two dozers arrived at the location, closed the roads and declared the area inaccessible. Neighbors called us saying that dozers are bringing down the tent. I went with my husband to check out on place but policemen isolated us 100meters away from the location.
The dozers demolished the tent and damaged the interior before reaching out for the water tank founded in the area; holes were poked in it. Despite that the demolition notification only targeted the tent, the dozers ravaged the plot and damaged everything on it, including 20 trees of different varieties. Earth was dumped onto the uprooted trees where the irrigation network was cut down and ravaged".
Nothing can justify the ravaging act conducted by the municipality; especially after the family was verbally informed of the tent demolition only.
Prepared by
The Land Research Center
LRC