Dozers of the Israeli occupation municipality demolish two under-construction residences in Silwan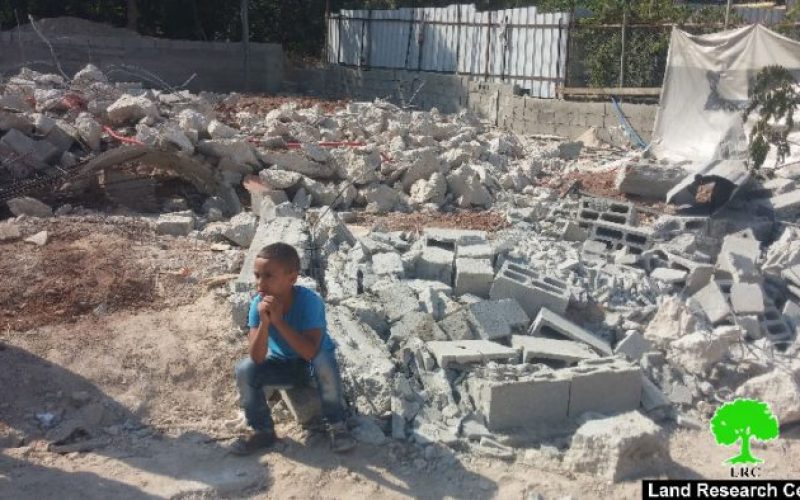 In the neighborhood of Wad Yasool in Silwan, the occupation bulldozers demolished two under-construction homes owned by Eyad Nairookh and Amjad Sinokrot. The house of Eyad is reported to be of 80m2 in area, to which the owner was planning to move-in with his four member family including two children.
The second residence, which is owned by Amjad, is also of the same area. Amjad's four member family including two children were intending to move-in to the house the moment it gets done.
The wife of Amjad told Land Research Center the following:
" Construction works of two houses started during August 2016 on a plot that is owned by my husband ,Amjad, and his friend Eyad Nairookh. The structures were made of cement and bricks. At time of construction, employees from the occupation's municipality arrived at the location and hanged an "unaddressed" demolition order on the building. The order was administrative; meaning that the occupation can implement it in 48 hours.
At 8:00 in the morning a force from Israel Police and two dozers arrived to the area and closed before bringing down the two residences. Demolition started at 8:30 and was finished at 11:30 before noon. At time of the operation, Eyad arrived at the location but the force detained him in a Police car until the demolition was over.
We now live in a rented house but the owners asked us to evacuate for they urgently needed it"
It should be marked that the occupation's municipality bans any construction act in Wad Yasoul area and distributes administrative demolition orders for the owners of houses in the neighborhood. The municipality aims at annexing the neighborhood to the colonies of Jabal Al-Mukabir area.
The policy of the occupation authorities seek to harass Jerusalemites and push them to leave their residences to become available for colonial plans; they never grant building permits and licenses for any Palestinian in the area and this how indirect displacement policy is done. Financial costs of permits is almost impossible to be covered. Thus, hundreds of families remain incapable to build or license their existing buildings, facing the eventual fate of demolition.
Prepared by
The Land Research Center
LRC