Israeli Occupation Forces uproot trees and demolish retaining walls in Tulkarm governorate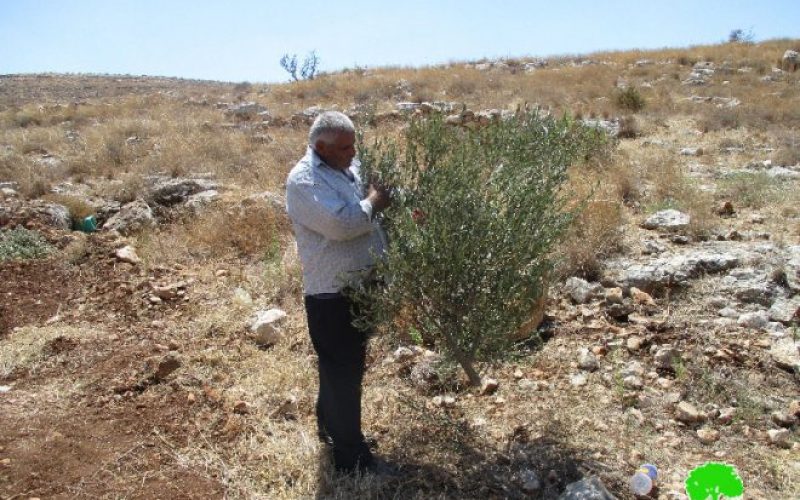 Violation: uprooting trees and demolishing retaining walls
Location: Shofa village- Tulkarm
Date: August 16, 2016
Perpetrators: Israeli Occupation Forces
Victims: five Palestinian families
Details:
A massive force from Israeli Occupation Army accompanied by military dozers raided on August 16, 2016 the Tulkarm village of Shofa and carried out an attack that targeted lands and structures.
It should be marked that the attacking force stormed the area known as "Wad At-tin", south Shofa village of Tulkarm governorate and embarked on destroying and cutting down around 180 fruitful trees aging five years. Not only, the force demolished 90m of retaining walls that surrounded the attacked location.
Noteworthy, the Israeli occupation soldiers moved some of the uprooted trees during the attack to an unknown location via military trucks.
The affected trees are reported to be owned by five Palestinian families from the village. The targeted land has gone under a reclamation three years ago through Committees of Agricultural Work in coordination with the Agricultural Committee of Shofa village.
Israeli Occupation Forces claim the targeted area to be "State Lands". Farmers were notified of "eviction" in 2013 due to that claim.
Views of the attacked lands and trees
The following table shows information about the affected lands and owners:
Affected citizen

Family

Targeted area\dunum

Damage

Olive trees

Almond trees

Retaining walls

Abu Bakir Hamid

6

9

70

18

80

Rafe' Droubi

7

2

20

10

0

Hamdan Droubi

4

4

24

10

0

Maeen Droubi

9

2

20

0

0

Mofeed Arafat

6

1

15

0

10

Total

32

18

149

38

90
Source : Field observation- Department of Monitoring Israeli Violations- Land Research Center-2016
About Shofa:
8km to the southeast of Tulkarm city, Shofa is inhabited with 2500 people on a total area of 12,000 dunums, of which 7000 dunums were confiscated for the colonial expansion ,bypass roads opening and military checkpoints. It should be marked that the colony of Avnei Hefetz was established on confiscated lands from Shofa village in 1987.
Avnei Hefetz populates 964 on a built-up area of 1,397 dunums (source: geographical information system GIS – LRC. To the west of Shofa, Enav colony was established on confiscated lands from the village in 198. The colony is of 1566 dunums and has a built-up area of 696 where 550 colonists live (2005).
Prepared by
The Land Research Center
LRC