Israeli Occupation Forces uproot 250 olive trees, ravage agricultural lands in Salfit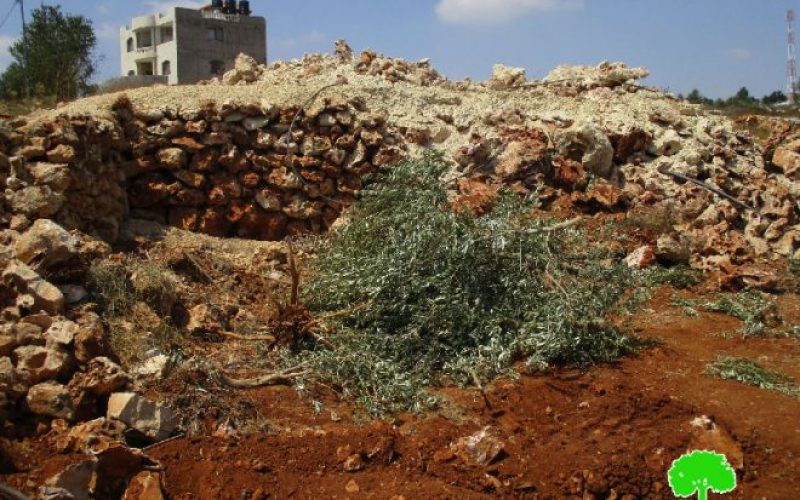 Violation: uprooting trees and ravaging lands
Location: Al-Bayyada area- Iskaka village
Date: August 10, 2016
Perpetrators: Israeli Occupation Forces
Victims: farmers of the area
Details:
A massive force from the Israeli occupation army accompanied by a military dozer raided on August 10, 2016 the eastern area of Iskaka village known as " Haiqat Ibdah", east Salfit and embarked on ravaging an area of 30 dunums. As a result, 250 olive trees aging 7 years got uprooted and were totally destroyed.
Also, the dozer of the occupation force destroyed 500m of retaining walls and tossed the demolished rocks at different spots of the target land to assure full damage to the area.
It should be marked that the targeted land underwent reclamation activities in 2008 through 2013. The activities were carried out through agricultural organizations in Salfit. Note that the reclamation works were served stop-work orders by the occupation two times on the claim that the lands are "State Property".
Noteworthy, due to the fact that the land was declared "State Land", farmers had to run the reclamation manually until the plot was planted in 2013.
The affected trees belong to farmers from Iskaka namely ( Mahmoud Hmeidi, heirs of Shihada Harb, heirs of Abdelhamid Dhaher and Saleh Harb).
Sings of the ravaging acts and the destroyed trees
The expansion of Nofei Nehemiah outpost, that is founded nearby the target area, paves the way for more land takeover in the area for the sake of its future expansion; thus cutting the way for Palestinians of Iskaka village to build and expand in the future in the only land space left for them.
Noteworthy, 25 dunums from the area were ravaged for the sake of expanding Nofei Nehemiah. This is done to attract more colonists to Ariel colony.
About Iskaka:
Iskaka is located 6 km to the northeast of Salfit city and is edged by Jamma'in village from the north, Salfit city from the west, Ariel colony from the west and Shevut Rahel colony from the east.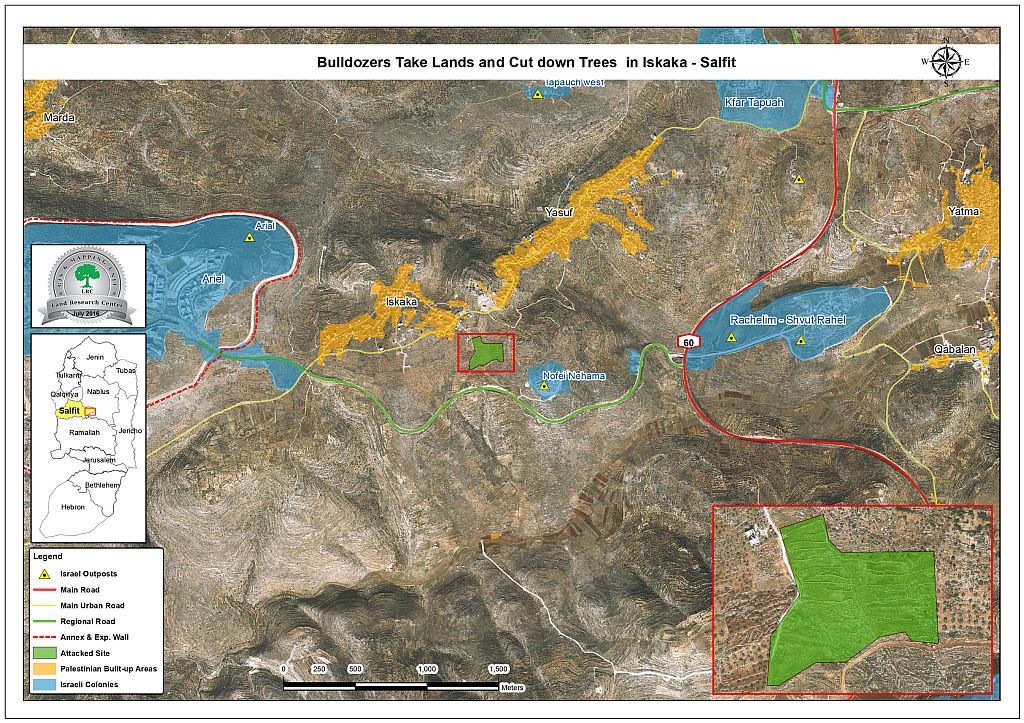 Its population mounts up to 1176 people (2014 census). Iskaka's total land area is 5474 dunums, of 217 dunums are considered the village's built-up area.
Israeli colonies confiscated 257 dunums from Iskaka lands. Ariel colony that was established in 1978 confiscated 198 dunums from the village.
Bypass roads confiscated around 40 dunums from the village.
The lands of Iskaka are classified according to Oslo Accords as the following:
1491 dunums (27%) are classified as area B
3983 dunums (73%) are classified as area C
Prepared by
The Land Research Center
LRC