Israeli Occupation Forces demolish water well and uproot trees in Beit Ula town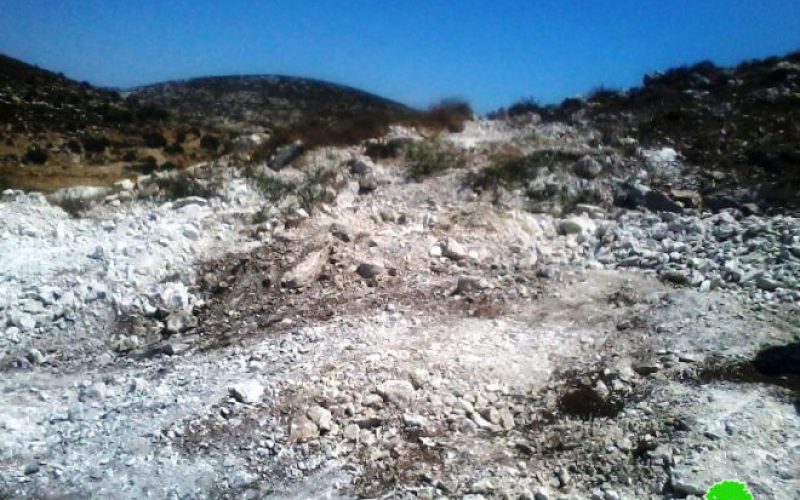 Violation: demolition and uprooting
Location: Shi'ib Al-Assarah- Beit Ula town
Date: August 17, 2016
Perpetrators: Israel Civil Administration and army troops
Victims: Citizn Mohammad Khalil Al-Amleh
Details:
Israeli Occupation Forces on August 17, 2016 dumped dirt and uprooted trees into water well and ravaged a plot planted with various trees. Noteworthy, the properties are owned by citizen Mohammad Khalil Al-Amleh from Beit Ula town of Hebron.
Citizen Al-Amleh told Land Research Center the following: " On the attack day, I headed to my plot to check on the trees but was surprised to see a force from the occupation army accompanied by a staff from the Civil Administration and military dozers and diggers carrying out a ravaging and demolition operation in my land. The force demolished a 550m of retaining wall, uprooted a number of olive and vine trees and dumped the trees into the well".
Signs of the ravaging and destruction
It should be marked that the occupation demolished a 80m3 well that was built in 2010 to irrigate the citizen's plot. Also, the dozers uprooted 150 olive trees and 50 vine trees aging 6 years. Noteworthy, olive picking season is supposed to arrive in two months; uprooting the trees destroyed the crops as a whole.
Al-Amleh ran a reclamation on an 8 dunum plot with the cost of 10,000 dollars that included the construction of retaining walls and water well and the cultivation of olive and vine trees. Noteworthy, 40 members live off of the plot's production.
AL-Amleh recalled the previous season of olive picking with agony. The trees produced 70kg of olives, said he. As a result of the latest attack, the man will be deprived of crops and will be financially affected.
It should be marked that citizen Al-Amleh found an "eviction" order in his land. The order was served on the claim that the land is classified as "state lands" as Israeli authorities claim.
Noteworthy, part of the citizen's land was confiscated for the favor of establishing the apartheid wall in the area. The wall is to the west of Al-Amleh's land.
An overview of Beit Ula Town:
Beit Ula is located 14 km to the northwest of Hebron city; it has a total area of 24,000 dunums, most of which are classified as area "B" according to Oslo Accords. The town houses a total population of 13,000 Palestinians and is run by a municipal council that was elected in 2012.
The town is famous for olive and vegetable plantation in addition to metal manufacturing and stones factories.
Around 2000 dunums from the lands of Beit Ula were confiscated for the favor of the apartheid wall establishment in 2004. Over the past couple of years, the Israeli occupation authorities ravaged tens of agricultural dunums, uprooted thousands of trees, demolished five water cisterns and confiscated many agricultural equipments and tractors in the town. The Israeli government took the aforementioned measures to push Palestinian farmers to abandon their lands (classified as area C) but farmers never abandoned their lands and always tried to object confiscation and demolition orders in Israeli court.
Land Research Center LRC sees that demolitions contradict with all of the International conventions and Humanitarian laws including:
Article 17 of the (1948) Universal Declaration of Human Rights stating: "Everyone has the right to own property alone as well as in association with others. No one shall be arbitrarily deprived of his property."
Section ‹G› of article 23 of the (1907) The Hague Conventions asserting: "In addition to the prohibitions provided by special Conventions, it is especially forbidden to destroy or seize the enemy's property, unless such destruction or seizure be imperatively demanded by the necessities of war."
Article 53 of the Geneva Fourth Convention (1948) declaring: "Any destruction by the Occupying Power of real or personal property belonging individually or collectively to private persons, or to the State, or to other public authorities, or to social or cooperative organizations, is prohibited, except where such destruction is rendered absolutely necessary by military operations."
Prepared by
The Land Research Center
LRC