Israeli Occupation Forces demolish structures, impose self-demolition on a barrack in Nablus
Violation: demolition attacks
Location: Sabastiya town-Nablus city
Date: August 09, 2016
Perpetrators: Israeli Occupation Forces
Victims: four Palestinian families
Details:
A massive force from the Israeli occupation army raided on August 09, 2016 the Nablus town of Sabastiya and carried out a demolition operation that reached out a restaurant, cafeteria and antics shop.
It should be marked that the structures were founded next to the Roman Theater that distinguishes the area and attracts tourists to it. The restaurant and cafeteria were built in 2001 on a total area of 220m2. In 2013, the structures were notified of stop-work; it is when the owners sought Jerusalem Center for Legal Aid to defend their case. After many sessions in the Israeli court of Beit El colony, no result has been rendered and demolition was approved effective.
Citizen Nahid Sakha told Land Research Center the following:
" Two families (22 members including 18 children) live off of the structures. In 2000, the occupation authorities withdrew my working permits that allows me to work inside the borders of the so-called State of Israel. Thus, I had to work in the restaurant to provide living form my family. The occupation insists on harassing us and deprive us from sources of sustenance".
30 meters away from the demolished structures, Israeli Occupation Forces also demolished an antics shop that is built by metal slaps. The structure belongs to citizen Ahmad Sakha. The citizen said that the structure was notified of stop-work in 2013. Despite that the owner prepared legal files and documents to license the structure, Israeli Occupation Forces carried out the demolition without allowing the citizen to evacuate.
Israeli Occupation Forces force a citizen to self-demolish his structure:
A force from the Israeli occupation army raided the area known as "Kroum Al-Mishmish" and verbally notified citizen Malik Tawfiq to self-demolish his 270m2 barrack and 80m2 barn that he uses to shelter his 135 sheep.
It should be marked that the citizen had to carry out the demolition to avoid paying the high fines that the occupation will impose on him in case he failed to implement it. Noteworthy, the affected citizen received a stop-work order on his structures in February 2016 on the claim that building were "unlicensed constructions".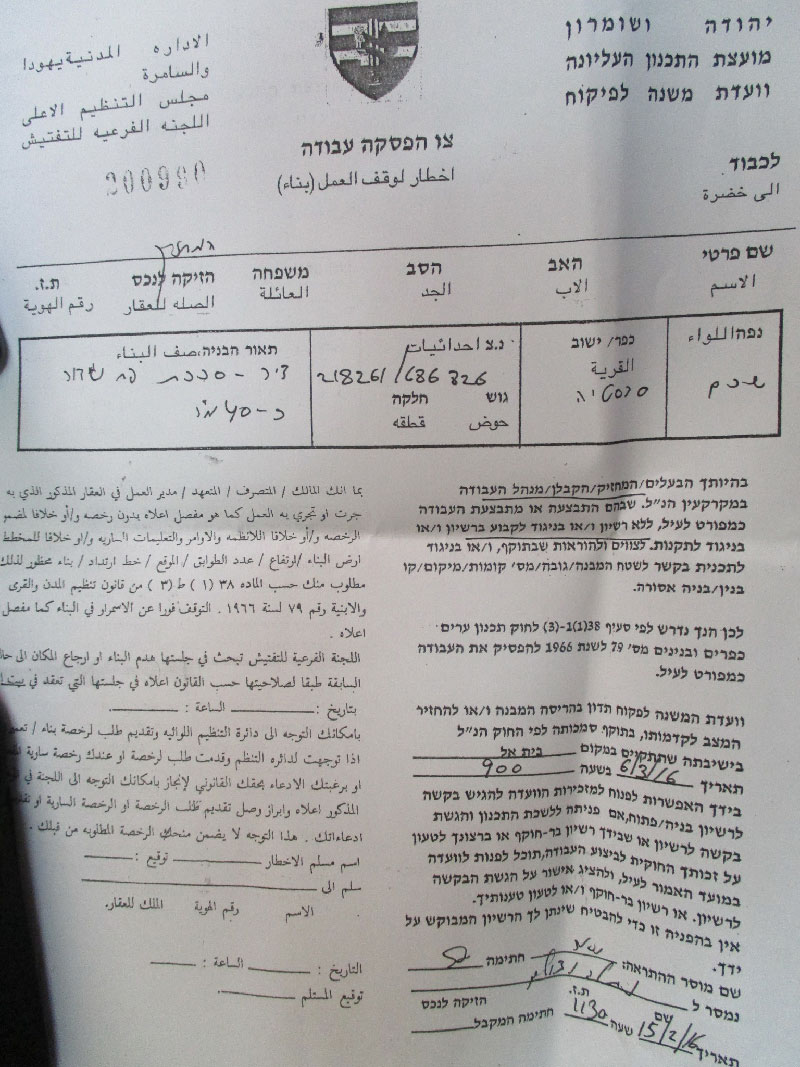 Photo 8: the stop-work order

The following table shows information about the affected people and their properties:
Affected citizen

Family

Minors

No. of demolished structures

Area\m2

Nature of structure

Damage

Photo

Nael Sakha

12

10

1

80

Brick room

8 seats

Equipment and furniture of a restaurant

Four olive trees

Nahid Sakha

10

8

1

90

Retaining walls

2

—

Water and electricity networks

1

1.5m 3

Water tank

2

220

Restaurant(80m2) and cafeteria(140m2)

Ahmad Sakha

12

0

1

60

Antics shop

Interior worth of 2000 NIS

Malek Tawfiq

6

4

1

270

Agricultural barrack

Self-demolition

1

80

Barn

Total

40

22

10

800
Source : Field observation- Department of Monitoring Israeli Violations- Land Research Center-2016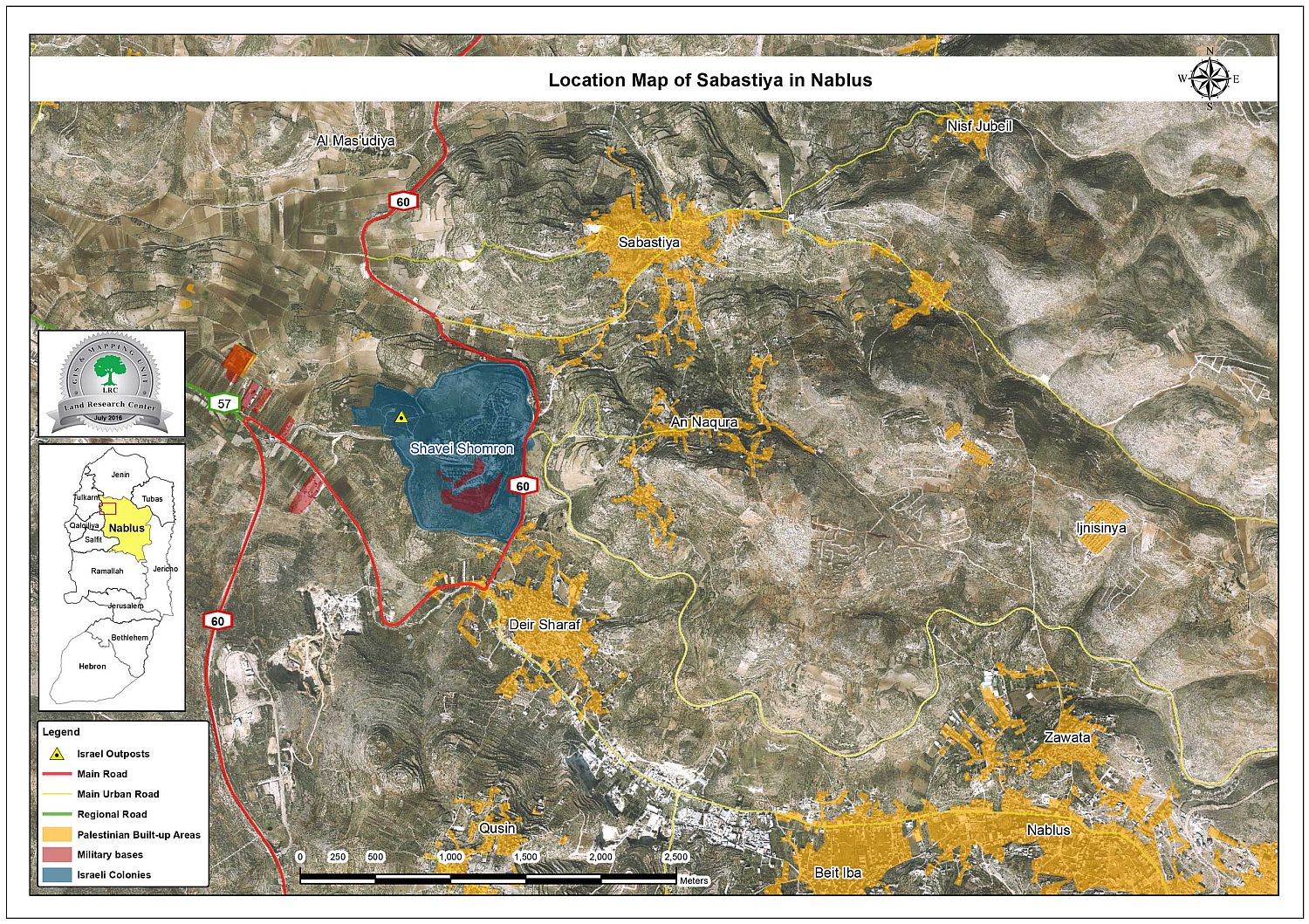 About Sabastiya :
Sabastiya is located 12km to the southwest of Nablus city and is edged by Burqa village from the north, Al-Mas'oudyeh village from the west, Nisf Jbeil from the east and Deir Sharaf village from the south.
Its population mounts up to3371 people (2014 census). Sabastiya's total land area is 16,225 dunums, of which 521 dunums are considered the village's built-up area.
The lands of Marda are classified according to Oslo Accords as the following:
8942 dunums are classified as area A
4980 dunums are classified as area B
2303 dunums are classified as area C
Land Research Center LRC sees that demolitions contradict with all of the International conventions and Humanitarian laws including:
Article 17 of the (1948) Universal Declaration of Human Rights stating: "Everyone has the right to own property alone as well as in association with others. No one shall be arbitrarily deprived of his property."
Section ‹G› of article 23 of the (1907) The Hague Conventions asserting: "In addition to the prohibitions provided by special Conventions, it is especially forbidden to destroy or seize the enemy's property, unless such destruction or seizure be imperatively demanded by the necessities of war."
Article 53 of the Geneva Fourth Convention (1948) declaring: "Any destruction by the Occupying Power of real or personal property belonging individually or collectively to private persons, or to the State, or to other public authorities, or to social or cooperative organizations, is prohibited, except where such destruction is rendered absolutely necessary by military operations."
Prepared by
The Land Research Center
LRC