Israeli Occupation Forces demolish agricultural structure in Al-Samou' hamlet of Al-Radhim
Violation: demolition of an agricultural structure
Location: Al-Radhim hamlet- Hebron governorate
Date: August 04, 2016
Perpetrators: Israel Civil Administration
Victims: Citizen Ahmad Mahariq
Details:
Israeli Occupation Forces demolished on August 04, 2016 an agricultural facility used for livestock in Al-Radhim hamlet, southeast Al-Samou' town of Hebron governorate on the claim of "unlicensed construction".
Citizen Ahmad Mahariq (64) told Land Research Center that a massive force from the Israeli occupation army accompanied by a staff from the so-called Israel Civil Administration arrived at the hamlet by noon and demolished the structure on its interior.
Dozers of the occupation brought down the 300m2 barrack that was built in 2012 by metal slaps and shed cloth. The structure was reported to shelter 300 sheep.

Photos 1+2: sings of demolition
Citizen Al-Mahariq also mentioned that Israeli Occupation Forces served his structure a stop-work order on August 21, 2013 on the same claim of "unlicensed construction". At time, the order assigned September 16, 2013 as the hearing session of the Planning and Construction Committee- Israel Civil Administration in the court of Beit El colony to consider the status of the notified structure. The citizen, at time, sought an attorney to object to the order, but the occupation eventually approved the demolition effective.
Photo 3: the stop-work order served in 2013
It should be marked that Al-Radhim hamlet is inhabited by four agricultural families from AL-Samou' town. To the east of the hamlet, Asae'l colony is founded on confiscated lands and is witnessing notable expansion at the expense of Palestinian lands.
Photo 4: Asae'l colony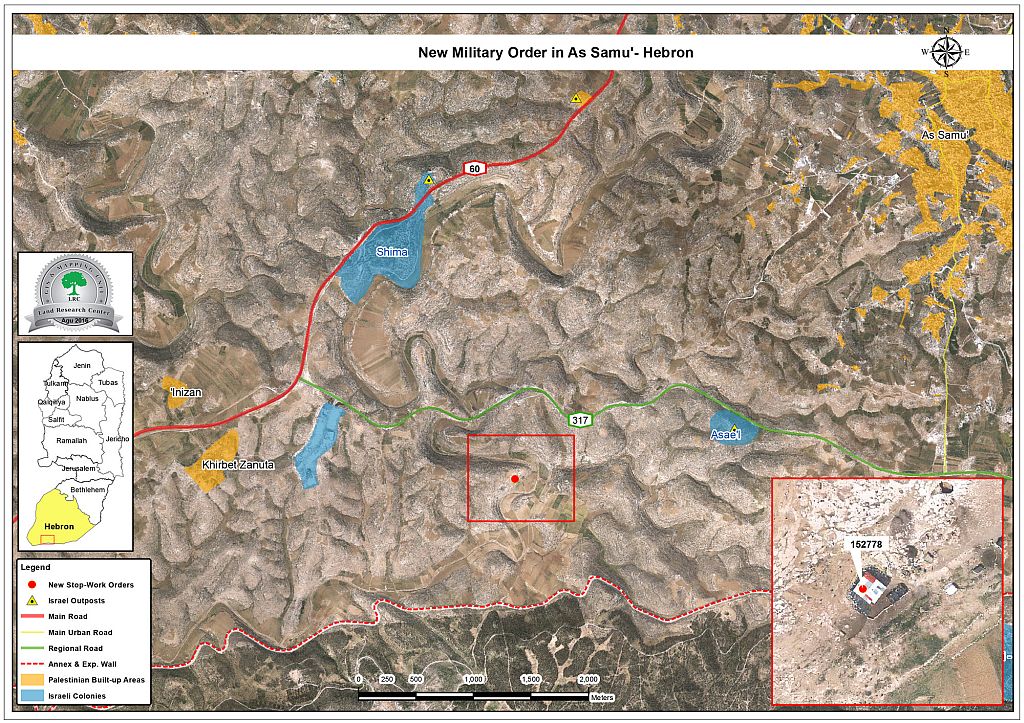 Land Research Center LRC sees that demolitions contradict with all of the International conventions and Humanitarian laws including:
Article 17 of the (1948) Universal Declaration of Human Rights stating: "Everyone has the right to own property alone as well as in association with others. No one shall be arbitrarily deprived of his property."
Section ‹G› of article 23 of the (1907) The Hague Conventions asserting: "In addition to the prohibitions provided by special Conventions, it is especially forbidden to destroy or seize the enemy's property, unless such destruction or seizure be imperatively demanded by the necessities of war."
Article 53 of the Geneva Fourth Convention (1948) declaring: "Any destruction by the Occupying Power of real or personal property belonging individually or collectively to private persons, or to the State, or to other public authorities, or to social or cooperative organizations, is prohibited, except where such destruction is rendered absolutely necessary by military operations."
Prepared by
The Land Research Center
LRC