Israeli eviction order on a land to establish a watchtower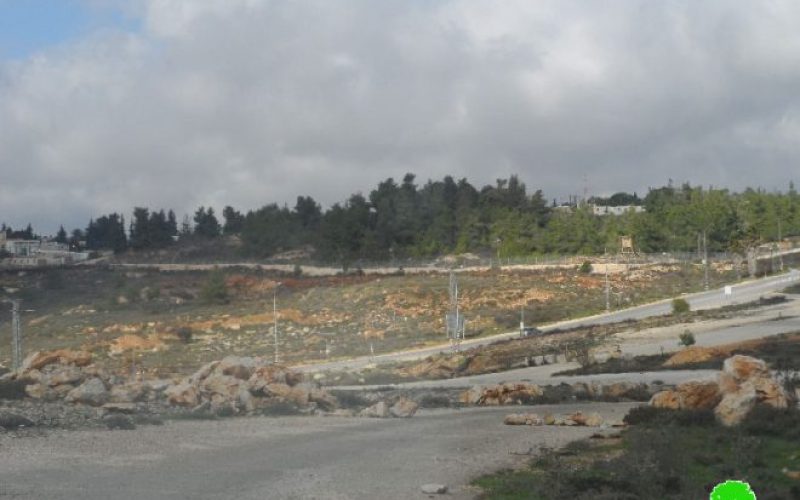 Violation: seizure of 5.7 Palestinian dunums
Location: nearby the DCO checkpoint- north of Al-Bireh
Date: July 14, 2016
Perpetrators: Israeli Occupation Forces
Victims: residents of the area
Details:
The so-called Commander of Israel Army in the West Bank issued on July 14, 2016 the military order no. (16/8/ت), which stated the seizure of 5.7 dunums from the lands of Al-Bireh city for the sake of establishing a military watchtower that overlooks the bypass road leading to Beit El area that is founded in the area.
According to the order, the seizure will be on lands from the natural blocks no. (12,13,15) from the city's lands.
It should be marked that the bypass road that links Beit El colony to the bypass no.60 forms a huge obstacle on the area's residents and travelers. It cuts down the geographical connection between Beitin village and Al-Bireh city. Not only, the presence of such road kills all chances of developmental projects that are meant to serve the area.
During the uprising of 2000 until 2008, residents of the area were banned from using this segment of thee road. People had to take an alternative route that is of 13 extra km to reach Ramallah city from Beitin.
After the year 2008, the occupation imposed partial closure and complicated restrictions on access and movement though the DCO checkpoint. Only medical and humanitarian conditions are allowed to pass through.
Photos 1+2: the bypass road leading to Beitin village with a view of Beit El colony

The new plan of establishing a watchtower is complementary to a plan that aimed at establishing a watchtower on lands of Beitin in 2016. The objective of setting up the new watchtower is to create a de facto that serves the good of the colonization plan.
The stand of international law from lands seizure:
The Universal Declaration of Human Rights:
Article 1 states: " All human beings are born free and equal in dignity and rights. They are endowed with reason and conscience and should act towards one another in a spirit of brotherhood."
Article 17: " (1) Everyone has the right to own property alone as well as in association with others.
(2) No one shall be arbitrarily deprived of his property."
The International Covenant on Civil and Political Rights:
Article 1 states: "1. All peoples have the right of self-determination. By virtue of that right they freely determine their political status and freely pursue their economic, social and cultural development.
2. All peoples may, for their own ends, freely dispose of their natural wealth and resources without prejudice to any obligations arising out of international economic co-operation, based upon the principle of mutual benefit, and international law. In no case may a people be deprived of its own means of
Prepared by
The Land Research Center
LRC