Israeli to establish a new colonial neighborhood  in Elkana colony, west Salfit governorate
Violation: establishing a colonial quarter
Location: Mas-ha lands, west Salfit
Date: June 01, 2016
Perpetrators: West Bank Colonies Council
Victims: farmers of Mas-ha area
Details:
On Mas-ha's isolated lands by the apartheid wall, colonist have been active in expanding the colony of Elkana that was established in 1977. Colonists took advantage of the apartheid wall and that Palestinian farmers are denied access to their isolated lands to change the landmarks of the area and use it for colonial expansionist plans. It should be marked that the Israeli Occupation expanded the area of Elkana through ravaging 90 dunums in the area to open new colonial roads, linking all edges of the colony to each other.
Notably, the occupation installed a stone-crusher machine to process the stolen rocks from the ravaging area. The crushed stones were used for construction ends in the nearby colony of Elkana. Environment was negatively affected as a result.
It is reported that the Planning and Construction Committee- Israel Civil Administration advertised -in 2014- tenders relative to the colony's master plan and infrastructures. The tenders also included residential units that are to be added to the colony.
Noteworthy, the successive government of the occupation give special attention to the reinforcement of the colonization plan ; especially in areas alongside the armistice line of 1949 "Green line". This is for the sake of creating a geographic connection between the West Bank and the occupied territories of 1948, which weakens any chance to reach the two-states solution.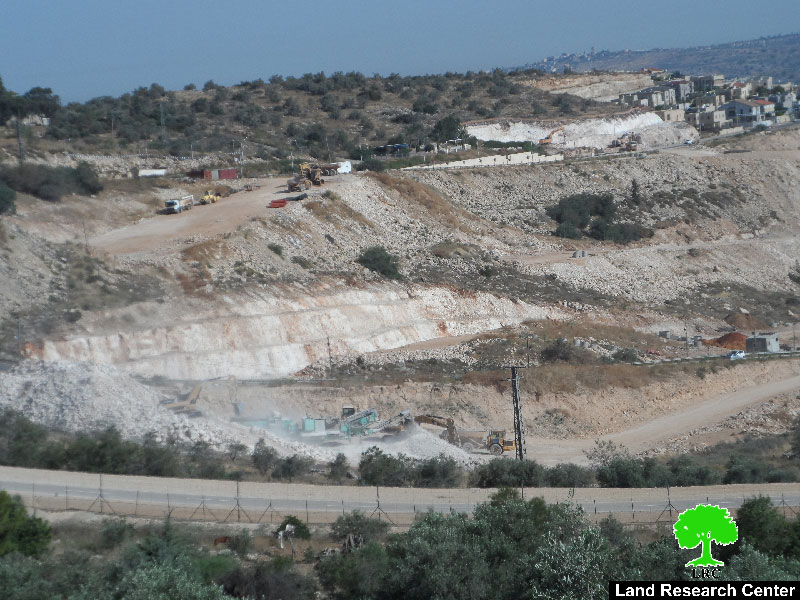 Photos 1-9: Elkana colony under expansion
About Elkana:
Elkana was established in 1977 over the ruins of a Jordanian military camp; it has been considered as a source of destruction and the launching point of many attacks against the Palestinians. The colony was built near the Palestinian village of Mas-ha which lost over 5000 dunums of its lands due to the construction of the annexation and expansion wall. Citizens lost their source of income after losing their fruitful lands as a result.
Elkana expanded over the years to reach over 1700 dunums in area; the colony is two parts, Elkana A and Elkana B with plans ongoing to merge both parts. In addition to that, there are several outposts built in the two colonies with developmental plans for the infrastructure and expansion to be carried out in the area.
UN Security Council resolutions in regard to Israeli colonies:
UN Security Council resolution 446, article 3 " Calls once more upon Israel, as the occupying Power, to abide scrupulously by the 1949 Fourth Geneva Convention, to rescind its previous measures and to desist from taking any action which would result in changing the legal status and geographical nature and materially affecting the demographic composition of the Arab territories occupied since 1967, including Jerusalem, and, in particular, not to transfer parts of its own civilian population into the occupied Arab territories;"
Un Security Council resolution 452, article 3"Calls upon the Government and people of Israel to cease, on an urgent basis, the establishment, construction and planning of settlements in the Arab territories occupied since 1967, including Jerusalem;"
Un Security Council resolution 465, Strongly deplores the continuation and persistence of Israel in pursuing those policies and practices and calls upon the Government and people of Israel to rescind those measures, to dismantle the existing settlements and in particular to cease, on an urgent basis, the establishment, construction and planning of settlements in the Arab territories occupied since 1967, including Jerusalem;

Calls upon all States not to provide Israel with any assistance to be used specifically in connexion with settlements in the occupied territories;

Un Security Council resolution 242, Affirms that the fulfilment of Charter principles requires the establishment of a just and lasting peace in the Middle East which should include the application of both the following principles:

(i) Withdrawal of Israel armed forces from territories occupied in the recent conflict;
(ii) Termination of all claims or states of belligerency and respect for and acknowledgment of the sovereignty, territorial integrity and political independence of every State in the area and their right to live in peace within secure and recognized boundaries free from threats or acts of force;
Prepared by
The Land Research Center
LRC