The Israelization of Qana Valley in Salfit Governorate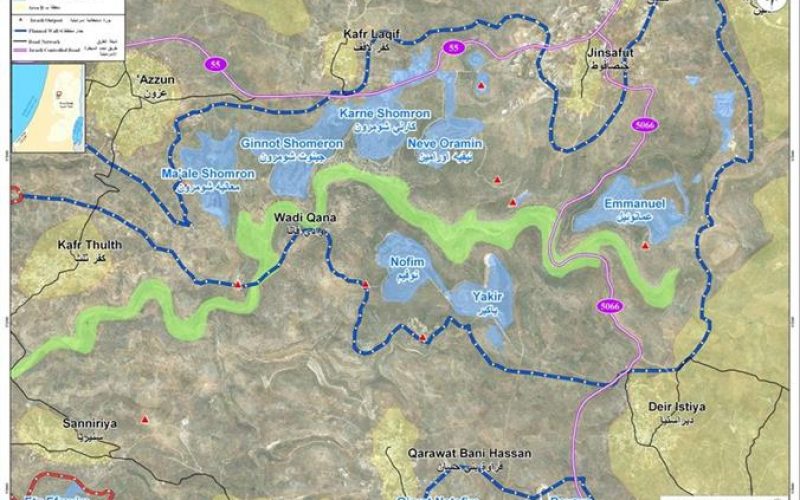 On the 25th of May 2016, the Israeli daily newspaper "Haaretz" reported that during the past few years the so-called "Karnei Shomron local council" along with the Israeli Ministry of Environment, the Israeli Civil Administration, and the Israeli Nature and Parks Authority have been seeking to promote Qana Valley (Wadi Qana) area in Salfit Governorate. Haaretz commented that such kind of plans are usually submitted to Public review and receive feedbacks/objections, but the attempt to obtain information of this plan in specific, is serious difficult.
According to Haaretz, there is no intention to expropriate more private Palestinian land in the area but "Karnei Shomron local council" intends to enhance the bond of Israeli settlements by creating more hiking trails, develop archaeological sites, make accessible routes for the disabled people, preserve water resources and natural places.  
It seems that Israel is planning to foster its control over the Qana Valley area (Wadi Qana) under the cover of toursim and environment protection; where during the previous years, israel has exerted huge efforts to eliminate the Palestinian presense in Qana Valley area. The fear is that such a plan will allow settlers living in the nearby setlements to dictate the future of the area and that Palestinians will face more restrictions on their ability to work in their lands.
Qana Valley at a glace,
Qana Valley (Wadi Qana) is considered one of the most prominent natural attractions in Palestine. It is  famous for its natural beauty, the abundance of water, the many springs located in it and its green lands. The area is also known for the prevalence of trees, crops and livestock.
Qana valley separates Qalqilyia from Salfit Governorates. It is surrounded by Palestinian villages from all directions such as Deir Istiya, Qarawat Bani Hassan, Biddya, Sanniriya, Kafr Thulth, 'Azzun, Kafr Laqif and Jinsafut, etc. This has made it an obvious target of Israeli occupation forces and settlers, given its beauty and availability to natural resources to utilize.
The Israeli occupation army, through Israeli Civil Administration's (ILA)[1] announced its control over this region under the pretext of being classified as an "Israeli nature reserve area", since it is located in the area classified "C" with regard to Oslo II Interim agreement of 1995.
Over the years of the Israeli occupation, the consecutive Israeli Governments have surrounded Qana valley with a set of settlements and outposts and have almost control the majority of water sources in the area which is rich with groundwater. The Israeli deep water drillings in Qana Valley (Wadi Qana) have caused the drying up of Palestinian wells and springs in the area and are today consumed by Israel and its illegal settlements surrounding the valley. Only few water resources (around 3) are left for Palestinian farmers in Qana Valley (Wadi Qana) to use and are barely sufficient for the daily use. See Table 1
Table 1: Israeli Settlements and outposts surround Qana Valley in Salfit and Qalqilyia Governorates

No.

Governorate

Settlement /outpost Name

Est. Date

Area (Dunums)

Pop 2015

1

Salfit

Nofim – Settlement

1986

632

549

2

Salfit

Yakir- Settlement

1981

670

1821

3

Salfit

Ginnot Shomeron- Settlement

1985

1041

NA

4

Qalqilyia

Karne Shomron – Settlement

1978

1042

6650

5

Qalqilyia

Ma'ale Shomron – Settlement

1980

721

995

6

Qalqilyia

Neve Oramin (Menahem) – Settlement

1991

581

2644

7

Qalqilyia

Emmanuel – Settlement

1981

1154

3197

8

Qalqilyia

West Ma'ale Shomron – Outpost

February 2001 – November 2002

—–

—–

9

Qalqilyia

El Matan – Outpost

January 2002

—–

48

10

Qalqilyia

Neve Menachem south – Outpost

January 2002

—–

—-

11

Salfit

Alonei Shilo – outpost

January 1999

—-

—–

12

Qalqilyia

Ramot Gilad – outpost

January 2002

8

—–

13

Salfit

South Emmanuel – Outpost

2002- June 2003

—–

—–

14

Salfit

West Nofim

2002- June 2003

 

 

15

Salfit

Yair Farm

January 2001

—-

60

Source: Geo-informatics Department, ARIJ – 2016
Additionally, the Israeli settlements surrounding the valley have resulted in the contamination of the valley where settlers usually dump their waste-water into the valley without taking into consideration the consequences of such an action on the Valley's nature and environment.  Furthermore, the Israeli occupation Army have prevented farmers from cultivating their lands which comes in addition to the settlers' harassments represented in the burning of hundreds of trees, attacking Palestinian farmers and expelling them from their lands. See Map 1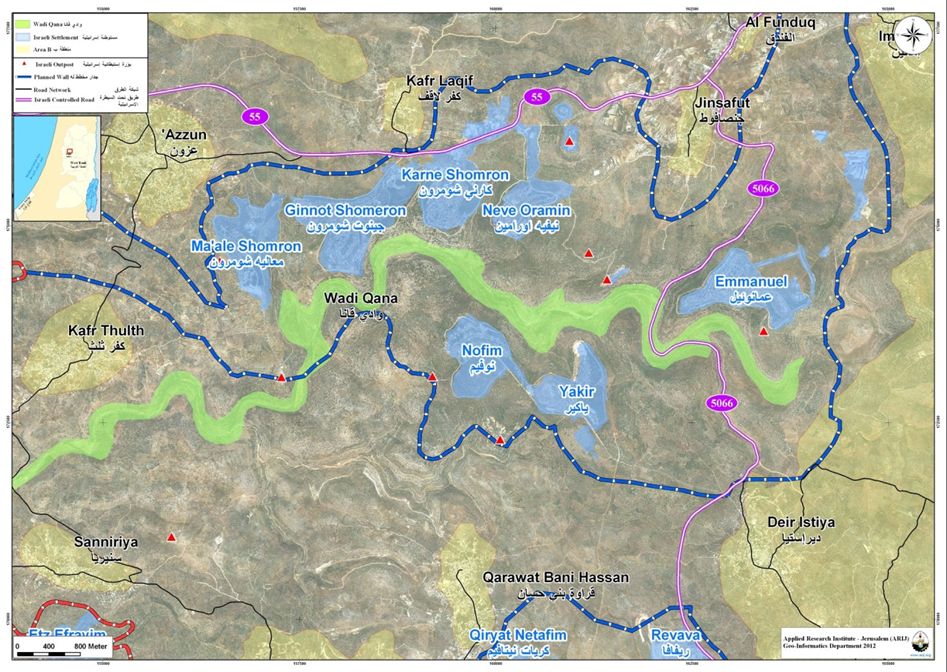 Map 1: Wadi Qana (Qana Valley) Area North of Salfit
A chronology of events that took place in Qana valley area during the previous years, some of which are listed below:-
On the 10th of December 2015, the Peace Now organization revealed that the Israeli Civil Administration issued a military order which declared  about 30 dunums of Palestinian land in Deir Istiya village in Salfit Governorate and Jinsafut village in Qalqiliya Governorate, as "State Land". The "Custodian of the Absente Property" based his decision on an illegal Israeli law issued following the Israeli military Occupation of the Palestinian Territory in 1967- (Order Concerning State Property (Judea & Samaria) (No. 59-1967)). For more information, click here: Declared as State Land" The Israeli Authorities expropriated 30 Dunums in Deir Istya & Jinsafut. See Map 2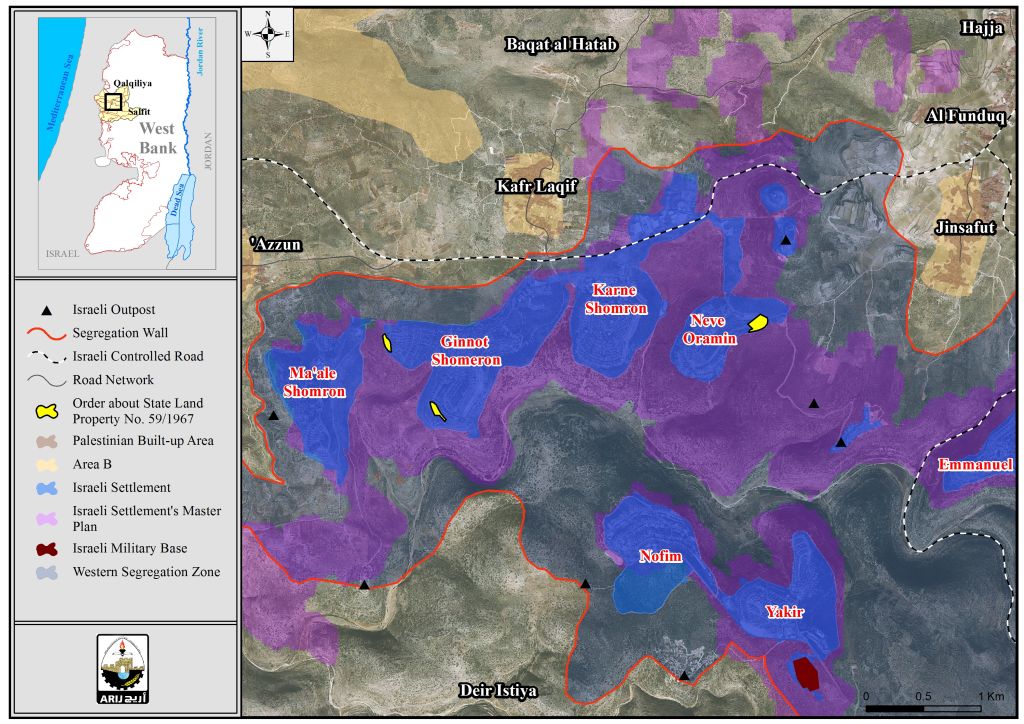 In early July 2012, a group of Israeli settlers from Emmanuel settlement set fire to agricultural lands in "Wadi al Qatt", "Khillet Sabra" and "Al Mintar: regions, in the eastern side of Jinsafut village, leading to the burning of 300 olive trees belonging to citizens from Bashir and 'Eid families.
On the 25th of April 2012, a Palestinian land owner found an order in his field in Qana Valley signed by the Israeli Environmental Protection Agency (EPA) ordering him to uproot 30 olive trees which he planted 6 years earlier. According to the order, he was given till May 1, to remove the trees located, according to EPA, in a natural reserve. For more information, click here: The Israeli Target Trees in Wadi Qana
During March 2012, settlers from Revava settlement pumped large quantities of sewage water toward the valleys of Wadi Qana. An estimated area of 70 dunums planted with olive trees was damaged which led to health problems in the region as rainwater became mixed with contaminated sewage water. For more information, click here: The Colony of Rafafa: The Source of Pollution in Wadi Qana
On the 18th of September 2011 a group of settlers from Revava settlement broke into a 23-dunum-olive field in Abu Dras area in Qana Valley (Wadi Qana) and ravaged 500 olive trees. For more information, click here: Ravaging 500 Olive Trees in Wadi Qana in Salfit Governorate
On the 31st of August 2011, a group of Israeli settlers uprooted and destroyed 34 olive seedlings in Khallit al Amoud and nearby the Israeli settlement of Yakir. For more information, click hre: Damaging 34 Olive Seedlings in Wadi Qana – Salfit Governoarte
On the 11th of July 2011, the Israeli Occupation army announced Qana Valley as a closed military zone, hindered Palestinian access to the area  and uprooted 660 4-year-old olive seedlings that were taken away to a nearby settlement. For more information, click here: The Israeli Occupation Uproots 660 Olive Seedlings in Wadi Qana – Salfit
On June 28, 2011, the Israeli Nature and Parks authority along with tens of Israeli soldiers and machinery uprooted 300 olive seedlings (2-6 years old) in fields west of Qana Valley. The uprooted seedlings were confiscated and taken away. For more information, click here: The Israeli Occupation Uproots 300 Olive Seedlings in Wadi Qana – Salfit Governorate
On April 30, 2011, five Palestinian farmers from Deir Istiya village north of Salfit at the northern parts of the West Bank, stumbled on Israeli military orders hanged on the trees while they were cultivating their lands in Qana Valley area stating the evacuation of their lands and remove and dismantle all what exists on the land point out in the warning notices, this includes but not limited to trees, infrastructure installations, or anything else, under the pretext that the lands area is "Nature Reserve". The orders also indicated that the owners of the lands have 24 hours to evacuate the lands otherwise they will be subjected to fine, imprisonment and other punitive measures not specified in the notifying orders. The orders were issued by the so-called the "Israel Nature and National Park Protection Authority" related to the Israeli Civil Administration. For more information, click here: Israeli Military Evacuation Orders for the Palestinian Lands in Wadi Qana area in Deir Istiya Village North of Salfit Governorate
On 13 January 2011, the Israeli occupation forces, represented by the Protection of Nature Committee of the Israeli Civil Administration, notified a Palestinian farmer from Deir Istiya village to vacate his land. The farmer had recently begun cultivating his land again after being assaulted by settlers from Yakir settlement, which resulted in the destruction of 26 olive and citrus trees seedlings.
The Israeli Segregation Wall plan engulfs Qana valley and isolates it from Palestinian land owners
The Israeli Segregation Wall plan published on the Israeli ministry of defense website back in April 2007 showed that the wall will have negative and destructive impact on Palestinian land owners in Salfit and Qalqilyia Governorate as it will surround Qana Valley from all directions, isolates it and hinder Palestinian access to it. This comes as part of the Israeli plan to annex the valley along with the settlements, outposts and extra Palestinian land in the area to Israel, under what Israeli calls "Kedumim bloc (Kedumim finger)".
Note that Israel has consistently sought to retain control of settlements blocs in the occupied Palestinian territory. The various published maps of the wall[9] indicated that the wall has never been planned to maintain security in the occupied Palestinian territory but to grab as much land as possible for the Israeli settlement enterprise. It penetrates deep into the lands of the occupied West Bank; and upon completion, it will isolate 13% (733 km²) of the total West Bank Area (5661 km²) including five major settlement blocs: the Ariel and Kedumim settlement bloc in Salfit and Qalqilyia Governorates, the Modi'in Illit Settlement bloc in Ramallah Governorate, the Gush Etzion Settlement bloc in Bethlehem and Hebron Governorates, the Ma'ale Adumim settlement bloc and the Giv'at Ze'ev settlement bloc in Jerusalem and Ramallah Governorates.
A year ago, on the 26th of May 2015, the Israeli Prime Minister, Benjamin Netanyahu, told the European Union's top foreign policy official, Federica Mogherini, that he wants to resume talks with the Palestinians, with "the goal being to reach understandings on the borders of settlement blocs that Israel would annex under any peace agreement".[10]. Netanyahu  proposed to "jump" to  negotiations concerning the status of the settlement blocs instead of resuming peace talks to resolve all final status issues.
To end,
On May 3, 1983, Israel declared Qana Valley (Wadi Qana) as a Nature Reserve in accordance with military order entitled: Order Regarding Nature Protection (Judea and Samaria) (No. 363), 5730 – 1969. Since that time and present, Israel continues to prevent Palestinian land owners from cultivating their land and utilizing it the land for whatever purpose possible; however, it allows settlement building and expansion in the area, and even allow settlers to construct roads to maintain geographical contiguity, all is done under well planned for the planned annexation of the area despite being classified as  Nature Reserve. The term "Nature Reserve" is ONLY applicable only to Palestinians, but when it comes to settlement building expansion, Israel is merely concerned about the nature of land.  
[1] In cooperation with Protection of Nature Committee 
Prepared by:  
The Applied Research Institute – Jerusalem