Stop-Work orders on residential and agricultural structure in the Hebron Hamlet of Susiya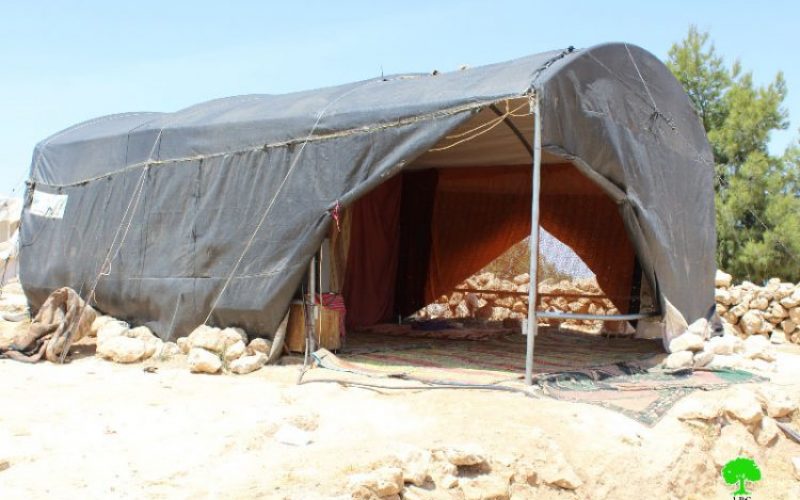 Violation: serving stop-work orders
Location: May 10, 2016
Date: Susiya hamlet- Yatta town
Perpetrators: Israel Civil Administration
Victims: residents from the hamlet
Details:
Israeli occupation authorities served on May 10, 2016 stop-work orders on residential and agricultural structures in Susiya hamlet, south Yatta town in Hebron governorate on the claim of 'unlicensed construction'.
The village council of Susiya said that a vehicle relative to Israel Civil Administration and an army patrol raided the area at midday, issued the orders, hanged them on the targeted structures and took some photos of the structures before they had left. The order assigned June 06, 21016 as the hearing session of the Inspection Sub-Committee in the Israeli court of Beit El colony to consider the legal status of the notified structures. The following table shows information about the affected people and properties:
No.

Name

Family

Targeted structure

Area\m2

Nature of structure

Order

Photo

1

Abdurrahman Nawaj'a

9

Residential tent

30

Inhabited

1

Tent(storage unit)

10

Used

2

2

Khalil Nawaj'a

8

Water well

30m3

Under construction

N.A

3

Hiam Al-Hallees

N.A

Water well

10m3

Under construction

N.A

N.A
Source : Field observation- Department of Monitoring Israeli Violations- Land Research Center-2016
It should be marked that Susiya hamlet is targeted by Stop-Work and demolition orders that are served by the Israeli occupation for the sake of forcing people out of their lands. This facilitates lands takeover for the favor of Susiya colony that is founded on confiscated lands from the hamlet.
Please read the following report on Susiya hamlet (LINK)
Prepared by
The Land Research Center
LRC