Israeli Occupation Forces demolish a mosque in Jerusalem neighborhood of Al-Musrara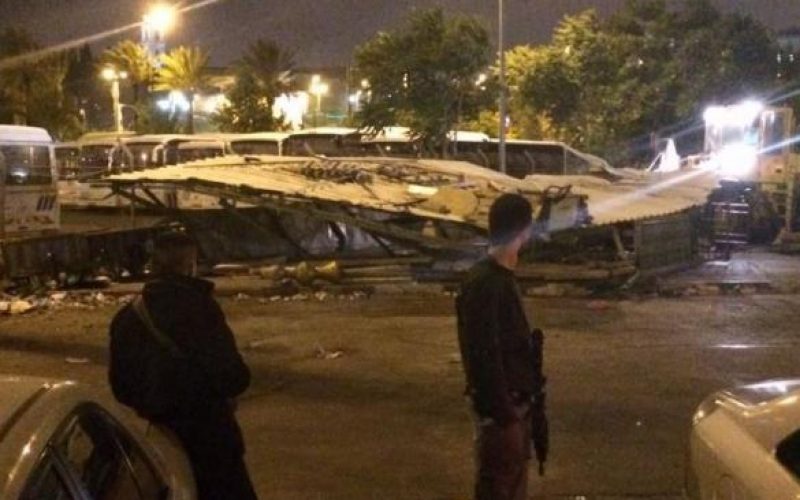 Dozers of the Israeli occupation municipality escorted by Special Forces and Police members demolished on May 23, 2016 a "Al-Anbyaa" mosque in Jerusalem area of Al-Musrara on the claim of unlicensed construction and that the land, on which the mosque is founded is considered a parking for the occupation's municipality.
It should be marked that a massive Police force encircled the area after midnight and the accompanying dozers embarked on demolishing the mosque after moving the cars parked by the structure away.
The structure is called "Al-Anbyaa mosque" and was built three years ago with a total area of 20m2. The metal slaps structure is open for worshippers such like workers, bus drivers and merchants of the nearby. Noteworthy, the mosque was threatened of demolition by the municipality two years ago on the claim it was established on a parking relative to the municipality.
This is not the first time the occupation authorities violate places of worship; many mosques were threatened of demolition in the occupied city of Jerusalem on claims of unlicensed construction or construction on municipality property.
Worth mentioning, Israeli authorities repeatedly violate Al-Aqsa mosque by excavations underneath and around it, which is causing an imminent threat of collapse and cracks.
International and Humanitarian laws and conventions ban attacks and violations on religious sites; especially places of worship. The act of demolishing Al-Anbyaa mosque is considered a blatant violation of International law that stated the prohibition of attacks and violations on archeological and religious sties .
The international conventions regarding places of worship:
Article 27 the Geneva Fourth Convention stating: "Protected persons are entitled, in all circumstances, to respect for their persons, their honor, their family rights, their religious convictions and practices, and their manners and customs. They shall at all times be humanely treated, and shall be protected especially against all acts of violence or threats thereof and against insults and public curiosity."
Article 56 of the Hague (1907) Convention of Regulations concerning the Laws and Customs of War on Land stating:
"The property of municipalities, that of institutions dedicated to religion, charity and education, the arts and sciences, even when State property, shall be treated as private property."
Article 53 from Geneva Protocol (1977) banned all attacks again worship places which are considered the spiritual and cultural heritage of people.
Prepared by
The Land Research Center
LRC