Israeli Occupation Forces transfer a house into a military base in Nablus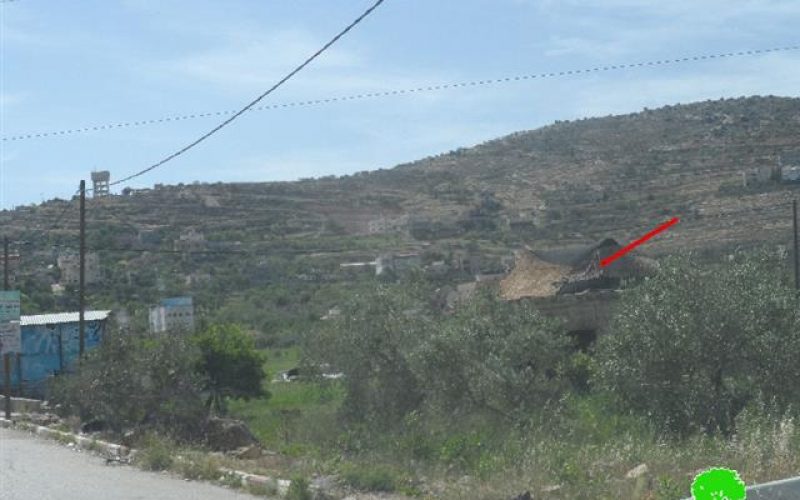 Violation: transferring a house into military zone
Location: Al-Lubban Al-Sharqiya- Nablus
Date: April 19, 2016
Perpetrators: Israeli Occupation Forces
Victims: residents of the area
Details:
Israel policy of home takeover and seizure to be used as military bases has always been used in violation of human rights conventions and international laws.
It should be marked that the Israeli Occupation Forces seized on April 19, 2016 a house that is located at the entrance of Al-Lubban Al-Sharqiya village. The house of citizen Ihsan Daraghmeh is reported to be located nearby the bypass road number 60 and is being so far controlled by the occupation soldiers.
It is reported that the house has been abandoned since two years and that the occupation army takes it over every now and then to monitor residents movement in and out the village. Soldiers also restrict farmers movement and access to the village's valley that is considered a source of income for many residents. Not only, the house was taken so many times by colonists, who drew hatred inciting slogans on its walls.
A major problem is that the seized house is located in middle of two primary schools; one for girls and the other is gender-mixed. Such a checkpoint will negatively affect students on the psychological level, not mentioning the harassments school kids suffer when they bypass the checkpoint.
Photo 1+2: targeted house
About al-Lubban al-Sharqiya:
It is located 20km southwest of Nablus governorate. The village is surrounded by a number of towns and communities namely( al-Sawiya, Qaryut, Ammoriya, Yasuf, Singel, Abouyn, Salfit and Iskaka)
The village has a total land area of 12,075 of which 150 dunums is a built -up area. 240 dunums are considered agricultural lands for grains and vegetables plantation where another 700 dunums have been a subject to colonial activities. The bypass road no.60 confiscated around 200 dumums where the rest of the land total area is planted with olive, almond and figs. (source: geographical information system GIS -LRC)
Awaysa and Daraghmeh clans are the two main families in the village where the population totals around 2900 people. The unemployment rate is around 51% due to closures, sieges, and lands confiscation. Only 14% of the residents are employed in different sectors such like the governmental and the private ones. Others depend on plantation as a source of living.( source: the town's village council).
Prepared by
The Land Research Center
LRC