Israeli Occupation Forces ravage lands, uproot trees and demolish water well in Hebron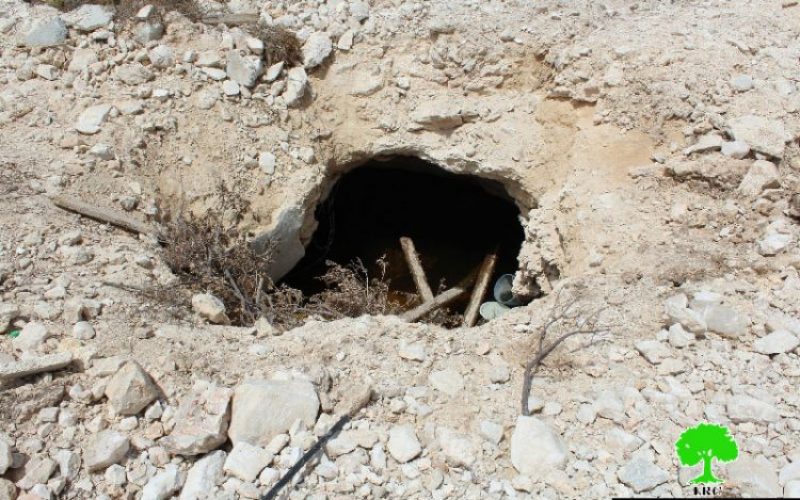 Violation: demolition, trees uprooting and lands ravaging
Location: Dura village- Hebron governorate
Date: April 06, 2016
Perpetrators: Israel Civil Administration
Victims: citizen Salah Amro
Details:
Israeli Occupation Forces on April 06, 2016 ravaged a plot of land owned by citizen Salah Amro in the area of Khallet Manna', east Dura village in Hebron. At time of attack, the dozers demolished a water well and uprooted a number of trees founded in the plot.
It should be marked that a massive force from Israel Civil Administration and doers raided the citizen's land and carried out the attack. Workers accompanying the force cut down trees while dozers demolished the water well. Noteworthy, the trees were confiscated and moved via military trucks.
The water well (100m3) is reported to be established 5 years ago. In addition, 500 olive trees aging between 5-7 years planted on an area of 12 dunums were uprooted and stolen. Not only, the fence surrounding the plot was demolished as well.
Photos 1-5: sings of destroyed trees in the plot
It should be marked that Israeli occupation authorities served the same plot an eviction order in 2011 on the claim of "State Property". Despite that an attorney was sought to defend the case, the plot was eventually ravaged.
Noteworthy, the colony of Beit Hagai is located opposite to the lands of citizen Amro. This gives sense to the attack recently conducted. The occupation usually works hard to take over areas nearby colonies for the favor of expansionist plans.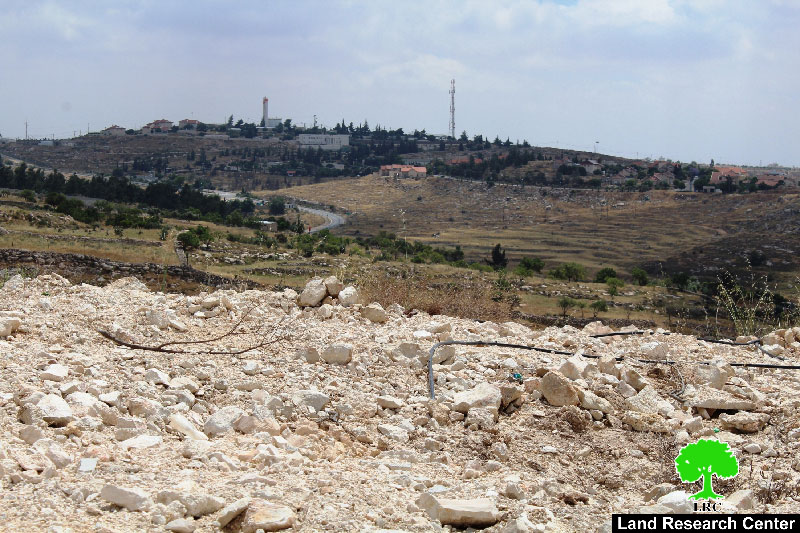 Photo 6: Hagai colony
The Israeli acts of ravaging and destruction violate the international laws and human rights that include but limited to:
Article 17 of the (1948) Universal Declaration of Human Rights stating: "Everyone has the right to own property alone as well as in association with others. No one shall be arbitrarily deprived of his property."
Section ‹G› of article 23 of the (1907) The Hague Conventions asserting: "In addition to the prohibitions provided by special Conventions, it is especially forbidden to destroy or seize the enemy's property, unless such destruction or seizure be imperatively demanded by the necessities of war."
Article 33 of Geneva Fourth Convention : "Reprisals against protected persons and their property are prohibited".
Article 53 of the Geneva Fourth Convention (194

8

) declaring: "Any destruction by the Occupying Power of real or personal property belonging individually or collectively to private persons, or to the State, or to other public authorities, or to social or cooperative organizations, is prohibited, except where such destruction is rendered absolutely necessary by military operations."
Article 147 of Geneva Fourth Convention Grave breaches to which the preceding Article relates shall be those involving any of the following acts, if committed against persons or property protected by the present Convention: wilful killing, torture or inhuman treatment, including biological experiments, wilfully causing great suffering or serious injury to body or health, unlawful deportation or transfer or unlawful confinement of a protected person, compelling a protected person to serve in the forces of a hostile Power, or wilfully depriving a protected person of the rights of fair and regular trial prescribed in the present Convention, taking of hostages and extensive destruction and appropriation of property, not justified by military necessity and carried out unlawfully and wantonly.
Prepared by
The Land Research Center
LRC