Israeli Occupation Forces demolish three residences in Jenin governorate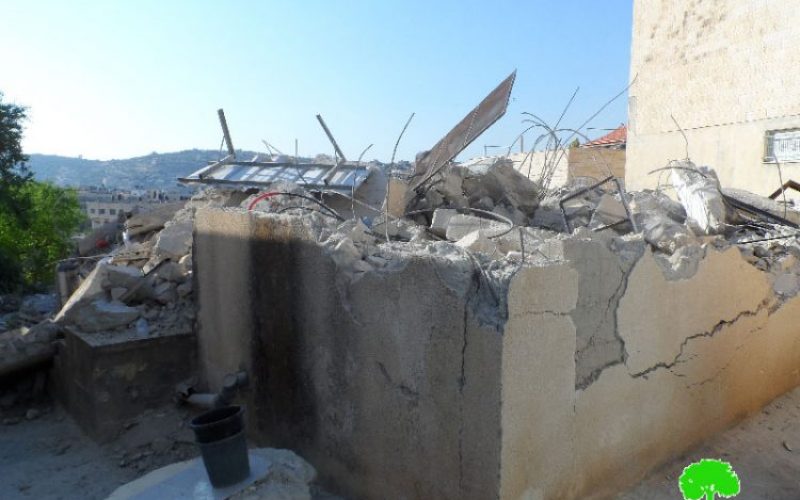 Violation: demolishing the residence of martyrs' families
Location: Qabatiya town- Jenin
Date: April 04, 2016
Perpetrators: Israeli Occupation Forces
Victims: four Palestinian families( 30 members including 8 children)
Details:
A massive force from the Israeli occupation army accompanied by two dozers raided on April 04, 2016 Qabatiya town, southeast Jenin governorate and imposed a total siege and a curfew on the area. Dozers then embarked on demolishing the residences of martyrs' families namely (Ahmad Zakarneh, Ahmad Abu Al-Rub and Muhamad Kameel. The demolition was carried out claiming that the aforementioned youth carried out stabbing attacks in the area of Dung gate in Jerusalem on February 2016.
According to affected witnesses, the force encircled the houses at one after midnight and dozers leveled down the structures to the ground.
Demolition of Musa Zakarneh's residence:
It should be marked that the house is of two floors. With a total of 180m2 for each floor, Musa lives with his 13 member family in the second floor where his son, Ismael, lives in the first floor with his wife and son.
Noteworthy, the second floor was fully destroyed, which caused the first floor to sustain cracks and became uninhabitable.
The houses are reported to be located above two stores (12m2 for each) that are rented from Ahmad Nazzal. Zakarneh was intending to open a business to live off of in the stores.
Photos 1-4: the destruction Zakarneh's residences sustained
Demolition of Najeh Abu Al-Rub's residence:
The house is of one floor and totals 200m2 in area; it was built in 2005 and now accommodates eight members including four children. The house was surrounded by the force then brought down. The yard (1 dunum) next to the house was ravaged, leaving six trees and electricity pole damaged.
Photos 5-6: the demolished residence of Abu Al-Rub family
Demolition of Ahmad Kameel's residence:
The house is of one floor and totals 150m2 in area; it was brought down on its interior. The residence was home for six members including 3 children.
Photos 7-10: the demolished structure of Kameel's with a view of the damaged furniture
It should be marked that the owners of the houses received on February 24, 2016 demolition orders on their structures with a five day deadline to object to the orders. Unsurprisingly, Israel Civil Administration rejected the objection owners submitted in that regard.
The families of martyrs then submitted on March 15, 2016 a plea to Israel Supreme Court to halt the demolition order through a Human Rights Association called Hamoked. The court rejected the plea late March and ordered the evacuation of structures by April 2016.
Photos 11-12: the demolition order served on Abu Al-Rub house
Since Al-Aqsa uprising of 2015 until the date of this report, Israeli Occupation Forces demolished 30 residences on the claim of " Security purposes", causing 142 persons including 58 children to become homeless. Closing and detonating house also caused 43 residence to get partially damaged and uninhabitable.
It should be marked that Jerusalem was most targeted by "Security demolition" with a rate of 9 fully demolished houses and 11 partially demolished ones. Nablus came second with six fully demolished houses and 24 partially damaged ones. As for Ramallah, Jenin and Hebron governorates, five residences were fully demolished in each other eight structures were partially damaged.
The graph illustrates the number of demolished residences on the claim of "Security Purposes" in West Bank and East Jerusalem since September 2015 until March 31, 2016
Noteworthy, the demolition orders order were issued in reference to the British Emergency Law of 1945, taking into account that that law was abolished long ago.
Article 119 of that law states that if a structure got demolished, owners cannot re-establish any structure in the demolished spot.
Land Research Center sees the vicious attack on Palestinian buildings as a collective punishment against the families of martyrs and prisoners. The occupation seeks to traumatize and humiliate Palestinian families through such practices.
The Israeli government claims such orders to be deterrent for Palestinians who carry out stabbing or killing attacks. Such attacks come in response for colonists' attacks on Palestinians, the latest of which was represented in torching a family alive, not mentioning running over kids and women, attacks on trees (torching , cutting down, robbing) and lands confiscation.
The occupation's law: violent and discriminative
The Israeli occupation applies home demolition law on Palestinian only and excludes colonist attackers, which proves the discrimination colonialism is representing.
Prepared by
The Land Research Center
LRC