Israeli Occupation Forces demolish three houses and retaining wall in Nablus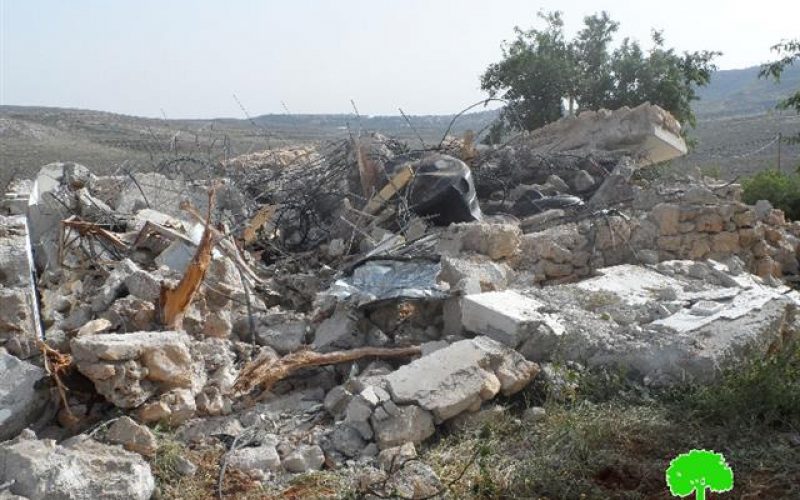 Violation

: demolition of structures

Location: Um Al-Marajim hamlet- Nablus
Date: April 04, 2016
Perpetrators: Israeli Occupation Forces
Victims: three Palestinian families
Details:
A massive force from Israeli occupation army accompanied by a staff from Israel Civil Administration raided on April 04, 2016 Um Al-Marajim hamlet, southeast Duma village in Nablus city.
It should be marked that the occupation soldiers stationed in the southern part of the hamlet, where dozers of the occupation demolished three residences and a 25m2 retaining wall.
It is reported that the targeted houses were served previous stop-work orders on July 14, 2015 despite the fact that the owners applied for building permits in Israel Civil Administration, which refused to grant the owners such papers. For further information, please read the following report prepared by Land Research Center (Link). The following table shows information about the affected owners and property:
Affected citizen

Family

Aream2

No.

Nature of structure

Photo

Jamal Al-Taweel

5

280

37

3

Two story under construction house+ 25 meters of retaining wall

Adnan Dawabsheh

8

210

2

Inhabited house ( a story and a basement)

Hisham Jabrawi

4

140

1

One story under construction house

Total

17

350

6
Source : Field observation- Department of Monitoring Israeli Violations- Land Research Center-2016
It should be marked that Al-Marajim hamlet is located 4km to the east of Duma village; it is founded between two mountains. Administratively, the hamlet follows Duma village despite being relative to Talfit village, south Nablus.
The hamlets populates 420 people on a total land area of 13,000 dunums. Residents of the hamlet mostly depend on the agriculture and livestock as sources of income.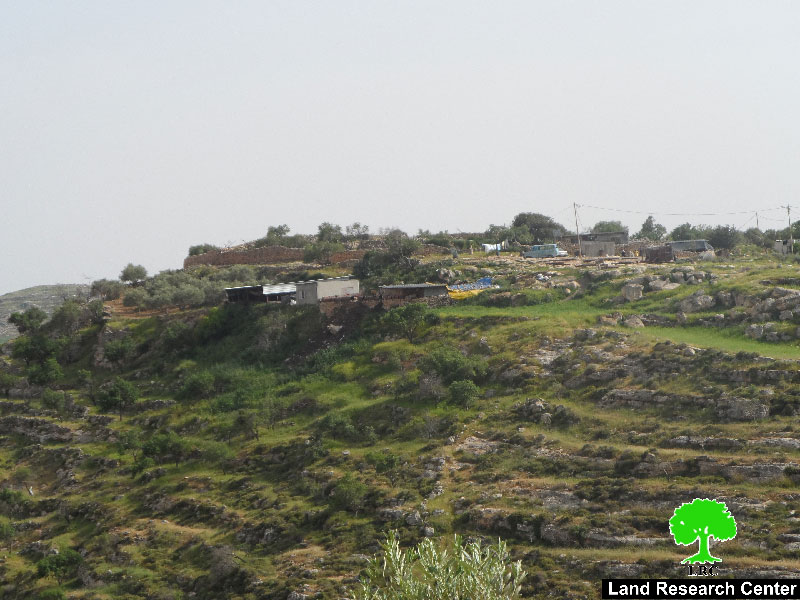 Photo 7: general view of the hamlet
Al-Marajim ,as other hamlets in the southern suburbs of Nablus, is targeted of displacement by the occupation. Most of the simple houses of the hamlet (metal slaps and cement blocks) are notified either of stop-work or demolition.
Land Research Center LRC sees that demolitions contradict with all of the International conventions and Humanitarian laws including:
Article 17 of the (1948) Universal Declaration of Human Rights stating: "Everyone has the right to own property alone as well as in association with others. No one shall be arbitrarily deprived of his property."
Article 147 of the Fourth Geneva Convention of 1949 indicated that:
Extensive destruction and appropriation of property not justified by military necessity and carried out unlawfully and wantonly. is a grave breach of the Convention
Section ‹G› of article 23 of the (1907) The Hague Conventions asserting: "In addition to the prohibitions provided by special Conventions, it is especially forbidden to destroy or seize the enemy's property, unless such destruction or seizure be imperatively demanded by the necessities of war."
Article 53 of the Geneva Fourth Convention (1948) declaring: "Any destruction by the Occupying Power of real or personal property belonging individually or collectively to private persons, or to the State, or to other public authorities, or to social or cooperative organizations, is prohibited, except where such destruction is rendered absolutely necessary by military operations."
Section 1, Article 11 of the International Covenant on Economic, Social and Cultural Rights (1966): "The States Parties to the present Covenant recognize the right of everyone to an adequate standard of living for himself and his family, including adequate food, clothing and housing, and to the continuous improvement of living conditions. The States Parties will take appropriate steps to ensure the realization of this right, recognizing to this effect the essential importance of international co-operation based on free consent."
Prepared by
The Land Research Center
LRC