Israeli Occupation Forces demolish fences in Nablus governorate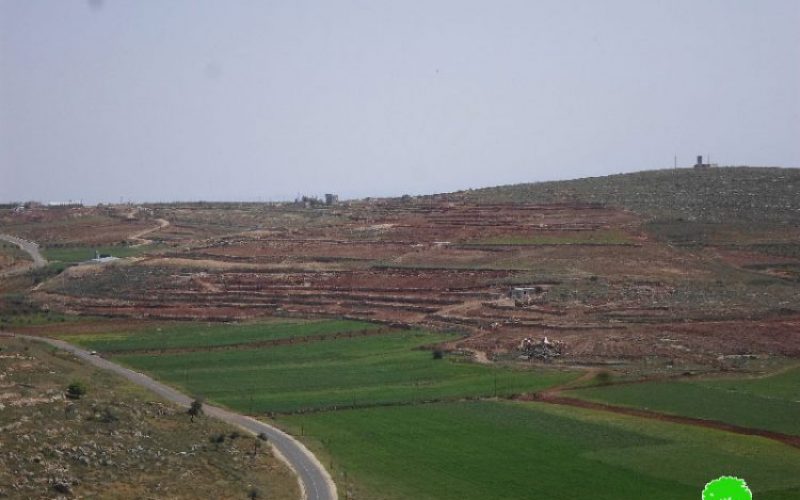 Violation: demolishing fences surrounding agricultural lands
Location: Jalud village- Nablus
Date: April 14, 2016
Perpetrators: Israeli Occupation Forces
Victims: farmer Nasir Hajj Mohammad
Details:
A massive force from the Israeli occupation military damaged on April 14, 2016 a 100m fence that surrounds the agricultural plot of farmer Nasir Hajj Mohammad. The eight dunum plot is located to the east of Jalud village and is classified as area "B" according to Oslo Accords, which as a matter of fact is under the control of the Palestinian Authority. The occupation justified the attack claiming that the fence hinders the movement of soldiers in the area.
The chairman of Jalud village council, Abdallah Hajj Mohammad, told Land Research Center the following:
" The targeted lands underwent a reclamation four months ago through Economic and Social Development Center of Palestine. This came within a project funded by the Dutch Representative Office to improve livelihood in the West Bank areas. The fence was set up by Jalud village council with funds from Première Urgence Internationale.
It should be marked that the targeted area is located 1km to the Israeli outpost of Yesh Kodish that is founded on confiscated lands from the village; more specifically within the natural block number 19 that is also known as Harayeq Awad Al-Wadi.
According to the data of Jalud village council, major parts of the village lands is being targeted by the occupation. As a result, 10 Palestinian families totaling 800 people are subject to real threat and danger. Around 80% of the villages 20,000 dunum total area are subject to colonial activities. Jalud was even denied expansion on master plan by the occupation as part of a series of harassment the village undergoes.
Photo 1+2: Yesh Kodish outpost
The following table shows information about the outposts and military zones that surround Jalud village:
| | | | |
| --- | --- | --- | --- |
| Colony\ military facility | Confiscated area+ buffer zone\ dunum | Year of establishment | Nature of entity |
| Military camp | 1550 | 1975 | Military base |
| Shilo colony | 900 | 1979 | Industrial zone\ religious center |
| Shevut Rahel | 1760 | 1991 | Residential area\ agricultural colony |
| Ahya outpost | 3293 | 1997 | Agricultural outpost |
| Adi Ad colony | 1668 | 1998 | Agricultural colony |
| Yesh Kodish outpost | 3500 | 2000 | Agricultural outpost |
| Yoseef Farm | 1100 | 2002 | Agricultural outpost |
| Kida outpost | 2250 | 2003 | Agricultural outpost |
| Total | 16021 | | |
Source : Field observation- Department of Monitoring Israeli Violations- Land Research Center-2016
About Jalud:
25km southeast of Nablus, Jalud has a total area of 16,517 dunums, 80.5 of which are a built-up area. The Israeli occupation confiscated 1207 dunums of Jalud lands for the sake of colonies expansions. The village total population reached up to 464 people until 2007.(Source: Jalud village council).
Prepared by
The Land Research Center
LRC