Israeli Occupation Forces demolish a park in the Nablus village of Zatara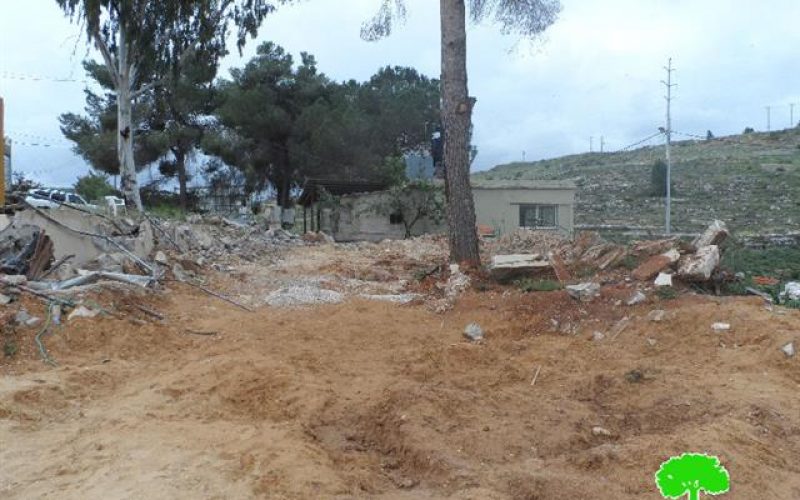 Violation: demolition of a recreational park
Location: Za'tara village- Nablus city
Date: April 12, 2016
Perpetrators: Planning and Construction Committee- Israel Civil Administration
Victims: eight Palestinian families
Details:
Israeli Occupation Forces accompanied by a staff from Civil Administration raided on April 12, 2016 the area of Za'tara, south Nablus city and embarked on demolishing a recreational park for children. Demolition reached out the park's equipments and six benches. Not only, five trees were uprooted during the demolition.
Citizen Ayman Al-Aqtash said that the force intended to demolish the whole park after denying access to it and banning people from saving any of the equipments from inside.
It should be marked that the park was established in 2015 with funds from the Belgium Cooperation and the Belgium Representative Office in Palestine. The project was carried out on a 750m plot to be a recreational area for the 35 kids of Za'tara.
Photo 1-2: Za'tara Park after demolition
During the summer of 2015, Za'tara park was opened to serve the kids of Za'tara and the areas around. That joy did not last long for the occupation served a stop-work order on the park. The Belgium Representative Office intervened and obtained a halt on the order from the Israeli occupation. Despite all the aforementioned efforts, the occupation came back today and demolished the park.
It should be marked that the area of Za'tara is considered an extension for Beita town from the southern part. Nine families (102 members including 35 children) reside in the area.
Prepared by
The Land Research Center
LRC