Stop-work orders in the Yatta hamlet of Um Al-Kheir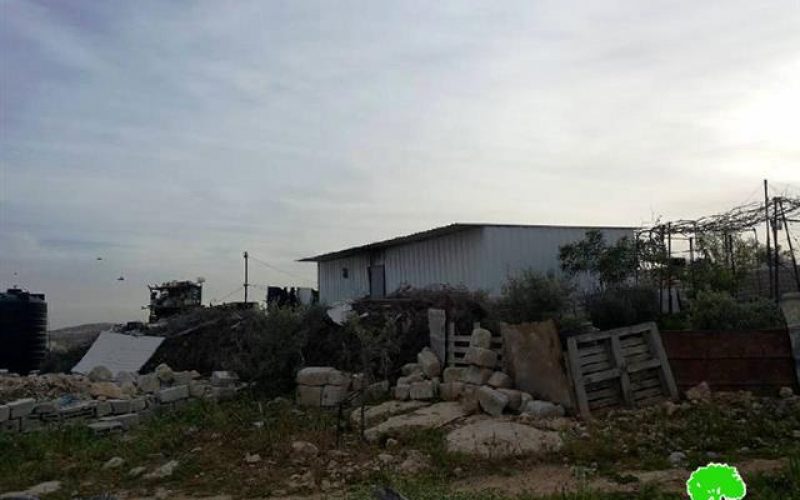 Violation: serving stop-work orders
Location: Khirbet Um Al-Kheir- Yatta town
Date: March 24, 2016
Perpetrators: Israeli Occupation Forces and Civil Administration
Victims: citizens Bilal and Halima Al-Hadhaleen
Details:
Israeli occupation authorities served on March 24, 2016 stop-work orders on two residences in Um Al-Kheir hamlet, southeast Yatta town in Hebron governorate.
Citizen Bilal said that the so-called Israel Civil Administration and an army patrol raided the hamlet, hung the orders on his residence and a neighbor's house and took some photos of the targeted houses before the force had left.
The orders mentioned that the structures were "unlicensed" and ordered a halt on construction works. April 18, 2016 was assigned as the hearing session of the Inspection Sub-Committee in the Israeli court of Beit El colony to consider the status of the notified structure.
It should be marked that the targeted metal slaps houses were donated by ACF organization in 2015 to shelter the families, who got their houses demolished for the second time on October 17, 2015. For further information, please read the report issued by Land Research Center in that regard (Link). The following table shows information on the affected people and properties :
No.

Name

Family

Aream2

Order

Photo

1

Bilal Al-Hadhaleen

3

50

2

Halima AL-Hadhaleen

9

50

Total

12

100
Source : Field observation- Department of Monitoring Israeli Violations- Land Research Center-2016
It should be marked that the hamlet of Um AL-Kheir that is inhabited by AL-Hadhaleen family is located nearby Karmel colony, which is founded on confiscated lands from the hamlet. The Israeli occupation has been working hard to displace people through serving demolition and stop-work orders on the residences and their properties.
Prepared by
The Land Research Center
LRC