Israeli Occupation Forces target Bedouin community of Al Nojoum with demolition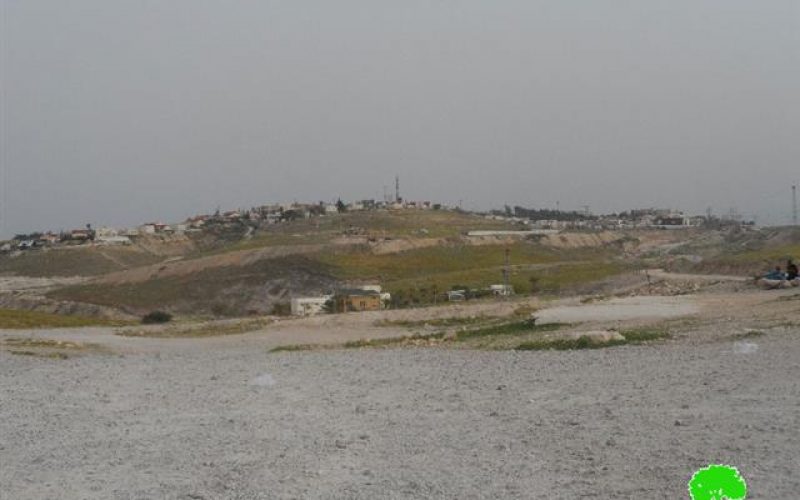 Violation: demolition on a Bedouin community
Location: Wad Al-Qilt- Jericho
Date: March 08, 2016
Perpetrators: Israeli Occupation Forces
Victims: 7 Bedouin families (35 members including 17 children)
Details:
The Bedouin community of Al Nojoum is part of the greater community of Arab Al-Kaa'bnah in the area of Wad Al-Qilt, which lacks stability and surviving standards. It has a mountainous environment with no electricity and water too. Despite all conditions, residents of the area insist on staying on the land where they grew up and lived.
It should be marked that Israeli Occupation Forces accompanied by a staff from Israel Civil Administration raided on March 08, 2016 the Bedouin community of AL Nojoum and demolished seven residential barracks and seven others for sheep. The demolished structures belong to 7 Bedouin families (35 members including 17 children).
Photos 1-2: Wad Al-Qilt area and the nearby Mizpe Yeriho colony
It should also be marked that the demolished structures were served Stop-Work orders on November 2012 on the claim of "unlicensed construction". The occupation claimed the area" closed military zone" and that Bedouins there have no ownership documents on the lands. The following table shows information about demolished structures and owners:
Affected citizen
Family
Minors
Residential barrack
Barns sheep tents
No.
Aream2
Nature of structure
No.
Aream2
Nature of structure
Iyad Al Nojoum
6
3
1
12
Residential tent
1
16
Barn
1
12
Barrack for sheep
Khalid Al Nojoum
4
1
1
12
Residential tent
1
12
Barn
1
16
Barrack for sheep
Ata Al Nojoum
5
3
1
16
Residential barrack
1
9
Sheep tent
Bajis Al Nojoum
4
2
1
15
Residential barrack
1
15
Barn
1
9
Sheep tent+ 1m3 tank
Ahmad Al Nojoum
7
4
1
16
Residential barrack
1
9
Sheep tent
1
12
Barn
Sayel Al Nojoum
3
1
1
12
Residential barrack
1
16
Sheep tent
Sa'd Al Nojoum
6
3
1
16
Residential barrack
1
12
Sheep tent
1
20
Barn
Total
35
17
7
99
12
158
Source : Field observation- Department of Monitoring Israeli Violations- Land Research Center-2016
It should be marked that the Bedouin communities of Arab Al-Kaa'bnah and Al Nojoum have long suffered from displacement. In 1983, Israeli Occupation Forces forcibly displaced residents of the communities to establish the colony of Mizpe Yeriho. Residents were moved to the area where they are currently residing.
It should be also marked that a commander from Israel Forces , at time, assured people that they will not be subject for any Israeli measures but the contrary just happened today.
Prepared by
The Land Research Center
LRC