Israeli Occupation Forces declare 2342 dunums of Palestinian lands as "State Lands"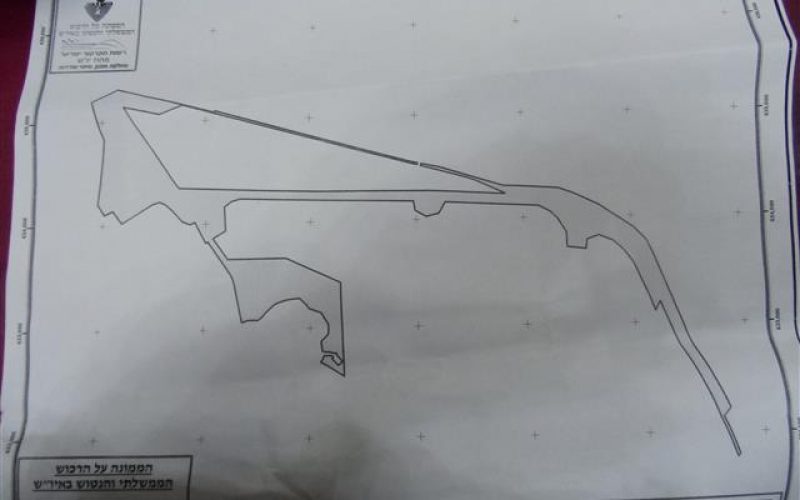 Violation

: transforming land into "state property"

Location: southeast Jericho city
Date: March 10, 2016
Perpetrators: Israel Civil Administration and army
Details:
The area of Palestinian Jordan Valley (Al-Ghoor) is considered a colonial interest of takeover for Israel since the year of 1967. The occupation has been seeking to fully control all of the natural resources of the area for the favor of colonial expansion. As a result, the area will be excluded from any future negotiations between Israelis and Palestinians.
It should be marked that the chief of Israel "State Property" declared, through a military order, the inclusion of 2342 dunums of Palestinian land founded next to the Dead Sea to "State Lands" in preparation for colonial expansionist plans.
According to the declaration issued on March 15, 2016, the targeted lands are founded in the area of Al-Nabi Mousa, southeast Jericho city; more specifically within the following natural blocks:
| | | |
| --- | --- | --- |
| No. of natural block | Nature of the block | Location |
| Block no. 6 | Natural block | Parts of ( Suwwanet Qabir Mas'oudm Harayeb Al-Nabi Mousa, Sih Al-Suwweid, Balawat Al-Dthehban and Al-Ktar) |
| Block no. 2 | Public property | Part of parcel no. 5 |
| Block no. 3 | Public property | Parts of parcels no. 1 and 10 |
| Block no.4 | Public property | Parts of parcels no. 1 and 2 |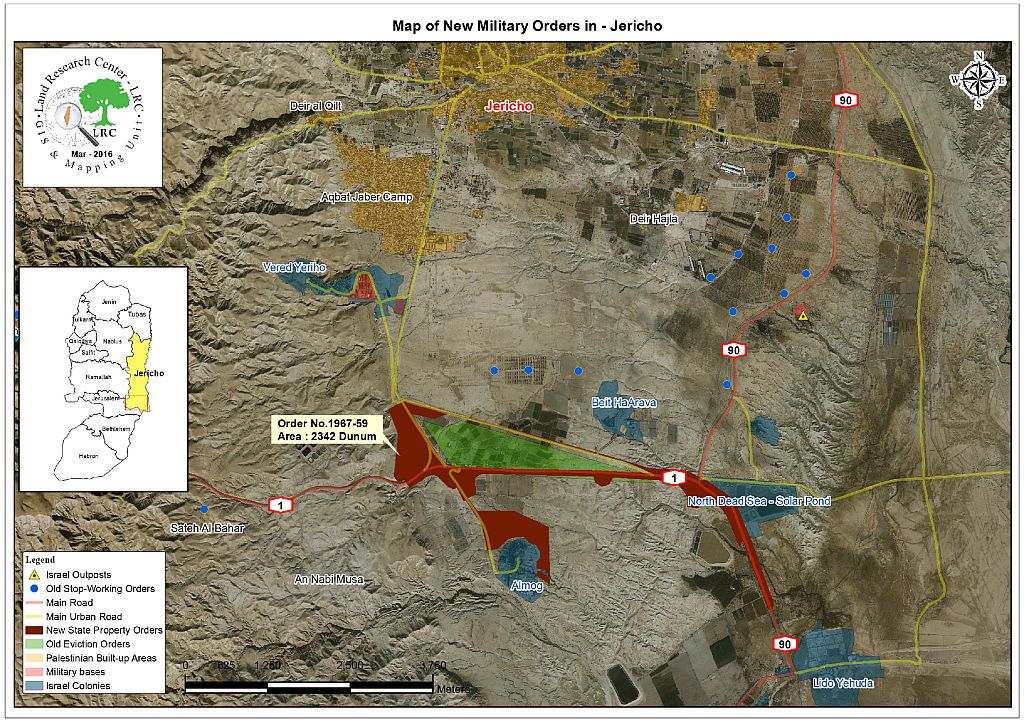 The governor of Jericho and Al-Ghoor area told Land Research Center the following:
" the recently targeted lands are agriculturally unused since the Jordanian ruling era on Palestine. This is how such lands become "State Property". After the war of 1967, the Israeli occupation imposed restrictions on using and accessing such lands. In the same time, two colonies namely Almog and Beit HaArava were established there and vast area of lands were given to colonists farmers for agricultural ends"
He added:
" There is a current Israeli plan known as E1, which aims at expanding the periphery of Jerusalem city to reach the Dead Sea. Not only, there are some Israeli plans that aim at expanding the bypass road number 1 from the side of Jericho western entrance and to the Dead Sea. It is most likely that the occupation will give a legal status for such step through establishing touristic projects or industrial ones to serve colonial ends"
He also added:
" Jericho governorate is following up with Palestinian entities on the implications of such Israeli plans from a legal and prosecution perspective.
Some International conventions and Humanitarian laws pertaining to attacks on land and natural resources are:
Article 17 of the Universal Declaration of Human Rights states:
Everyone has the right to own property alone as well as in association with others.
No one shall be arbitrarily deprived of his property.
Article 1 of the International Covenant on Civil and Political Rights States:
"All peoples may, for their own ends, freely dispose of their natural wealth and resources without prejudice to any obligations arising out of international economic co-operation, based upon the principle of mutual benefit, and international law. In no case may a people be deprived of its own means of subsistence."
Prepared by
The Land Research Center
LRC