Israeli occupation bulldozers demolish under construction building in the Jerusalem town of At-Tur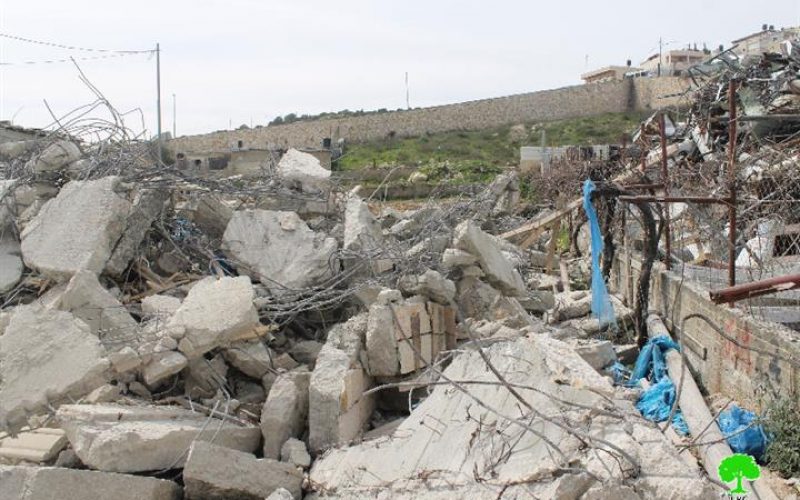 A number of vehicles relative to Israel Police and three dozers from Jerusalem Municipality raided on March 02, 2016 the area of Khallet Al-Ain in At-Tur town and demolished a three story building (six apartments) after closing the road and declaring the area inaccessible.
It is reported that the building belongs to citizen Ghazi Jaradat, who was planning on moving in to the building with his children and their families (35 members).
Ghazi told Land Research Center the following:
" Construction of the building started on November 2015, it was supposed to be a three story building (two apartments per story). Each floor totals 240m2 in area.My family and I were to move in to the building the moment it gets done.
At time of construction, a staff from Jerusalem Municipality arrived at the construction site and hung a stop-work order on the building on the claim of unlicensed construction. I did not apply for a building permit in the Municipality of Jerusalem because I know they never grant them for Jerusalemites in areas considered "unorganized" as they claim".
He also added:
" I committed to the municipality order and sought attorney Isa Abu Al-Hawa to follow up on my case in the municipality court. But the occupation brought down the building despite all attempts to stop demolition"
Any Palestinian structure built without an Israeli permit is considered illegal and must be brought down. Jerusalem is considered an occupied city where the very existence of Israeli occupation and its practices of home demolition are fundamentally illegal. The real reason behind demolition is to eliminate Palestinians from Jerusalem to Judiaze the city and take it over.
Prepared by
The Land Research Center
LRC