Israel to celebrate the inauguration of Leshem Settlement in the northern West Bank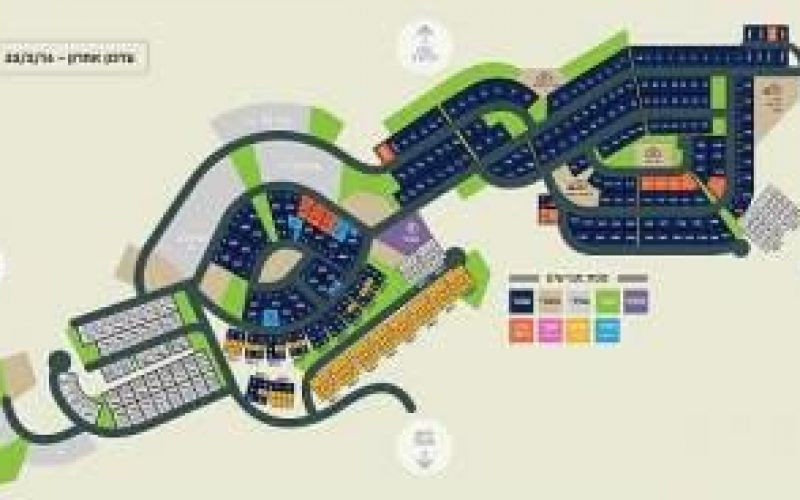 On the 11th of April, 2016, Israel will celebrate the inauguration ceremony of the Leshem settlement, illegally established on lands of Deir Ballut and Kafr Ad Dik Communities in Salfit Governorate in the northeast West Bank. A copy of the invitation below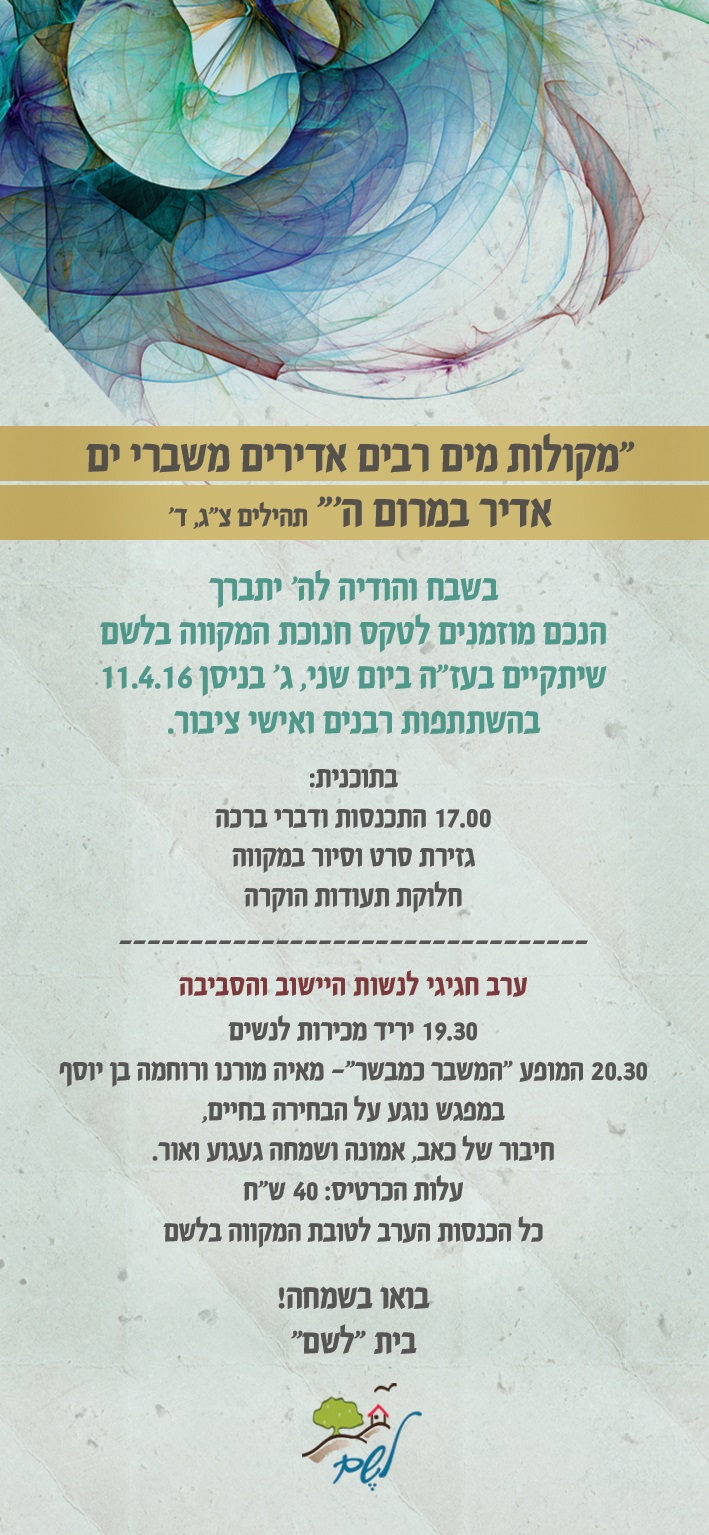 Photo 1: An Invitation to the inauguration Ceremony of Leshem Settlement
The iLeshem Hebrew website is advertising for the inauguration of Leshem settlement in the northern West Bank and is urging settlers' groups, Israeli public, Rabbis and public figures to partake in the inauguration ceremony.
Background on Leshem Settlement
The new settlement Leshem, located on a hill overlooking the settlements of Peduel and Alei Zahav, is planned to include 700 housing units, which is a significant addition to the block of settlements created by the Segregation wall route in Salfit Governorate and is comprised of Peduel, Alei Zahav, Ofarim and Beit Arye settlements, in addition to Leshem. See Map 1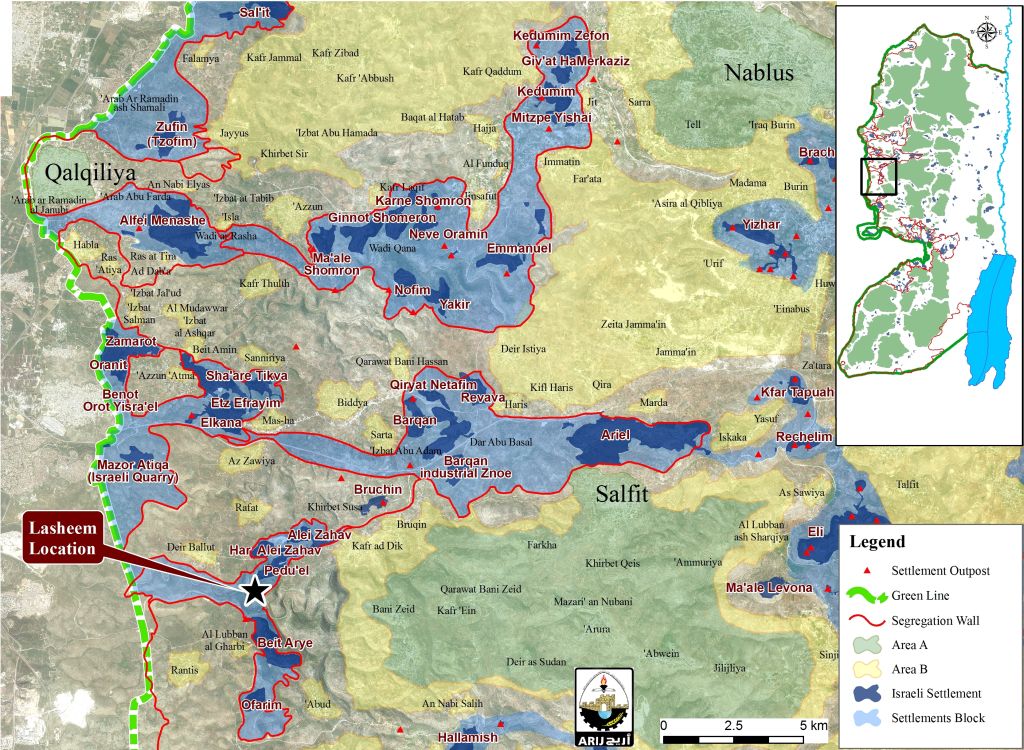 Map 1: Location of Leshem Settlement
TPS No. 132/6 gives details of the establishment of Leshem settlement near Alei Zahav. The settlement will include, in addition to residential buildings[1], Public buildings, open space, retail space and more. Today, the settlement is inhabited by more than 100 Jewish families and there are plans for a 700-families to live in the settlement. A total of 495.8 dunums are reserved for the construction of the settlement.[2][3]. See Photo 2: TPS No. 136/2 of Leshem Settlement

Photo 2: TPS No. 136/2 of Leshem Settlement
Although construction work in Leshem settlement started in 2012, but it was only in Mid April 2014 that the Israeli Government approved its establishment, retroactively legalizing the move made by 70 Jewish families who moved to live in the settlement in summer of 2013.
Establishment of Israeli Settlements in International Law
The establishment of the settlements over the years of the Israeli occupation of the West Bank territory including East Jerusalem, has resulted in the expropriation of much Palestinian land in both the public and private domain. Israel used the expropriated lands to benefit the settlements while prohibiting the Palestinian public from using them in any way possible;
The establishment of settlements in the West Bank violates international humanitarian law which establishes principles that apply during war and occupation. Moreover, the settlements lead to the infringement of international human rights law.
The Fourth Geneva Convention prohibits an occupying power from transferring citizens from its own territory to the occupied territory (Article 49). The Hague Regulations prohibit an occupying power from undertaking permanent changes in the occupied area unless these are due to military needs in the narrow sense of the term, or unless they are undertaken for the benefit of the local population.
The establishment of settlements results in the violation of the rights of Palestinians as enshrined in international human rights law. Among other violations, the settlements infringe the right to self-determination, equality, property, an adequate standard of living, and freedom of movement.
[1] A total of 100 buildings are already constructed in the site of the settlement
[2] ישוב עלי זהב
http://barrelevie.co.il/project/%D7%AA%D7%91%D7%A2%D7%95%D7%AA/%D7%99%D7%A9%D7%95%D7%91-%D7%A2%D7%9C%D7%99-%D7%96%D7%94%D7%91
[3] Leshem: Samaria's Best-Kept Housing Secret
http://www.israelnationalnews.com/News/News.aspx/189328#.VuqIreJ96M8
Prepared by:
The Applied Research Institute – Jerusalem