Expansion works in the Israeli industrial zone of Binyamin, north Occupied Jerusalem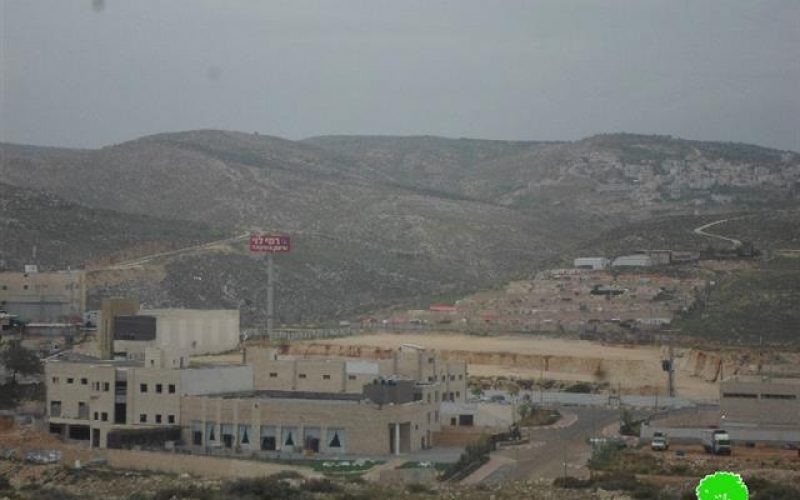 Violation: conducting expansion works
Location: Jaba' and Mikhmas villages
Date: March 01, 2016
Victims: residents of the villages
Details:
Binyamin industrial zone founded on lands from Jaba' and Mikhmas villages has been facing a rapid judization activities by Israel to serve greater colonial project in the area.
According Land Research Center filed visits, expansion works were intense in the southern part of the zone. Around 25 dunums were reported ravaged in that area. It is believed that the occupation is planning to establish new factories in the area.
It should be marked that occupation's government is planning to impose a de facto on Jerusalem through sinking the area with colonial neighborhoods and communities in addition to establishing wide networks of roads in the periphery of Jerusalem , developed infrastructures and industrial zones to economically revive the area.
Ultimate support by the occupation's government:
The industrial zone of Binyamin was reported to gain a big share of infrastructure tenders. During the past two years, four tenders to build four Israeli factories were deposited for Binyamin in addition to new master plan for the area to be designed. The master plan included expansion on the colony and establishing "green areas" and public facilities to become an interest for investment since it is located nearby Jerusalem.
It should be marked Israeli industrial zones around the areas of the West Bank and Jerusalem enjoy privileges by the government such like tax reduction, transportation and public services.
A pollution to the environment :
In line with all of the aforementioned, factories never applied environment conditions and requirements of safety in disposing waste be it solid or liquid. The occupation considers such factories as located outside the borders of the state of Israel. Therefore environment conditions and requirements are not applicable there. It should be marked that those factories pump their liquid waste into Palestinian agricultural lands causing wide-range pollution. For example, Binyamin industrial zone pumps liquid waste into Mikhmas village causing damage to a distance of 2km.
About Binyamin:
The industrial zone was established in 1991 on confiscated lands from the Palestinian villages of Jaba' and Mikhmas, north Occupied Jerusalem. Currently, Binyamin accommodates a big number of Israeli commercial complexes in addition to many factories, most distinguished of which are rubber, detergents and furniture factories.
Prepared by
The Land Research Center
LRC