The Israeli Occupation Forces carry out a demolition and ravaging campaign in Al-Isawiya town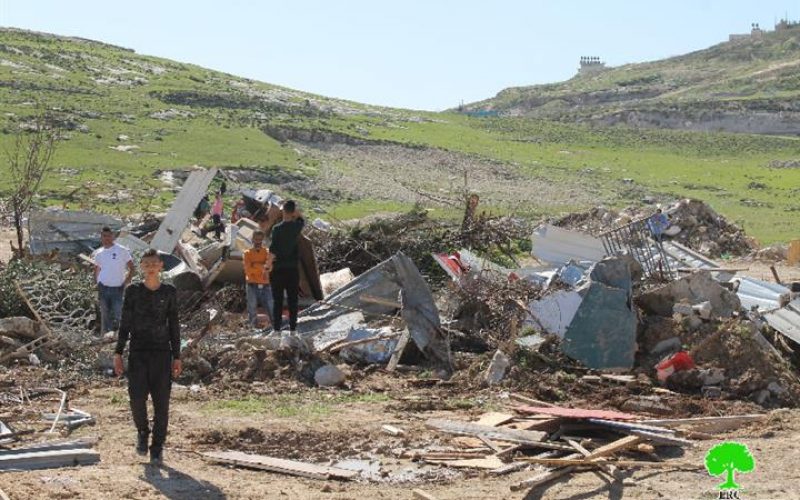 The occupation municipality in Jerusalem and Israel Nature Authority conducted on February 17, 2016 a massive demolition and ravaging campaign in the Jerusalem town of Al-Isawiya. These measures came within the "National Park" plan that the municipality works hard to implement on Al-Isawiya and Al-Tur towns' lands. The dozers were reported to ravage vast area of lands cultivated with several plants and trees and to demolish barracks for sheep and chicken. Not only, walls and water networks were damaged and a parking lot was ravaged during the attack. The following table shows information about the affected citizens and properties:
#

Affected person

No. of demolished structures

Area of demolished structure

Others

Nature of structure

1

Saed Obeid

1

50

Barrack for sheep

2

Raed Obeid

1

12

Uprooting 30 trees ( olive+ citrus+ almonds)

A room for workers

3

Nasri Mheisin

1

200

Retaining wall

A wall surrounding a 1.5 dunum plot

1

1500

Parking lot

Ravaging a 1.5 dunum plot

1

12

Office

A container used as an office

4

Murad Mustafa

4

500

A barrack for sheep

Barrack (50 sheep + chicken) + three rooms for horses

5

Sh'ban Obeid

1

50

Demolishing a wall and destroying a water network

6

Adnan Darwish

Uprooting 50 trees

A plot cultivated with olive and citrus trees

7

Saleh Turk

1

600

A barn

Total

11

2724
Source : Field observation- Department of Monitoring Israeli Violations- Land Research Center-2016
The damages resulted due to the latest attack are detailed as follows:
Demolition of seven agricultural structures (one room and six barracks for sheep and horses) with a total area of 1112 m2. The structures provided living for 28 members including 15 children.
Demolition of two walls surrounding and protecting 2 dunum plots
Demolition of two commercial structures ( a 1.5 parking space and a caravan office)
Ravaging ten dunum area and uprooting 80 trees
Citizen Saed Obeid told Land Research Center the following:
" We have ownership documents on the land, my brother and I established two barracks; one for sheep and the other for chicken on the plot. We also cultivated the land with olive, almond and citrus trees. But Israel Nature Authority confiscated the land for it is located within the plan of National Park as they claimed. On October 2014, I received a demolition order and immediately sought attorney, who managed to halt the demolition for a year. Before the demolition deadline draws close, the attorney applied for an extension but the municipality court approved the demolition effective. First demolition took place on October 2015 "
He added: "The second demolition occurred during a large-scale campaign on the area. A massive force from Israel Police, Nature Authority and three dozers raided the area at dawn and embarked on demolishing several structures"
The Israeli Occupation Forces ravaged a parking space owned by citizen Nasri Mheisin, who was given a 24 hour deadline to evacuate his 1.5 dunum plot. Today, the dozer embarked on ravaging the plot and demolishing container that was used as an office.
Also, the dozers reached out a barrack for sheep and horse owned by citizen Murad Mustafa. Not only, an area of 8 dunums cultivated with olive, almond and citrus trees was ravaged. The lands owner, Adnan Darwish, said that more than 50 tree were destroyed as a result.
Al-Isawiya follow-up committee member , Mohammad Abu Al-Humus, told Land Research Center the following:
" The occupation is seeking to empty the area from structures and people as well to implement its plan of National Park, which devoured hundreds of dunums despite being officially and legally owned by Palestinians"
The area of Al-Isawiya is suffering from Israeli measures and restrictions seen in closures, checkpoints and harassments. Kids, women and elderly suffer from soldiers where dozens of youth get detained on daily basis. Houses and structures get demolished and sabotaged as a result.
Prepared by
The Land Research Center
LRC