Established by the EU, the Israeli Occupation Forces demolish 33 structures in Tubas governorate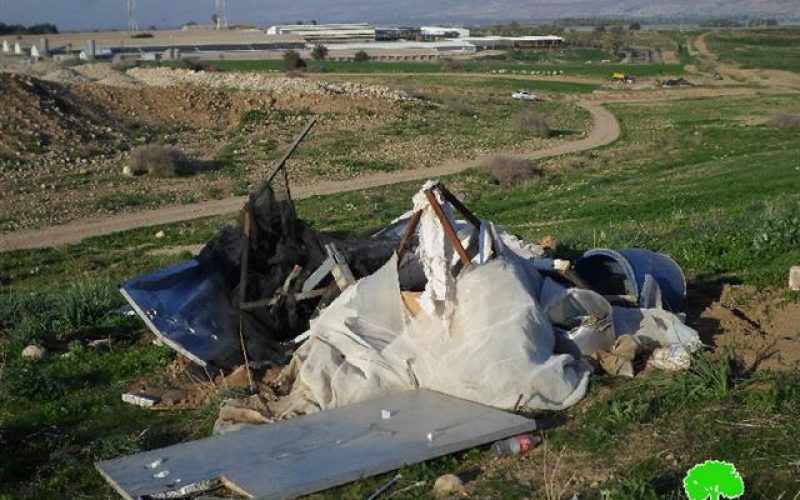 Violation: demolition of structures
Location: Khirbet Al-Farisiya- Tubas
Date: February 11, 2016
Perpetrators: Israeli Occupation Forces
Victims: nine families (49 members including 20 children)
Details:
The area of Al-Farisiya has lately witnessed an Israeli colonial plan aiming at taking over the whole area of the Palestinian Jordan Valley (Al-Ghour) and displacing indigenous people via various means such like home demolition.
It should be marked that the residents of Khirbet Al-Farisiya are banned from developing the infrastructure of the area and even establishing residences, where the colonists of the nearby Shadmot Mehola are expanding freely on Palestinian lands.
The Israeli Occupation Forces accompanied by two military dozer raided the area of Khallet Khader from Khirbet Al-Farisiya and embarked on large-scale demolition operation that reached out a number of residential tents and sheep barns donated by the EU. Noteworthy, the structures were donated to shelter the targeted families of displacement and demolition.
It is reported that eleven residential tents and eight tents for sheep in addition to an agricultural barrack were demolished during the latest operation.
Photos 1-6: view of demolition in Al-Farisiya
It is worthy to indicate that the Israeli occupation authorities served an "additional opportunity to object demolition" order on the area on August 17, 2015, to which the residents objected in Israeli court but for no avail. Eventually, the demolition was approved effective and many structures got demolished as a result. The following table shows information about the affected people and their properties:
Affected citizen

Family

No. of sheep

Demolition of residential tent

Demolition of sheep tents

Demolition of barns

Other damages

Remarks

No.

Aream2

No.

Aream2

No.

Aream2

No.

Nature of structure

Talal Aaydeh

4

130

2

180

4

240

4

360

2

Portable toilet+ kitchen +34 poles (for tents )

Donated by the EU through ACTED

Yousef Aaydeh

3

9

1

90

0

0

0

0

0

—

Donated by the EU through ACTED

Adnan Amer

4

90

1

90

2

120

0

0

0

—

Donated by the EU through ACTED

Zeyad Amer

7

20

1

90

1

60

0

0

0

—

Donated by the EU through ACTED

Alaa Daraghmeh

5

0

1

70

1

9

0

0

0

—

Tent for birds (9m2)

Rabee Daraghmeh

7

0

1

70

0

0

0

0

0

—

Burhan Daraghmeh

6

0

1

60

0

0

0

0

1

Portable toilet

Portable toilet is donated by the EU through ACTED

Mohammad Subeih

3

0

2

40

0

0

0

0

3

Portable toilet+ kitchen + water tank+ ten bees hives

Portable toilet is donated by the EU through ACTED

Hamed Daraghmeh

10

110

1

90

1

90

1

90

3

Portable toilet+ water tank+ two sheep feeders

Donated by the EU through ACTED

Total

49

359

11

11

9

519

5

450

9
Source : Field observation- Department of Monitoring Israeli Violations- Land Research Center-2106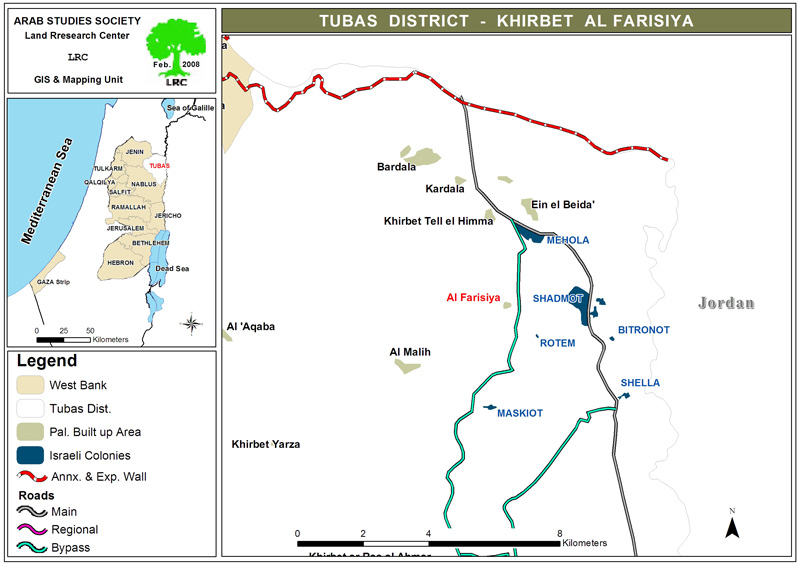 Khirbet Al Farisiya:
Khirbet Al Farisiya is located in Wadi Al Malih in Tubas Governorate at a distance of 20 kilometers east of the city of Tubas. The lands of the Khirbet stretch between Al Tayasir checkpoint and the Jordan River. Its current population is 400 Palestinians while the number exceeded 1,000 before the Israeli occupation of 1967.
The residents of the Khirbet largely depend on farming and herding as main source of income. The main clans in the area are Bisharat, Dababiyyat and Dharaghma from the city of Tubas and the town of Tammun. A number of the residents have their roots in the area of Yatta in Hebron Governorate.
Land Research Center sees the policy of home demolition as an ethnic cleansing practice and a violation of the following:
Article 17 of the (1948) Universal Declaration of Human Rights stating: "Everyone has the right to own property alone as well as in association with others. No one shall be arbitrarily deprived of his property."
Article 53 of the Geneva Fourth Convention (1948) declaring: "Any destruction by the Occupying Power of real or personal property belonging individually or collectively to private persons, or to the State, or to other public authorities, or to social or cooperative organizations, is prohibited, except where such destruction is rendered absolutely necessary by military operations."
What Israel does of demolitions in east Jerusalem and West Bank is a clear-cut violation of human rights and all of the international laws and covenants. Israel only aims at displacing Palestinians for sake of serving the colonial expansion plans.
Prepared by
The Land Research Center
LRC