The Israeli Occupation Forces demolish an agricultural structure in Beit Ula village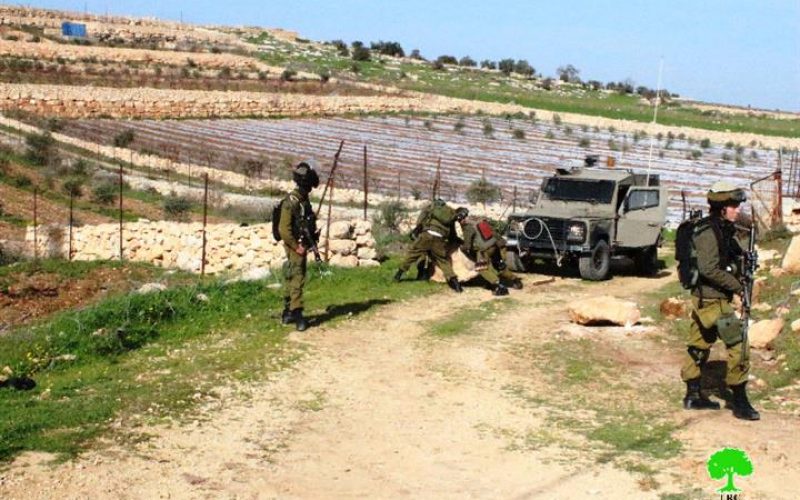 Violation: demolishing an agricultural structure
Location: Beit Ulla- Hebron
Date: January 21, 2016
Perpetrators: Israel Civil Administration and army forces
Victims: citizen Mahmoud Al-Akal
Details:
The dozers of the Israeli Occupation Forces on January 21, 2016 demolished a residence, an agricultural barrack and water well in the area of Tawas, west Beit Ula village in Hebron.
A force from the occupation army accompanied by a staff from the civil administration, Border Police and JCB dozer raided the lands of citizen Mahmoud Al-Akal and embarked on demolishing structures founded on the plot.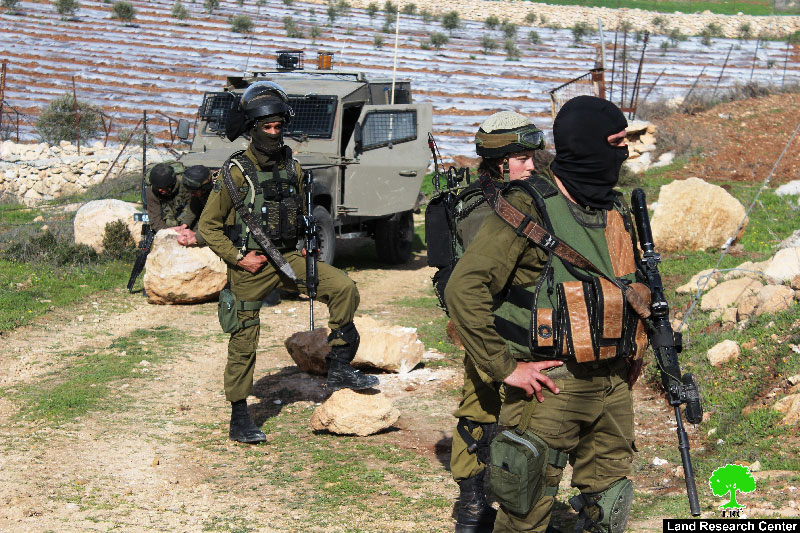 Photos 1-3: the occupation forces and the dozer while the demolition operation
The occupation troops also closed all roads leading to the citizen's lands and declared them inaccessible.
The demolition reached out an agricultural facility (70m2), water well and a barrack (300m2)
It should be marked that the Israeli occupation authorities on October 2011 swept the lands of Al-Akal, uprooted trees and confiscated them. For further information, please read the report issued by Land Research Center in this regard (Ar, Eng).
An overview of Beit Ula Town:
Beit Ula is located 14 km to the northwest of Hebron city; it has a total area of 24,000 dunums, most of which are classified as area "B" according to Oslo Accords. The town houses a total population of 13,000 Palestinians and is run by a municipal council that was elected in 2012.
The town is famous for olive and vegetable plantation in addition to metal manufacturing and stones factories.
Around 2000 dunums from the lands of Beit Ula were confiscated for the favor of the apartheid wall establishment in 2004. Over the past couple of years, the Israeli occupation authorities ravaged tens of agricultural dunums, uprooted thousands of trees, demolished five water cisterns and confiscated many agricultural equipments and tractors in the town. The Israeli government took the aforementioned measures to push Palestinian farmers to abandon their lands (classified as area C). But farmers never let down their lands and always tried to object confiscation and demolition orders in Israeli court.
Prepared by
The Land Research Center
LRC