Military orders to confiscate more lands from the Jenin village of Ya'bad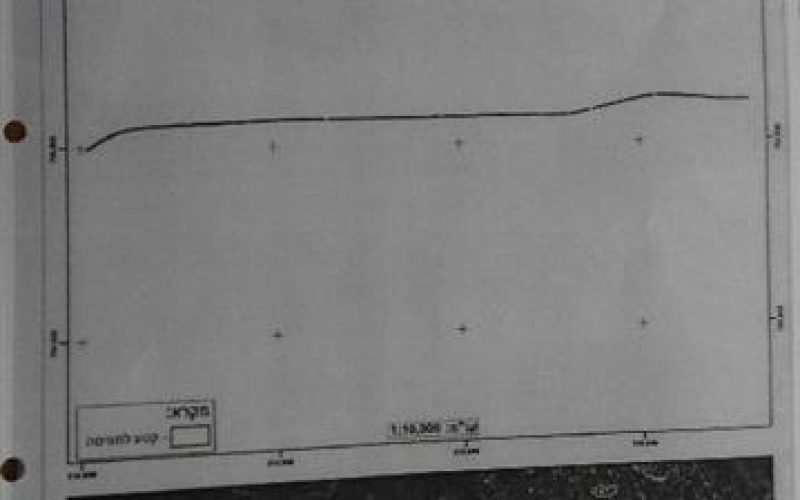 Violation: order of land seizure
Location: Ya'bad village
Date: January 07, 2016
Perpetrators: the Israeli occupation army
Victims: residents of the village
Details:
As to continue the Israeli plan to create a buffer zone alongside of the bypass road number 585, which is perpendicular to the Ya'bad's land, the commander of Judea and Samaria in the West Bank ,Le'o Karmaili, on January 07, 2016 declared a seizure on 5.283 dunums through the military order number (16/2/D). This means that the area has become a closed military zone where Palestinians can't exploit more than 200 dunums of agricultural lands in the nearby of the buffer zone, said the mayor of Ya'bad Yousef Atatra. Noteworthy, the affected lands are olive groves.
According to the military order, the lands are located within the natural blocks number 41 (plots numbers 20, 26), 42 (plots numbers 40, 39, 36, 34, 13, 12, 10, 19) and 29 (plots numbers 87, 59, 57, 47, 42, 7, 6, 4, 1).
The military orders served on the area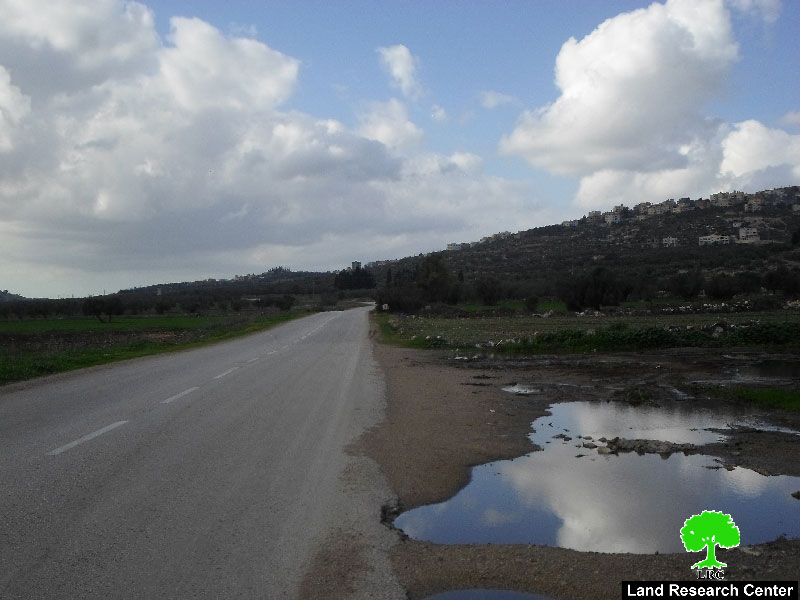 Side of the buffer zone alongside the bypass road number 585
According to the military order, the seizure will be valid until February 21, 2016. It is likely that the occupation extends the validity of that order days before it ends in order to create a de facto on the village, which had eight of its agricultural roads closed. This made it almost impossible to exploit around 2500 dunums of lands planted with field crops, irrigated plants and olive trees.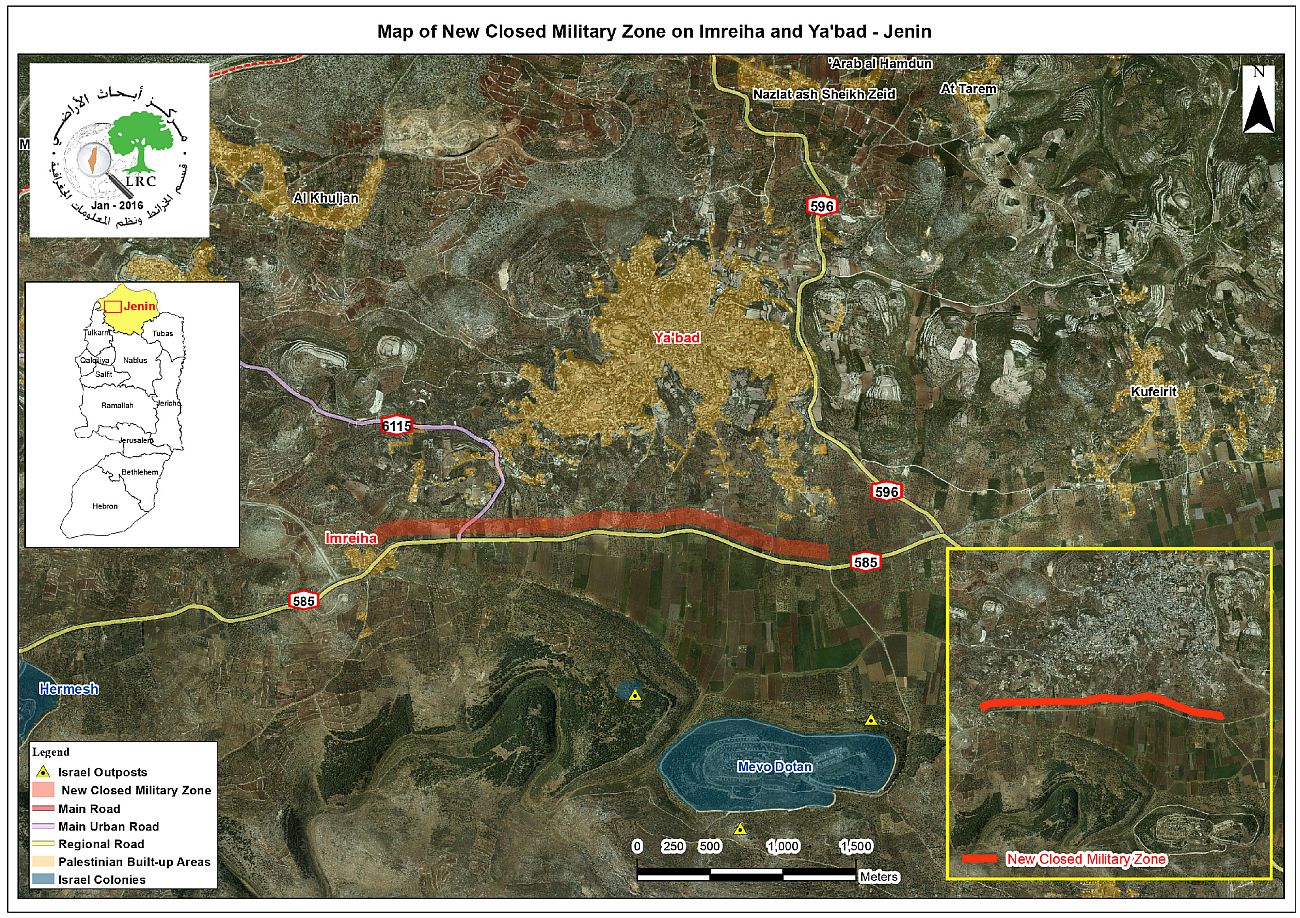 Previous confiscation:
The Israeli occupation authorities issued on December 22, 2015 an order to seize a vast area of land from Ya'bad village. The targeted 90 dunums were reported to be located nearby the bypass road number 585.
it should be marked that the military order is to approve a previous order effective and to give it a legal status; it was issued on December 11, 2015 to declare big area of Palestinian lands as closed military zones. Noteworthy, the targeted lands are founded by the bypass road number 585. For further information, please read the report of Land Research Center in that regard (Ar, Eng)
About Ya'bad village:
The village is located 18 km to the west of Jenin governorate. It is edged by the villages of Al-Khiljan, Al-Tarm, Al-Araqa, Imraiha and Khirbet Mas'oud, Zabda from the north, Qaffin village from the west, Al-Qaffriat village from the east and Arraba, Al-Nazla Al-Sharqiya and Baqa Al-Sharqiya from the south.
With a total land area of 29572 dunums, of which 1814 dunums are the built-up area, Ya'bad is inhabited by 13640 people (2007).
The occupation confiscated 1840 dunums from Ya'bad; the confiscation is clarified as follows:
Israeli colonies confiscated 483 dunums as follows:
Settlement
Name

Year of establishment

Confiscated areadunum

No. of colonists

Mevo Dotan

Jarmish

Total
Bypass roads number (569 & 585) confiscated 1357 dunums.
The lands of Ya'bad are classified, according to Oslo Accords, as follows:
1674 dunums are classified as area "A"
8124 dunums are classified as area "B"
19774 dunums are classified as area "C"
Some International conventions and Humanitarian laws pertaining to attacks on land and natural resources are:
Article 17 of the Universal Declaration of Human Rights states:
Everyone has the right to own property alone as well as in association with others.
No one shall be arbitrarily deprived of his property.
Article 1 of the International Covenant on Civil and Political Rights States:
"All peoples may, for their own ends, freely dispose of their natural wealth and resources without prejudice to any obligations arising out of international economic co-operation, based upon the principle of mutual benefit, and international law. In no case may a people be deprived of its own means of subsistence."
Prepared by
The Land Research Center
LRC