"Mordot Ramot"
A unique Green area to be replaced by a colonial neighborhood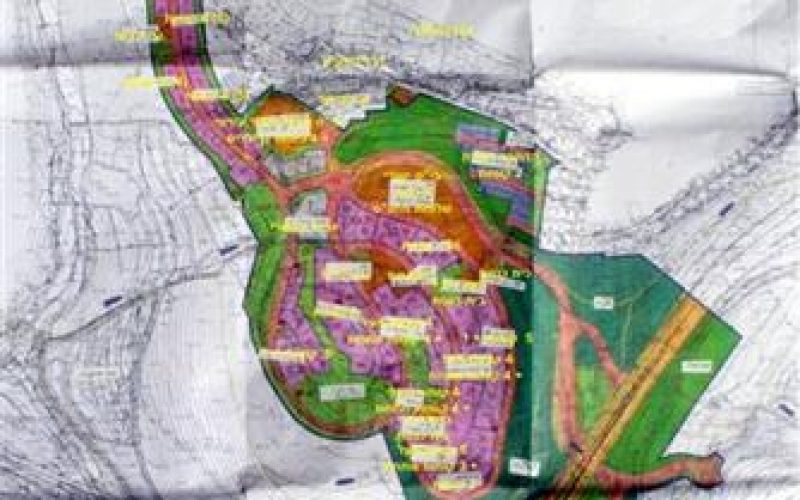 On the 11th of November 2015, the Israeli news website, Yedi'ot Ahranot, revealed on its Hebrew website that the National Committee for Housing-Preferential Zones in Jerusalem, an entity which has the authority to approve most types of local outlines and plans in Jerusalem city, approved the construction of 1638 new settlement units in a Green area near Ramot settlement in Jerusalem despite oppositions made by the Israeli Jerusalem Municipality and the Israeli Ministry of Environment.
The targeted Green area is called "Mitzpe Naftuh" and is located in close proximity of Ramot settlement, to its south and southeast. The plan will be deposited for Public Review who will be given 60 days to file objections on the plan. Note that this step is the last before approving the plan, after which, building permits and tenders may be issued at any time.
Earlier in June, 2015 the Israeli ministry of Housing and construction gave a fast-track approval of Mitzpe Naftuh construction plan in Jerusalem city. The plan was labeled as "a priority area for the construction of new housing" and was sent to "the Israeli national planning and building committee" that deals with approved priority sites and has the power to overrule any requirements of the approved plan.
A thorough analysis of the Mitzpe Naftuh plan showed that part of the project is going to be implemented beyond the 1949 Armistice line (Green Line), on lands of Beit Iksa village northwest of Jerusalem city. The plan of Mitzpe Naftuh holds number 6885[1] and covers an area of 417 dunums. The new neighborhood plan includes a 7-11 story buildings in addition to other urban structures such as commercial buildings, housing facilities, schools and public institutions. 41% of the total area of the project is designated as open spaces and forests. See Map 1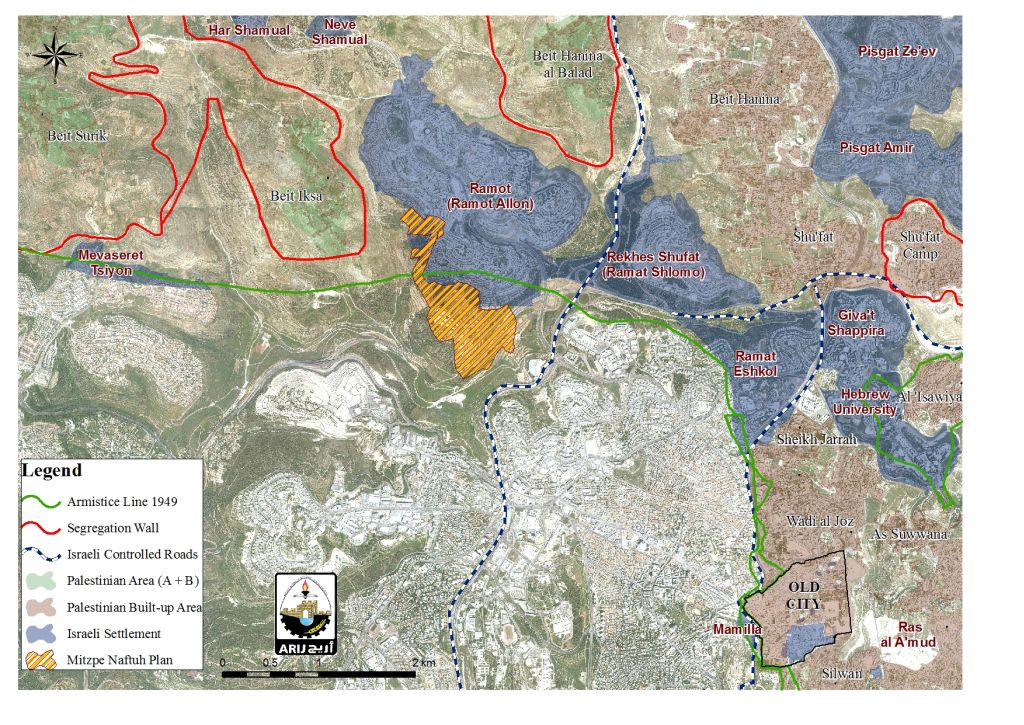 The plan of Mitzpe Naftuh in Jerusalem
For so long, has this area been designated as Green Area in Jerusalem and Palestinians were denied access/permission to utilize it under any circumstances. This type of "land designation" in Jerusalem has always been used by the Israeli Authorities to hinder the Palestinian urban development in the city, at the sme time, maintain this area for future settlement construction. The case usually takes a different direction if the land designated as "Green Area", is required for settlement construction and this is the case of Mitzpe Naftuh Green Area.
Another example of rezoning lands in Jerusalem city is the Reches shu'fat settlement in occupied East Jerusalem. Part of the land where Reches Shu'fat settlement sits today was actually zoned as a Green area; but was later rezoned for settlement construction. The Jabal Abu Ghneim[2] (Abu Ghneim Mountain) south of Jerusalem and north of Bethlehem was rezoned in the mid-nineties from "Green Area"" to urban building"; today, a huge settlement sits on top of Abu Ghuneim mountain and is considered the fourth largest settlement in Bethlehem Governorate.
Beit Iksa Village and Israeli Occupation Practices
Hundreds of dunums of land have been confiscated from the village of Biet Iksa by Israeli authorities mainly for the construction and expansion of settlements and the construction of the Segregation Wall, through which Israel aims to annex the three major settlement blocs around Jerusalem city to its proper, while encircling Palestinian communities and restricting their access to Jerusalem. This plan furthers Israel's larger goals of de Palestinianizing "Greater Jerusalem" and depopulating Palestinian communities.
During the Israeli occupation of Palestinian territory, the Israeli government confiscated more than 1,500 dunums ofn Beit Iksa village lands for the establishment of two Israeli settlements, Har Samuel and Ramot (Ramot Alon). These settlements are currently inhabited by more than 5,000 Israeli settlers.
Moreover, the village of Beit Iksa has been severely affected by the construction of the Israeli Segregation Wall on its lands. Since Israel started the construction of the wall onBeit Iksa lands, the route of the wall has been subjected to many changes. These changes were made to avoid geographic obstacles in the village that hindered the construction of the Wall, however, had their negative impacts upon the village and its citizens. Maps issued by the so called "Israeli Defense Ministry" on the 30th of June 2004 and 20th of February 2005 showed that the Wall would isolate Beit Iksa from its neighboring villages to the north-west of Jerusalem City, and illustrated the area to be annexed to Israel. On the the 30th June 2006, the "Israeli Ministry of Defense" published an amendment to the Wall route in Beit Iksa which excluded the village from the isolated area, proposing that it would be surrounded by the Wall on its eastern, southern, and western sides, whilst the northern side would be open for village residents to travel to and from the village at any time. Although the built-up area in the village is set outside the Wall under the new amendment; however, the amendment will seize a large area of agricultural lands and open space in the village. Note that the amendment hasn't been put into effect and Beit Iksa village is still entrapped inside the wall. See Map 2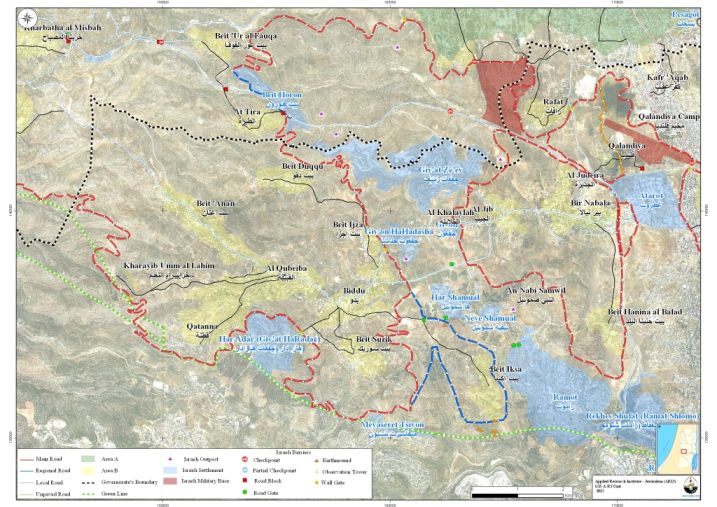 The Israeli Segregation Wall plan on lands of Beit Iksa village northwest of Jerusalem
[1] תכנית מתאר למצפה נפתוח – 1395 יחידות דיור
תוכנית 6885
http://www.tabainfo.co.il/entity/%D7%AA%D7%9B%D7%A0%D7%99%D7%AA
%20%D7%9E%D7%AA%D7%90%D7%A8%20%D7%9C%D7%9E%D7%A6%D7%A4%D7%94
%20%D7%A0%D7%A4%D7%AA%D7%95%D7%97%20-%201395%20%D7%99%D7%97%D
7%99%D7%93%D7%95%D7%AA%20%D7%93%D7%99%D7%95%D7%A8-1032964
[2] The Har Homa Settlement and the Uprooting of Abu Ghnaim Forest
http://www.old.poica.org/details.php?Article=8419
Prepared by:
The Applied Research Institute – Jerusalem