The occupation demolishes an agricultural water pool in the Hebron village of Halhul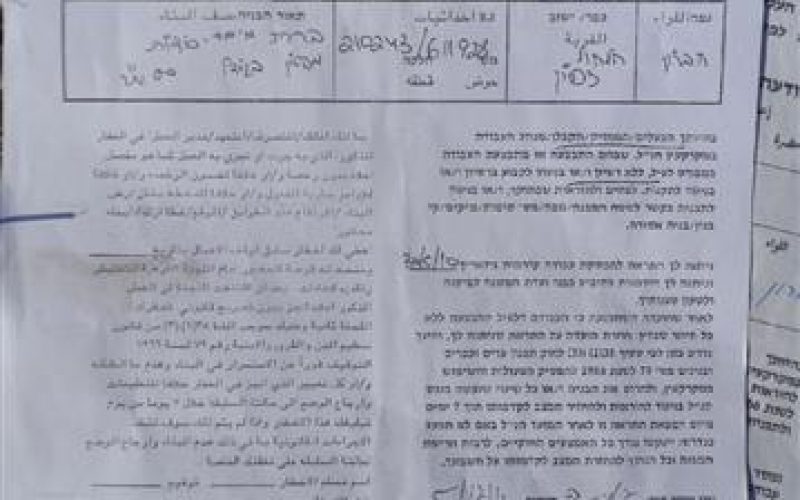 Violation: demolishing a water pool
Location: Al-Hawawer area- Halhul
Date: November 26, 2015
Perpetrators: Israel Civil Administration and army forces
Victims: Citizen Jihad Karajih
Details:
The Israeli occupation authorities on November 26, 2015 demolished an agricultural water pool owned by citizen Jihad Karajih in the area of Al-Hawawer, east Halhul city.
The mother of Jihad said that a staff from Israel Civil Administration accompanied by an army patrol, a JCB digger and a dozer arrived to the pool location. It is reported that the digger "hammer" damaged the edges of the pool where the dozer dumped earth into it.
The pool (60m3) is reported to be built in 2010 for the aim of collecting rainwater to irrigate a 6 dunums of vegetables fields. Noteworthy, the pool was unroofed.
Photos 1-4: signs of the demolition
The Israeli occupation authorities on August 21, 2014 served an order entitled "additional opportunity to object a demolition" on the pool. On December 05, 2014, the pool was served a stop-work and demolition order; it is when the affected owner hired an attorney to object to the order. Same order was served on October 08, 2015; demolition took place despite all legal procedures that the affected went through.
Photos 5-6: the orders served on the pool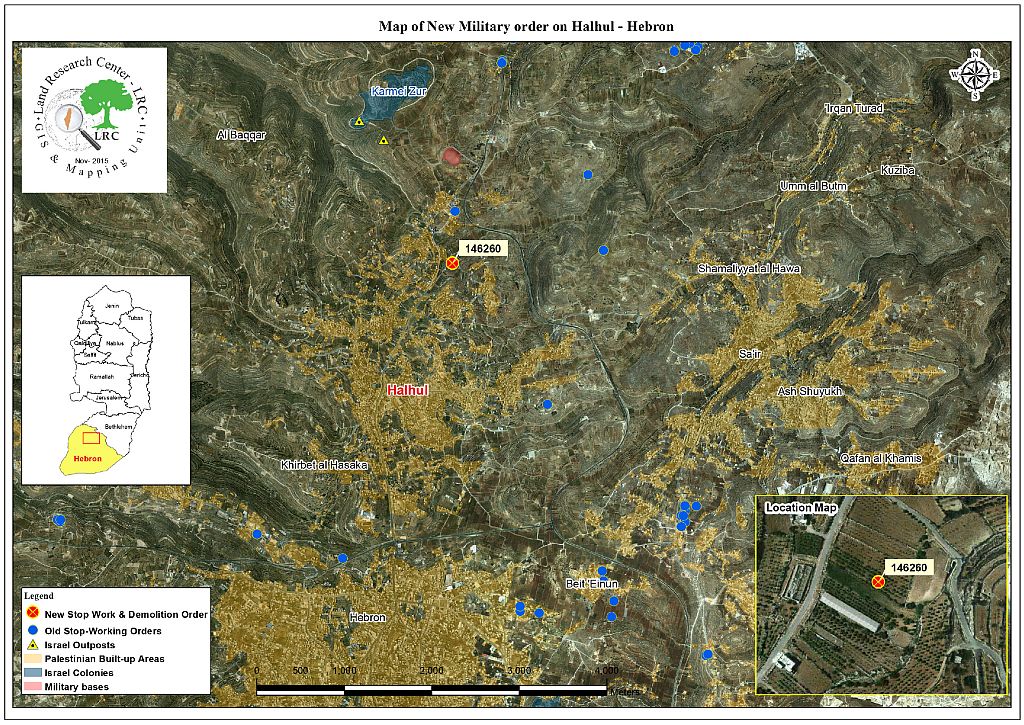 Land Research Center sees the policy of home demolition as an ethnic cleansing practice and a violation of the following:
Article 17 of the (1948) Universal Declaration of Human Rights stating: "Everyone has the right to own property alone as well as in association with others. No one shall be arbitrarily deprived of his property."
Article 53 of the Geneva Fourth Convention (1948) declaring: "Any destruction by the Occupying Power of real or personal property belonging individually or collectively to private persons, or to the State, or to other public authorities, or to social or cooperative organizations, is prohibited, except where such destruction is rendered absolutely necessary by military operations."
What Israel does of demolitions in east Jerusalem and West Bank is a clear-cut violation of human rights and all of the international laws and covenants. Israel only aims at displacing Palestinians for sake of serving the colonial expansion plans.
Prepared by
The Land Research Center
LRC