Stop-work orders on residences in Al-Hathalin Bedouin community
Violation: stop-work orders on residential barracks
Location: Jaba' village- Jerusalem
Date: November 02, 2015
Perpetrators: Planning and Construction Committee- Israel Civil Administration
Victims: three Bedouin families
Details:
The community of Arab Al-Hathalin, east Jerusalem has been undergoing a displacement plan. A massive force from the occupation army accompanied by a staff from the Civil Administration raided on November 02, 2015 the area of Al-Hathalin community and served three families stop–work orders attached with a master plan.
It is reported that the targeted structures are residential barracks that were gifted by Action Against Hunger association with funds from the European Union on July 2015.
According to the military orders, the occupation gave the affected a deadline until December 07, 2015 to complete all licensing procedures. This comes in time with the hearing session of the Planning and Construction Committee- Israel Civil Administration in the Israeli court of Beit El to consider the legal status of the notified structures. The following table shows information about the damage resulted due to the orders:
| | | | | |
| --- | --- | --- | --- | --- |
| Affected citizen | Family | Minors | Nature of structure | Photo |
| Mohammad Al-Hathalin | 2 | 0 | 60m2 residential barrack | |
| Jamil Al-Hathalin | 6 | 4 | 60m2 residential barrack | |
| Jibreel Al-Hathalin | 8 | 3 | 60m2 residential barrack | |
| Total | 16 | 7 | 3 | |
Source : Field observation- Department of Monitoring Israeli Violations- Land Research Center-2016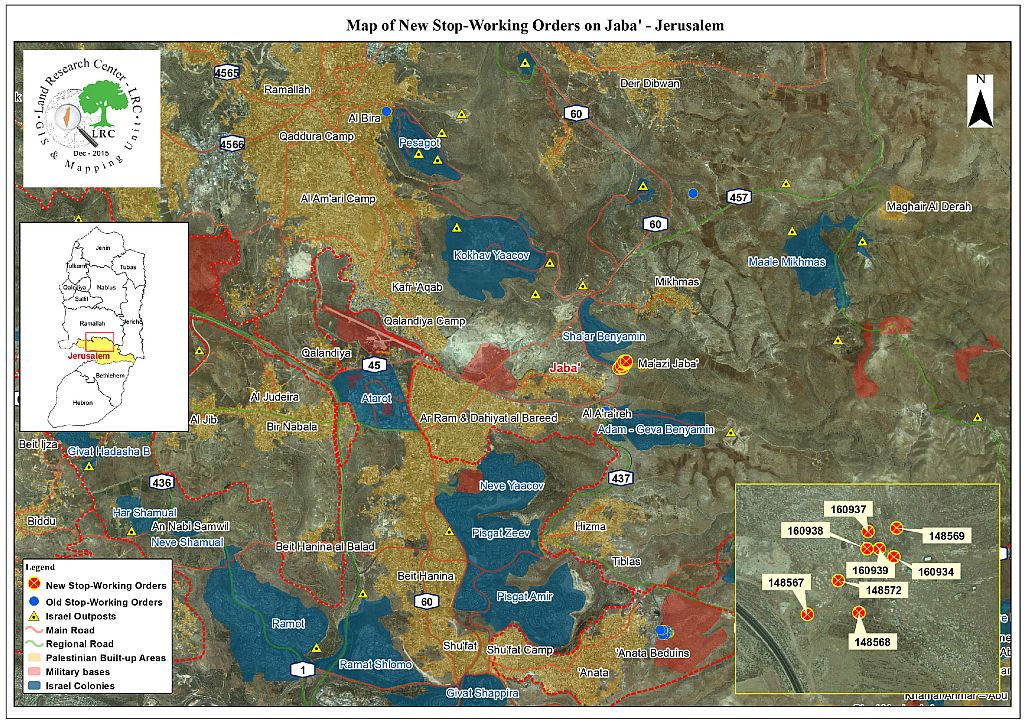 It should be marked that the community of Al-Hathalin has witnessed many harassments and violations carried out by the occupation forces. Over the past five years, the community underwent seven demolition operations that reached out all structures in it. Demolitions were justified on the claim of "unlicensed construction".
It is clear that the occupation is planning to take over the area's resources due to its elevated location and proximity to the colonies of Geva Benyamin and the Industrial Zone of Binyamin.
It is indicated that the residents of Arab Al-Hathalin community hail from the area of Beer Al-Saba', south historical Palestine; they were expelled in the aftermath of the 1948 war. Some resided in the southern part of Hebron where others moved to the periphery of Jerusalem city. The majority of displaced people were reported to reside in the areas of Palestinian-Jordan Valley.
Al-Hathlin community with 120 inhabitants has been there for 30 years ago. The occupation is working hard to displace the residents of the area to take it over for the sake of colonial expansion plans.
Prepared by
The Land Research Center
LRC