Yizhar colonist burn down 45 dunums in the Nablus village of Burin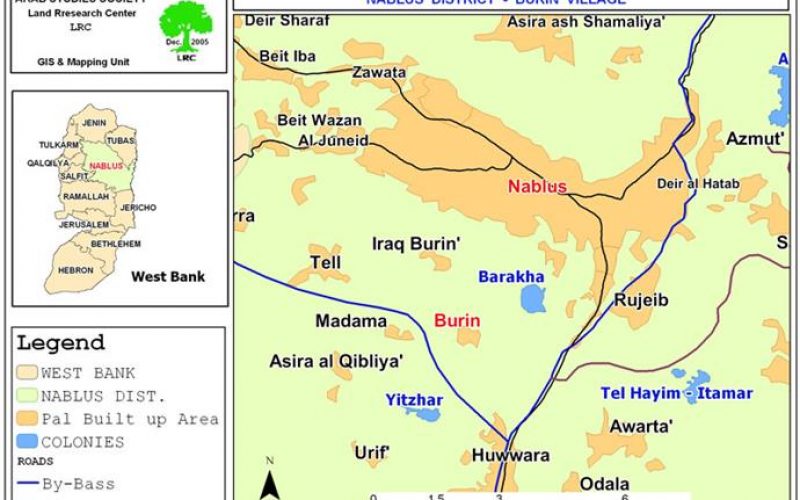 Violation: torching 45 dunums
Location: Burin village
Date: October 14, 2015
Perpetrators: Yizhar colonists
Victims: number of farmers form the village
Details:
A group of fanatic colonists form Yizhar on October 14, 2015 set fire to the area of Jabal Suliman, which is located beneath the colony. Fire was reported to reach an area of 45 dunums, of which 8 dunums are olive groves (Village council).
It should be marked that the targeted area is located 200 meters away from the apartheid fence that surrounds the colony of Yizhar. This area is a hotspot for colonists' attacks represented in cutting of trees, attacking farmers and torching lands. Noteworthy, colonists carry out their attacks under the watchful eye and protection of Israeli Forces. It should also be marked that the Israeli Forces hindered fire brigades from reaching the location in order to inflect as much damage on it as possible. The following table shows information about the affected lands and owners:
Name of owner

Nature of plot

Affected areadunum

Type of damage

No. of torched trees

Type of trees

Age of trees

Remarks

Basim Eid

Agricultural

3

Total damage

50

Olive

35 years

Sudqi Najar

Agricultural

4.5

Total damage

74

Olive

40 years

Previously attacked

Safwan Najar

Agricultural

0.5

Total damage

8

Olive

40 years

Total

8

100%

132
Source: Field observation- Department of Monitoring Israeli Violations- Land Research Center-2015
About Burin:
It is located 8km to the south of Nablus city and is of 10,416 dunums in area, of which 335 dunums are the village's built-up area. Burin has a total population of 3500 people. Two Israeli colonies are founded on the lands of Burin which are:
Bracha: it confiscated 205 dunums from Burin's lands
Yizhar: it confiscated 150 dunums from Burin's lands
About Yizhar2:
It was established in 1983 with a total built-up area of 788 dunums. The colony populates 440 colonists and is founded on confiscated lands from the Palestinian villages of Burin, Huwwara, Einabus, Urif, Asira Al-Qibliya and Madama.
Source (1 & 2): Geographical Information System- Land Research Center
Prepared by
The Land Research Center
LRC